The Pros & Cons of This 'Originals' Romance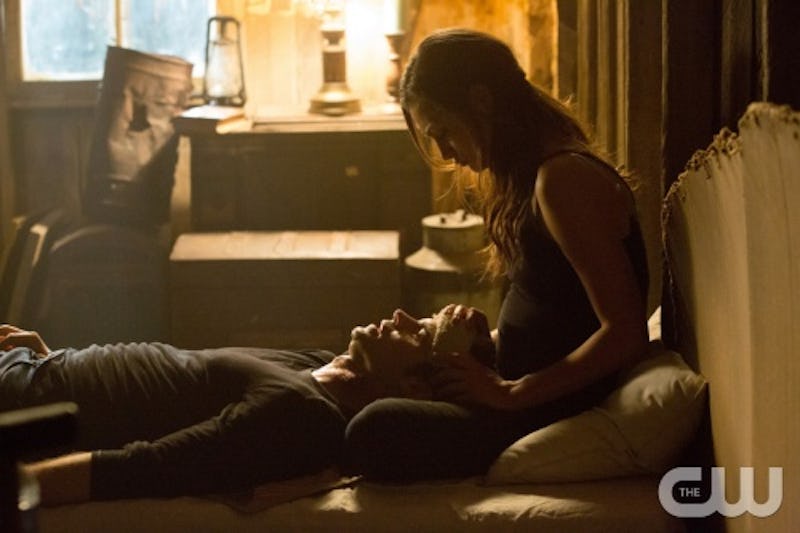 The Originals has been teasing viewers since its first episode with its "will they, won't they" chemistry between Original vampire Elijah and werewolf turned hybrid baby momma Hayley and it looks like there's a "they will" on the horizon. The CW's new vampire show hasn't been plagued just yet with messy, unrequited, true love story lines just like it's parent-show The Vampire Diaries, but it looks like it's ready to introduce some love into the Bayou.
Last week Daniel Gillie's Elijah Mikaelson spent the entire episode suffering from the wild hallucinations and pain associated with a werewolf bite, courtesy of his brother Klaus, with Phoebe Tonkin's Hayley by his side as his caretaker. It resulted in some seriously sweet but also terrifying moments. The two spoke to Zap2it along with costars Joseph Morgan and Claire Holt and weighed in on the potential of a Hayl-jah/Elij-ley relationship.
From day one Elijah's had a strange, unplaceable connection to Hayley and the future spawn of Klaus and she's definitely noticed. He's protective of Hayley, which is probably because he's convinced that this baby she's carrying will save Klaus from his destructive, evil self, but there's definitely something more there. There's already some power-play relationships between Klaus and Cami and Rebekah and Marcel, but there's no real, sigh-worthy relationship on The Originals. There's something with the potential to be great for the already great show between Hayley and Elijah — a single, complicated, super-romantic relationship — and it'd be worth a shot even if it's a catalyst for the worst.
Why Elijah and Hayley Works:
1) He cares about her — Hayley's not used to having someone to care for her or about her, considering she's never known her real parents and her foster parents threw her out when she turned into a wolf, so she's receptive to Elijah's compassion. He rescued her from being held hostage by crazy Tyler and proved that they she can rely on him, unlike anyone she's had in her life before.
2) Their chemistry is so damn palpable — Two weeks ago, when Elijah carried Hayley into their mansion's pool while they worked on breaking the linking spell that connected her to Sophie, you could literally cut their chemistry with a knife. And it's only getting stronger according to Gillies who says that, "it seems like the more that they try and resist it, the more that it snowballs. They are definitely magnetically drawn to one another."
3) He can handle dysfunctional — Hayley might not be ready for it, but he is. Gillie's told Zap2it that "Elijah seems to covet those really, really complicated relationships" and what could be more complicated that shacking up with his brother's baby momma? Answer: nothing. Also, let's not forget when he dated Katherine last season on The Vampire Diaries.
4) He's got a super-sexy accent — This one doesn't even need explaining; just do it, Hayley.
Why Elijah and Hayley is Bad:
1) Klaus — They're no shying away from Klaus' inherently evil behavior. There's also no denying that he's jealous of the relationship Elijah and Hayley are growing into together (hence him biting his brother and condemning him to torture). A Klaus rampage is good for no one and it'll do nothing for his already major insecurities for his baby momma to fall into the arms of his brother. Someone will end up with a dagger in their heart and that'd be a shame.
2) Rebekah — Claire Holt, who plays Rebekah on the show told the site, "There's a pang of jealousy there. She loves Elijah so much, and there's another woman now that's in town and is taking some of the attention of her brother." But don't take her the wrong way, nothing would prevent her from protecting Hayley and the unborn hybrid baby. Last week she betrayed Klaus to ensure the baby's safety, so it's safe to say that as much of a strain on her relationship with Elijah, the relationship won't make her go postal.
3) Relationships are messy — We've seen relationships overshadow the entire plot of The Vampire Diaries and turn it into a ridiculous circus that it's finally clawing its way out of. The Originals was a breath of fresh air coming out of a convoluted season of TVD full of unrequited love, sire bonds, and heartbreak. Could the writers over at The Originals make the same mistakes and damn the show to ruins? I hope not, but when love gets involved, the risk runs high.
4) Hayley is super damaged and really young — Seriously, the girl has been given away, thrown out on her ass, alone, kidnapped, used, and now she's pregnant with the baby of someone she thinks is a monster. That's a lot of baggage, like, a lot of baggage for one person to bring into a relationship. She might not be ready for this even though she's developing maternal instincts at a really quick pace. Hayley also hasn't been around the block as many times as Elijah, she's young and not secure especially since she's got resounding mommy-daddy issues. She could end up being more of a child than a companion.