"All Eyes On You" Is Basically #RelationshipGoals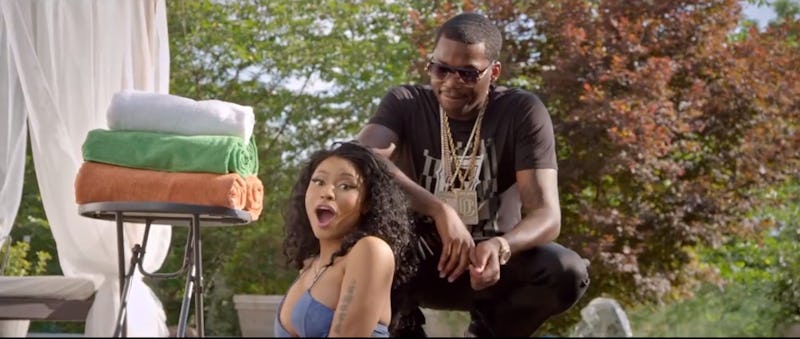 Despite all of last week's drama that included Nicki Minaj and Taylor Swift's Twitter misunderstanding (which was luckily solved amicably), and Meek Mill's tiff with fellow hip-hop artist Drake, the Queen of Rap and her beau seem to be refocused on the music. Meek Mill and Nicki Minaj dropped the video for "All Eyes On You" and it's super adorable. The hip-hop/R&B track which comes from Meek Mill's sophomore album, Dreams Worth More Than Money, features Chris Brown's vocals and is a chill melody about love and admiration. While Meek Mill raps about seeing Minaj for the first time, Minaj responds just as intensely on her verse about her connection to him. Say it with me: Awww.
In the video, Omeeka gives us a fictional glimpse into their lives as a couple. They attend a party together, hang out around the house with their friends, and even take selfies. Though I must admit that Minaj and Meek Mill's relationship caught me by surprise, they seem genuinely happy together.
"All Eyes On You" is a super chill song, and the sizzling video fits the track perfectly. But in case you're still shaking your head, check out these eight moments from the video that are nothing short of #RelationshipGoals.
1. When Meek Mill Carried Nicki Minaj
Seriously, there is no reason to walk when you can just be carried about.
2. When Nicki Minaj Brushed Meek Mill's Hair
There is nothing better then someone combing or brushing your hair for you; especially when they get those hard to reach spots.
3. This Cuddle Session
Sometimes the best moments spent with your boo are cuddle sessions. Obviously, Minaj and Meek Mill are all about cuddle time.
4. When They Took A Selfie
Though I'm personally a bit reserved when it comes to sharing my relationship with my significant other on social media, I am all for a personal selfie or "ussie" on my phone.
5. When They Partied Together
Relationships are the best when you can have a great time at home doing something as mundane as cuddling, and then it the town with one another to live it up.
6. When They Rapped Together
I love Minaj because she has continued to break barriers in the hip-hop industry, while steadfastly standing for feminism. She's not just Meek Mill's love interest in "All Eyes On Me" she stands next to him as his partner, giving just as much as he is on the track.
7. When They Rode This Little Segway-Looking Thing Together
What's cooler than this? I literally can't think of a better way to get around.
8. When They Held Hands
Sometimes all you need is to feel your partner's hand in yours to know everything is going to be OK.
Images: "All Eyes On You"/DailyMotion (9)