Kaitlyn's Family Sees Nick For Who He Is... Right?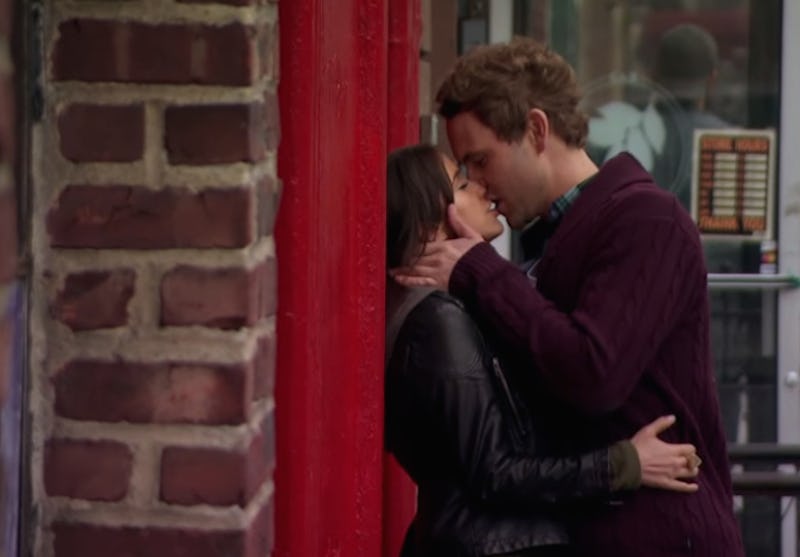 "Why are you here, Nick?" is the first thing Kaitlyn's sister asked Nick Viall on the 2015 Bachelorette finale. As Nick himself notes, it's a great question. Because, yes, why is Nick back? As the date with the Bachelorette's family unfolded in Utah, poor Nick doesn't come across that well at the beginning. He said he didn't go on Andi Dorfman's season to find love; he went for an experience. But then whoops, he fell in love (or decided that prolonging his quest into the final two would prolong his 15 minutes) then he got his heart broken, then essentially slut-shamed Andi on national TV. If Kaitlyn's family wasn't wondering what the heck Nick is doing, they'd be doing something wrong.
Kaitlyn's sister Haley Jane explained to the camera, "I hope that he is here for the right reasons, and really just here for Kaitlyn." Can I just say, loving that the Bristowes are up on their Bachelor Nation history? And I'm loving that they're questioning Nick. And loving their Canadian accents. Anyway. Kaitlyn's mom told it like it is, "I watched his season with Andi, and my opinion of him was not that flattering." Sing it, sister! And Mom's thoughts matter. Kaitlyn said of her mother, "She knows her opinion means everything me."
During Mom's sit down with Mr. Viall, she said she's shocked to see him. Then she leaned into it. "You're possesive, jealous, we saw this ... arrogant [guy last seaon] ... who are you?" Quick nomination for Kaitlyn's Mom to run for president. "Why do you think you're here right now?" she went on. Nick explained that Kaitlyn "feels things with me she's never felt before."
Nick went on, before things got emotional. "I'm in love with your daughter, she's the most incredible woman I've ever met."
Then, just when you thought we had this in the bag, that Kaitlyn's mom would finally tell Nick he's not the bee's knees, they both started crying and, welp, that's it. With one fell tear, Kailtyn's mom became Team Nick. "I think you're very good for Kaitlyn. She trusts you with all her heart," she told him. And if Nick proposed to Kaitlyn? Mom Leslie would be "very happy." She was "totally wrong."
But wait, Kaitlyn's dad will see through Nick, right? Right?
"I have a good feeling ... yes, you have my blessing."
Dammit, Dad. Kaitlyn's family are big fans of Nick. How does he keep winning over people? Nick should consider running as Donald Trump's Veep.
Image: ABC