Sandra Bland's Side Mugshot Gives No Answers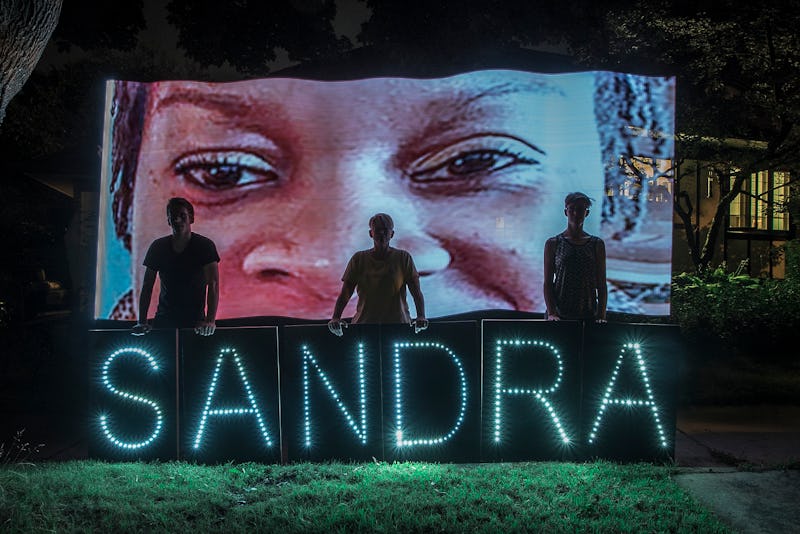 It's not clear how they started, but rumors about Sandra Bland's mugshot have been bouncing around the Internet almost since the image was first released. While there's no evidence to support it, and many experts have rejected the theory, there's been widespread speculation among suspicious social media users who claim Bland may have been dead when the mugshot was taken. And so far, Sandra Bland's side mugshot photo that has been released is so dark as to be almost indistinguishable, which has only fed the rumors. Many questioned why the side view mugshot appeared to be "missing" for some time, but MSNBC reports the side image was just not widely circulated in the media — the police department did, in fact, release the image.
Bland, 28, was found dead in her cell in a Waller County, Texas, jail on July 10, three days after being arrested after a traffic stop. The circumstances of the traffic stop by Trooper Brian Encinia have raised a whole other set of questions, and though authorities have ruled Bland's death a suicide, her family has rejected that finding. Her mugshot shows her wearing an orange prison jumpsuit, and she shows little expression on her face, which apparently led to the speculation that she was dead before she was found hanging in her cell. Forensic experts have rejected this idea, however, telling The Daily Beast it was a "ridiculous" conspiracy theory.
According to Heavy.com, media outlets have asked for a better version of the side mugshot image, since the one included as part of Bland's booking documents is blurry and dark. So far, no alternate image has been released.
An attorney who works in Waller County told MSNBC that he's seen mugshots taken in street clothes and prison jumpsuits, and that it's not uncommon for side mugshots not to be included in booking documents. Since side mugshots aren't usually released, it's difficult to compare others to Bland's to see if there are discrepancies.
In a press release from July 23, the Waller County Sheriff's Office explained step by step how inmates are booked and photographed:
The inmate is walked to the booking area where they are processed by the booking officer. Depending on how many inmates are being processed at this time, an inmate's photograph may be taken in their original clothing or the inmate may be dressed out in orange. Their photograph is taken on the wall south of the booking officer's desk. We should note that if the inmate is not standing directly in the center of the backdrop, a portion of the white wall may appear.
While there are many questions surrounding the death of Sandra Bland, it seems that Waller County officials could clear up some of the suspicions about the side mugshot simply by releasing a higher resolution version. The other questions about this controversial case will likely take much longer to resolve.
Images: Light Brigading/Flickr (1); Waller County Sheriff/screenshot (1)