These Are The Safest College Campuses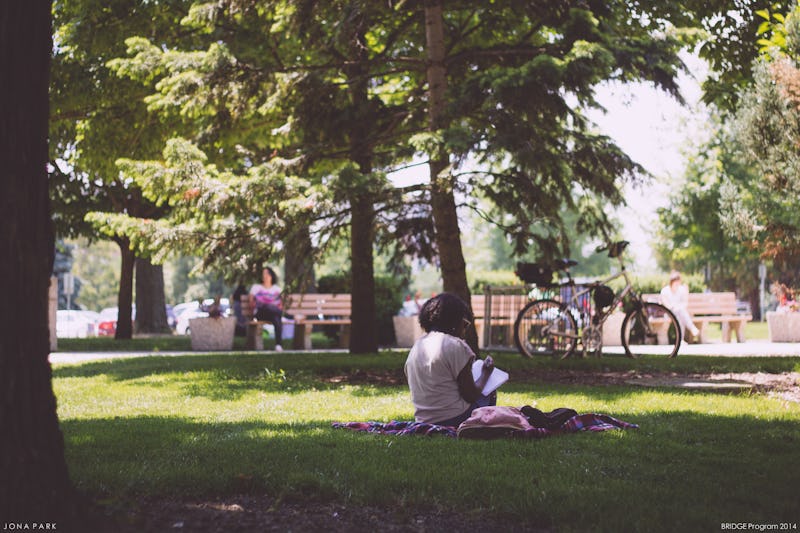 When I was touring colleges and sorting out my choices, there were a couple of things I was concerned about most. Of course, I wanted decent dorm rooms, a fun social scene, and a large enough distance between me and my parents. My parents, on the other hand, were mostly concerned with safety of the campus. If they had their way, they would've packed me up and sent me off to the top school on this latest list of colleges with the safest campuses.
Instead, I went to college in Milwaukee, which is Wisconsin's largest city. I loved going to school in a bigger city, because there were so many new places to see and things to try. But, obviously, larger cities have their downsides. While there were definitely some areas of the city that you didn't want to end up in after sundown, I never felt threatened or unsafe when I was on the actual campus. Props to you, campus security.
But, despite my sense of safety on my college's campus, my school didn't make the list of safest college campuses in 2014-2015. What sorts of things are considered when determining the safety of campuses? Niche put together these rankings by looking at a few different factors, including crime statistics, drug and alcohol usage, and opinions from 82,000 different students.
Curious as to who's leading the way for the safest college campuses in America? Take a look at the top 10!
1. Wheaton College — Illinois
As a Christian liberal arts college, Wheaton College has a crime rate of zero crimes committed on campus per 1,000 students. In fact, all of the schools on this list share that same crime statistic. Wheaton also boasts an incredibly high freshman retention rate of 95 percent.
2. Brigham Young University — Idaho
I've heard a lot about the Brigham Young University in Utah, but I was surprised to see the Idaho campus topping them on this list. Like all other Brigham Young Universities, this Idaho campus is owned and operated by The Church of Jesus Christ of Latter-Day Saints.
3. Brigham Young University — Utah
I probably shouldn't be surprised that Brigham Young takes two of the spots in the top three — which might be why its students obviously like it there. Its Utah campus has a freshman retention rate of 89 percent.
4. Biola University — California
I really can't say that I'm surprised that all of the colleges on this list are Christian schools. Of course, Biola University is no exception, as a private evangelical Christian university located in Southern California.
5. Taylor University — Indiana
With an enrollment of just about 2,000 students, Taylor University is a small school. But that smaller community feel undoubtedly helps it ensure a remarkably safe campus for students.
6. Whitworth University — Washington
As a Christian liberal arts college located in Spokane, Wash., Whitworth University offers a safe atmosphere and a freshman retention rate of 85 percent.
7. George Fox University — Oregon
Yet another Christian liberal arts university to add to the list. George Fox University is another great option for students who are seeking out safe campuses and a Christian-focused education.
8. Liberty University — Virginia
Liberty University describes itself as a "Christian academic community." And, with its incredibly low crime rate, it's definitely a safe one.
9. Boston College — Massachusetts
For being near a larger city, this Jesuit Catholic research university boasts a surprisingly low crime rate, and a solid freshman retention rate of 95 percent. However, Boston College scored the lowest out of the top 10 for its drug safety grade.
10. Bethel University — Minnesota
With more than 6,000 students and a location in a more metropolitan area, you might anticipate an unsafe campus. But, Bethel University upholds the apparent standard of maintaining safe campuses.
Images: Jona Park, Stevan Sheets, Jimmy Emerson, Ellen Forsyth, Big City Signs, Alexander Moore, Frank Fujimoto, George Fox Evangelical Seminary, Taber Andrew Bain, Massachusetts Office of Travel and Tourism, Devin Westhause/Flickr