4 Ways To Wear Plus Size Culottes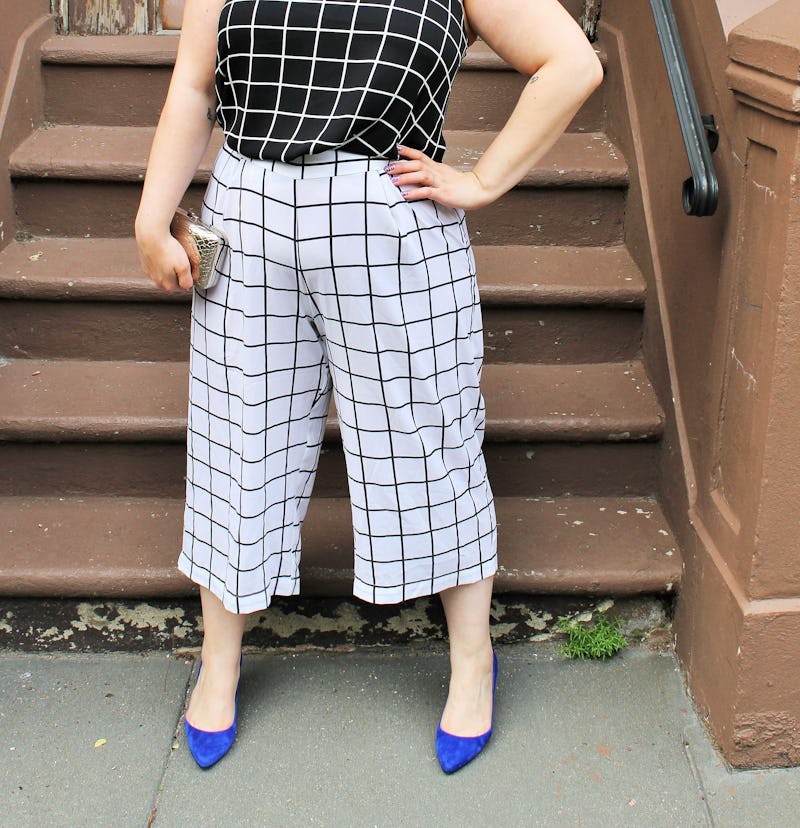 Culottes. That one little word — that one item of clothing — can evoke such revulsion from some, while simultaneously eliciting a raised eyebrow of interest from those who are up for a sartorial gamble. Turn it into plus size culottes, and the confusion gets even deeper.
Culottes generally offer a boxy silhouette that ends an inch or two below your knee, typically around the widest part of your calf, and are frequently considered to be an "unflattering" item of clothing. Even those willing to take unique style risks otherwise sometimes avoid the look entirely. Unlike traditionally feminine and "flattering" midi skirts (which hit around the same part of your calf), culottes do not customarily nip in at your natural waist or flare out at your hips. Since they hover on your widest point and hang down, they will often give your body a rectangular look. If you ask me, though, the fact that they're not meant to create an hourglass shape or accentuate curves or "flatter" the body is all the more reason to try the trend.
Like many of-the-moment styles, the plus selection of culottes out there is relatively slim pickins', but I was still excited to quickly find four styles that I loved. Only a year or so back, there likely would have been zero options to choose from, so it's absolutely a sign of fashion evolution. Here's how I styled them.
1. Check Please
Top (similar): Check Shell Top with Split Back, $36, simplybe.com; Soft Pleated Culottes, $100, eloquii.com; Custom Heels, shoesofprey.com; Necklace, hm.com; Sunglasses, Street Vendor; Bag, Vintage
This first look was also my first experience with culottes. Of course, I had seen them in high-end editorial spreads and trend forecasts from fashion magazines, but this was my first encounter with them in the flesh... or rather, in the fabric. When I received this Eloquii option, I instantly knew that I wanted to pair it with my Ann Taylor tank top, as the check prints mirrored each other. Although I personally always opt for a pop of color with any ensemble — an inevitability anyway, thanks to my vibrant red hair — I purposely added blue suede heels into the mix to make the outfit stand out even more. By choosing a heel instead of a flat, I also added length to my legs because sometimes you just want to feel taller.
I tucked in my sleeveless top to help break the look up at a higher point for a bolder print-mixing vibe. Although you might need to throw on a blazer or cardigan in most meat freezer-level offices (or in those that are more corporate and don't permit bare arms), it's been brutally hot out, so the last thing I wanted was another layer.
2. Animal Instincts
ASOS the Sleeveless Top in Rib, $8, asos.com; Plus Ruth Longline Waistcoat, $25, boohoo.com; Worthington Culottes, $36, jcpenney.com; Margot Meanie Arrow Pendant Necklace, $12, coolgalblue.com; Bracelet, Kate Spade; Sunglasses, Street Vendor
I was going for an "urban safari" look here. Not only is this outfit great for prowling the concrete jungle, but you could wear it to work and then out for drinks without swapping a single piece. I picked a crop top to show a sliver of skin, but you could also layer a solid tank top under patterned culottes if you prefer a more modest look.
I dressed things up with a longline sleeveless blazer and open-toe chunky heels. Since I am so pale, I look more sun-bleached than sun-tanned, but the slick white heels almost blend into my skin shade and trick the eye into making my legs appear longer. If I had chosen a contrasting color in the same shoe design, it would have cut the visual plane and shortened my stems.
3. Wing & A Prayer
ASOS the Sleeveless Top in Rib, $8, asos.com; Soft Pleated Culottes, $47, eloquii.com; Angyl Heel, $111, y-r-u.com; Sunglasses, Ray Ban; Necklace, Street Vendor; Bracelet, Kate Spade.
I love breaking antiquated fashion rules, and this black and navy combo is a supposed style no-no. I adore the subtle contrast between the two shades, and how the reflective sunglasses and tassel necklace mirror the deep blue hue. Due to the lack of print and a more modern structured-slouchy cut, this outfit is a bit more minimalistic (at least for my taste), hence the addition of the statement winged heels.
There was something about this ensemble that reminded me of a corporate version of a 1990s TLC outfit — oversized baggy pants and a crop top, plus a hefty dose of sass.
4. Garden Party
Tank Top, oldnavy.com; Worthington Soft Wide Leg Culottes, $13, jcpenney.com; Angyl Heel, $111, y-r-u.com; Book Clutch, Colette Hayman; Margot Meanie Arrow Pendant Necklace, $12, coolgalblue.com; Bracelet, Kate Spade
When I found these culottes in JC Penney, I was floored. Not only does the quality feel elevated, but the enlarged floral print reminded me of a classic DVF look. Because of its eye-catching design, I wanted to temper it with a solid top. Just for the hell of it, I decided to eschew crop tops or even a tucked in top, so I layered a fitted tank over the culottes. The result was a casual yet elegant style that would work at the office or grabbing brunch with friends.
So there you have it! Four ways to style this season's trickiest trend. See: Sometimes the looks that scare us in some way are the most fun to rock.
Images: Liz Black