What To Expect During Welcome Week At UF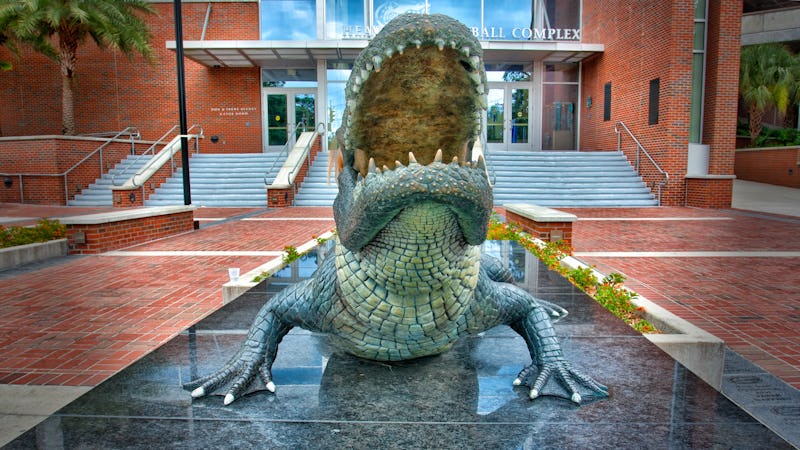 There is nothing quite like going to school at the University of Florida — the pristine, red brick buildings with Century Tower basking in all its glory, the quirky UF squirrels nestled in the willow trees, and the electric spirit that exudes throughout campus. It doesn't matter if you are saluting your parents goodbye for the first time after they've dropped you off at your dorm, or waving hello to all of your old friends huddled by the beloved "Potato" and "French Fries" statues. Any day in the 'Ville is a good one, but if it's your first time stepping foot into Titletown, you may not know exactly what to expect during welcome week at the University of Florida.
Don't worry, though. Before you know it, you'll fit right in with the Bull Gators, and be just like everyone else — starting each morning by picking up a fresh copy of the Independent Florida Alligator, obsessing over Bento Cafe, checking Yik Yak on the RTS buses for the latest happenings, and picking up classes like a strategic pro (this is an art that takes ages to master). You'll even learn how to do laundry and cook! However, as is true with any new environment, it's easy to feel overwhelmed, especially during these first few days. Gainesville might be a small town, but there is a lot going on, so here are eight things you'll probably notice during your first week at UF.
1. Fashion statements will vary... at first.
On the first day of class, most people will show up like it's a freakin' fashion show. Whether you're trying to befriend the professor or catch the eye of the cutie across Carleton auditorium, first impressions count, so of course you're going to want to show off your perfect outfit that probably took weeks of planning. Or perhaps you're excited to don the brand new Gators V-neck you just purchased from the UF Bookstore in the Reitz Union. But it doesn't matter if you're the one dressed in a preppy Lilly Pulitzer dress, or in an obnoxious head-to-toe orange-and-blue getup with the Preview lanyard and Class of 2019 canvas tote. By the end of the first week, you're sure to see everyone looking like clones in activewear — even when they're not being active. Popular Gainesville staples include oversized T-shirts, Nike shorts (aka "norts"), and anoraks with Greek letters or organization allegiances.
2. You will be bombarded with Welcome Week events.
Every semester, the Inter-Residence Hall Association puts on fun events for incoming students and anyone living in dorms on campus. After purchasing an activity card, which is usually $5, you'll have access to plenty of social functions, fully equipped game rooms, and free food at dorms all over campus throughout the fall, but during Welcome Week, the organization sets up daily activities and helpful move-in resources for free. Past events have included things like shaving cream fights at Yulee field, midnight pancakes, trivia nights, air hockey competitions, and even puppy playdates. Outside of class, these events are ideal for bonding with your new roomie or making a friend.
3. You get to experience GatorNights for the first time.
GatorNights is a weekly event put on by the Reitz Union Board of Entertainment (RUB), which is a group that organizes themed activities all year, such as "Left Shark's Pool Party," or "Mr. Gatsby's Mardi Gras." With a student ID, every attendee can enjoy popular movie releases, free food, games, and performances each Friday night. During the first week of school, GatorNights often holds its biggest event of the season, which could include carnival rides, the usual midnight breakfast, a stand-up comedy act, live bands, and DIY art activities. This year, there is also a contest for incoming freshmen called the #UF19Contest, in which new students have the chance to win an Apple Watch by posting photos of themselves wearing the UF19 shirt to Instagram or Twitter with the hashtag. A winner will be selected at the first GatorNights event of the semester.
4. Everywhere you go will be packed.
From people chitchatting at bus stops to libraries, gyms, and everything in between, virtually every inch of campus is going to be full of students. Don't be surprised when you see a 586-person line forming at the Chick-Fil-A in the HUB, herds of hipsters chilling on hammocks around Library "Club" West while eating delicious Hare Krishna food, or flocks of muscly, barely-there-neon-shirt-wearing bros occupying all the weights at Southwest Recreation Center. Oh, and forget about getting a parking spot on campus. But don't fret: After the first-week madness subsides, the only time you'll see all 50,000 students in one place at the same time again is on gameday... which is, you know, every other week.
5. Everything will feel sporty.
If there is one thing that reigns king at UF other than stellar academics, it's sports. Besides being the playground of Tim Tebow and Ryan Lochte, UF has a long history of boasting Olympians and athletic superstars. Whether you casually find them in the omelette line at Gator Corner Dining, or strolling by near Springs Complex (aka the athlete dorm), there is no shortage of athletes, nor constant sporting events to match. As early as the first week of school, NCAA-level sporting events begin for soccer, volleyball, swimming, and football. Every fall, the year kicks off with a Fan Day, with opportunities to meet the team, football players, and coaches. You will probably have a chance to take a selfie with the school mascots, Albert and Alberta, here, too. And if that's not enough, the first week also signifies the start of glorious football season, so you'll want to join the hype of arranging game blocks, buying football tickets, planning tailgates, and waiting in line for an SAA beat shirt. Check out GatorZone.com to keep up with all the schedules, rosters, ticket info, and more.
6. You'll get involved right away.
It doesn't take long to find your niche in the Gator Nation. Within the first week, intramural sports leagues are already planning their first practices, student clubs are arranging their first meetings, and the Panhellenic community is in the process of inducting new members. With more than 800 student organizations, it can be overwhelming to pick what you want to get involved in, so don't be afraid to try a few things out, and don't feel like anything you do is obligated to become a four-year commitment. There's something fun or career-oriented for every student, including fencing, UF Relay for Life, and even more unique options like the Gator Tea Society or Quidditch team. You'll be bombarded with club fliers all week when you walk to class, but if you need more help deciding on what club would be good for you, peer advisors on the third floor of the Reitz Union are eager to recommend suitable organizations for you based on your interests and academic goals.
7. You have the opportunity to get discounts and free stuff galore.
If you're brave enough to pass through the depths of Turlington Plaza, where you'll be approached by dozens of students with hands full of fliers (or the infamous Turlington preacher who likes to publicly criticize the propriety of your yoga pants), there is a nice reward. The first week of school is the only time you'll be able to acquire convenient little coupon booklets called Gator Greenbacks and Gatorbucks. I cannot emphasize enough that you need to grab as many as you can. For cheaper-than-dirt bubble tea, amazing pizza deals, and more, these packets will come in handy. Also, when you're passing through campus during your first week, if you're on the lookout for booths, tables, and students holding a ton of stuff, you can probably spin a wheel to claim a prize, or simply ask for a freebie. Before the end of the day, you could potentially go home with a full set of plastic cups, an iPhone car charger, enough pens to last you the year, a school planner, protein bars, a cookbook, water bottles, T-shirts, and a beer bottle opener keychain.
8. The party never stops.
It's no coincidence that Gainesville has been home to several back-to-back top party school titles. At UF, the Gators party for every significant — as well as every insignificant — occasion. If we win a football game, there's going to be a party. If we lose a football game, there's going to be a party. And when it's the first week of school? Oh, you bet there's going to be a party. Before everyone is bogged down by the demons of homework and studying, the first week is guaranteed to be a raging good time, and there's something to do each day of the week. Maybe you'll decide to check out the mechanical bull at a rush week event on Fraternity Row, or find a club promoter who will get you limo service and VIP access to 101 Downtown. Or, perhaps you'll keep it simple and hit up a back-to-school bash at Midtown, a wondrous place that holds as many crazy stories as it does forgotten memories. With Gainesvegas' crazy nightlife and no parents to hold you back, it's easy to get carried away with first-week nightlife shenanigans, so have a little fun, but try not to go overboard. And if you do happen to party too hard, too fast, you can always head over to the infirmary, the birthplace of Gatorade, for a free pick-me-up before your next lecture.
Image: Matthew Paulson/Flickr