'The 33' Will Make You Feel Everything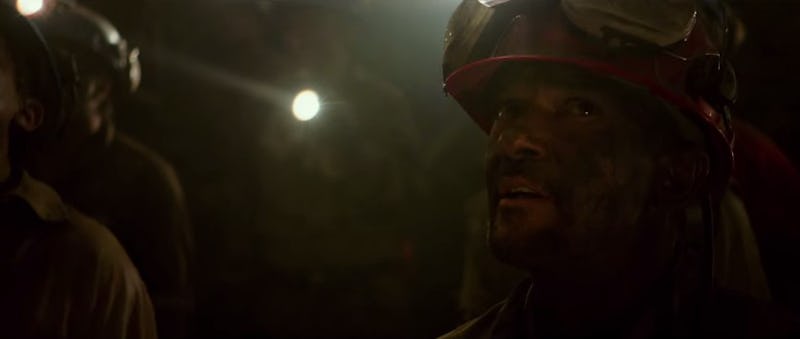 Once in a while, you stumble upon a film that can make your eyes well up with tears simply from the trailer alone. This year, that movie is The 33 — and trust me if you're not on the verge of crying by the end of the two minute trailer, your tear ducts must be dried out. The trailer for The 33 hit the Internet on Wednesday, and from the look of the trailer it looks devastating — perhaps because it's based on a real (and really incredible) survival story about 33 Chilean miners who were trapped in a mine shaft for over two months. The film, which stars Antonio Banderas, follows the miners' struggle for survival, and is juxtaposed with the rescue effort from the government and the miners' loved ones on the outside. Expect plenty of heartbreak and hope from this trailer — and when you watch, don't forget the tissues.
Most of us have heard of the Chilean miners' incredible survival story, but the film paints a picture few of us could have imagined. The film itself was, according to Coming Soon, shot in real working mines in Chile and Colombia, giving the images a powerful authenticity.
Here are some of The 33 trailer's most incredible moments:
"The Only Way In, And The Only Way Out"
In the film, the miners drive over an hour down into the belly of the mountain — which gives you the idea of just how difficult it will be to get out.
The Disaster
Within the trailer, the devastation of the mine happens suddenly — with only slight rumblings to indicate the disaster ahead.
The Escape Attempt
As the miners attempt to get out, the mine begins to collapse around them, trapping them inside.
The Quiet Landscape
Chaos may be happening beneath the surface, but the landscape appears almost untouched.
The Waiting
As awful as the situation is inside the mine, the pain on the faces of those who have loved ones below the surface is equally as devastating.
"That's Not A Rock, That's The Heart Of The Mountain... She Finally Broke."
Banderas' character's words are haunting.
The Brotherhood Of The Mine
Ultimately it is their strength of spirit — and their willingness to work together — that help these men survive a truly horrifying life experience.
Watch the full trailer for The 33 below:
Images: Warner Bros. Pictures/YouTube (8)