I Tried 5 Brow Fillers To Find The Very Best One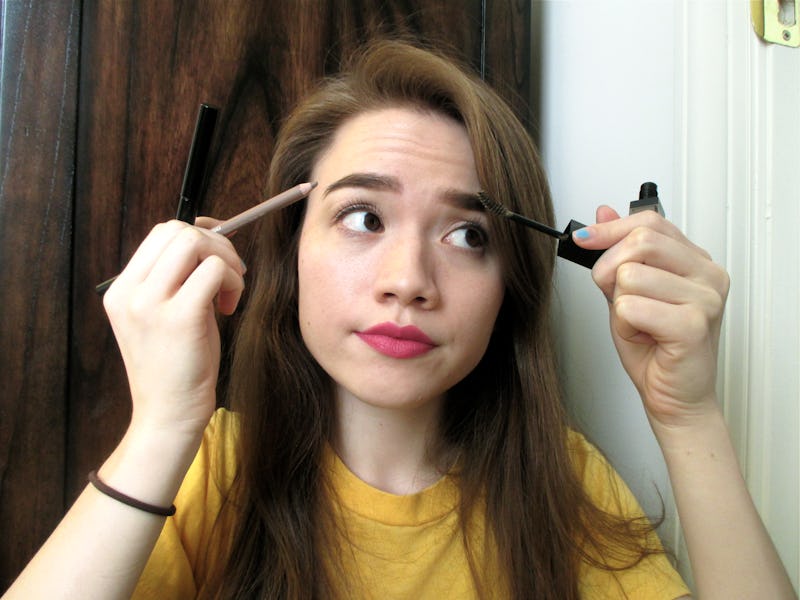 I've always had a thing for eyebrows but, until recently, I didn't even know what was the best product for filling in eyebrows for my own personal taste. My eyebrows are darker than my hair, and I like them that way. I also like them thick and bold. So I've always preferred powder to pencil. But there are actually quite a few options when it comes to filling in eyebrows. There's powders and pencils and pens (oh my), but also pomades and gels. And depending on your preference, whether you like totally natural-looking brows or big and bold face caterpillars (OK, I'm sorry I called them that; I don't like caterpillars either), at least one of these products will do exactly what you want, even if filling in brows with a marker sounds a little suspect.
So once you've properly shaped your eyebrows, and decided which trend you like best for your face, it's time to pick a filler. If you're not quite sure which direction you want to go, I tried each type to see how they transformed my eyebrows so you don't have to. So whether you're looking to switch up your eyebrow filler, or just want to see what the different options really look like, here's how eyebrow powder, pencil, pen, pomade, and gel stack up.
From left:
Kiss Beautiful Brow Kit, $8, Amazon; MAC Veluxe Brow Liner, $21, Nordstrom; MAC Penultimate Brow Marker, $21, Nordstrom; MAC Fluidline Brow Gelcreme, $17, Bloomingdale's; Brow Tint, $16, Modellauncher
For the following photos, unless otherwise noted, the "before" is on the left and the "after" is on the right. All products mentioned were used on their own (e.g. no gel products were layered over other types of products, and no other products were used under the gel product).
Powder
Powder brow filler has been a long-time staple for me. I like it because it's relatively fast to use, plus it's easier to fix mistakes because powder rubs or washes away somewhat easier than products like pomades that are made to be long-wearing, or pencils that leave more of a harsh line. The Kiss Beautiful Brow Kit was no exception. Although I just used the darker of the two shades, it would be quite simple to mix your ideal brow hue from the colors provided, or do an ombre brow using the lighter color for the front of the eyebrows and the darker color for the tails. This kit also comes with a double-ended angled brush and applicator sponge, a spoolie, eyebrow-shaping tools, wax to keep brow hairs in place, and a beautiful highlight shade, which I am wearing in the "after" photos and the photo below (I am wearing a different highlighter in all other photos in this review).
Original Beauty Blender, $20, Sephora
If you prefer your brows to appear bolder yet still soft, a powder is the way to go.
Pencil
Eyebrow pencils can provide a slightly more natural look than powders, as they can be used in short strokes to mimic the appearance of hair. The Veluxe Brow Liner from MAC Cosmetics has a consistency that falls right in the middle of being not too creamy yet not too hard, and the pencil itself is the size of an average eye pencil. While I did find the shade "Brunette" to be a tad warm for my personal preference, I was able to quickly fill in sparse areas and achieve a rather groomed look, if I do say so myself, thanks to the spoolie brush that is attached to the opposite end of the pencil.
If you prefer a natural-looking brow with a little added control, a pencil is the way to go.
Pen
I'd never used a brow pen before, but I quickly fell in love with how easy it was to control, and how natural my brows looked. I was a little wary that the Penultimate Brow Marker from MAC Cosmetics would not suit my eyebrow color as it only comes in one universal shade (and I have not had the best luck with "universal shades" in the past). However, it actually ended up casting the perfect shadow for a natural-yet-full look. Even though my brows are on the darker side, this shade seems as though it would still work well for blonde ladies as I did have to layer the color some on my own brows. What's more is, the felt tip of this marker is just like a liquid liner nib that gives the perfect amount of control, like a pencil, to mimic the appearance of brow hairs. However, because the point is so fine, it might take a little longer for ladies with more brow area to cover to fully fill in their eyebrows.
If you prefer a natural-looking brow with a lot of added control (and have the patience), a pen is the way to go.
Pomade
As I mentioned earlier, I love a bold brow. So I admittedly did a little jig after I tried the Fluidline Brow Gelcreme from MAC Cosmetics. This pomade-style product really gives the intense color and ability to carve out eyebrows along with enough hold that I didn't feel like I needed a gel on top. However, this definitely took me the longest to fill in my brows (although I did have the least practice with this format), and I had to use a separate brush, making this the least travel-friendly option of the bunch. But this product still gave me the best staying power, and honestly, the most confidence.
If you prefer a bold, look-at-me brow and have the time to carve it out, a pomade is the way to go.
Gel
I usually don't use brow gels or tints on their own unless I'm really in a hurry. This is mostly because I see them more for their purpose of holding hairs in place rather than offering any sort of filler benefits. But this Brow Tint from MODELLAUNCHER made me rethink this. No, it still did not give me the definition I usually crave, but it was able to add some depth and color to make my brows appear more full. And yes, even my long, unruly brows actually stayed in place all day without feeling crunchy with this gel.
If you prefer quick-and-easy brows that aren't defined but will stay in place, a gel is the way to go.
Which Brow Filler Is Best?
Clockwise from top left: Normal, Gel, Pen, Pomade, Powder, Pencil
As a bit of a brow fanatic, I'll be sure to keep all of these types of brow fillers in my arsenal for whenever my mood might change, as I do think each type provides its own unique look. However, if you tend to stick to your guns with how you get your brows on fleek, not all of these products are necessary. Depending on the length and density of your brows, and how much time you like to invest in them, some of these products may not suit your needs. However, regardless of what filler you prefer, and especially if you have longer brow hairs, I do recommend a brow gel to keep everything locked in place. So may your brows always be large and in charge (you know, if that's your thing).
Images: Miki Hayes
FYI, Bustle may receive a portion of sales from products purchased from this article, which were added independently from Bustle's sales and editorial departments after publication.