Newsweek Revives Print Editon: Magazines That Are Surprisingly Still Alive, And Others We'd Like To Resurrect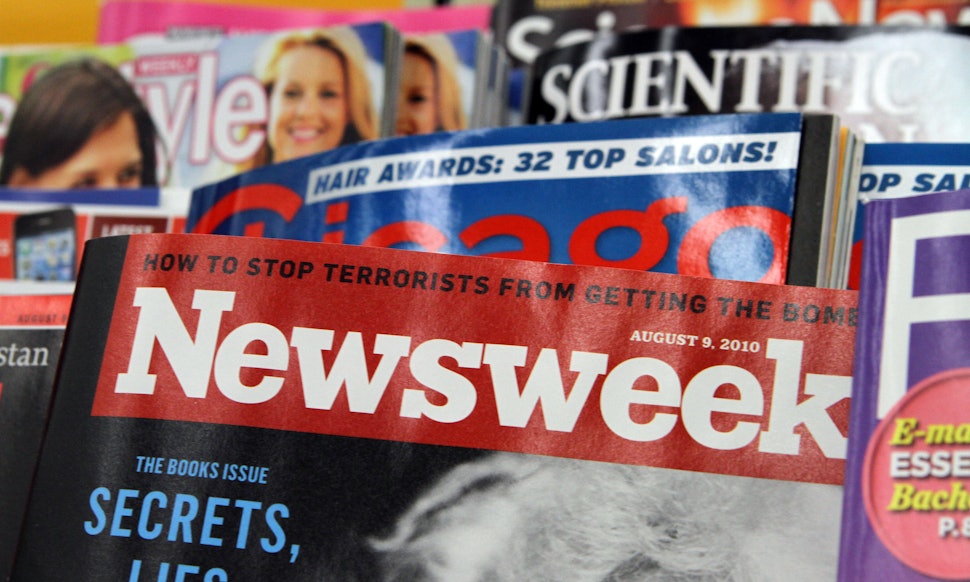 John Gress/Getty Images News/Getty Images
Don't call it a comeback. If you thought the printed version of Newsweek magazine made its last gasp in December 2012, you were wrong. The magazine's editor-in-chief, Jim Impoco, says that Newsweek plans to launch a 64-page weekly edition in January or February. The magazine, which was sold to IBT Media in August, would rely on a subscription-based approach to make ends meet. Full disclosure: I am a former Newsweek and The Daily Beast employee. And this latest news about the magazine caught me by complete surprise. Good luck, guys.
It goes without saying that many magazines are struggling to balance the price of printing with the demands of digital media. Recently, The Onion decided to cease printing, and New York magazine will scale back its print issue to a biweekly.
So, to those who still like flipping through the pages of a real magazine in their hands, which ones would you like to see brought back from the dead? Check out some of our choices, as well as magazines that we thought were long gone.
Resurrect: 'Teen People'
I don't know about you, but when I was growing up, Teen People was THE magazine. I anticipated the time every month when I would get my magazine in the mail and greedily open it up to find a plethora of '90s boy bands, how to rock the latest bellbottom jeans, and ads for BonneBell chapstick. Memories. How I'd like to hold a print copy once more. Teen People was unfortunately shuttered in 2006 and remains just a shell of its former glorious self. While there is a "Teen People" section on People.com, it doesn't look like anyone has updated it since at least 2009.
Photo courtesy of the author's stash (yes, this is embarrassing).
Still Exists: 'The Saturday Evening Post'
Did anyone know this? I thought The Saturday Evening Post stopped printing ages ago, in its Norman Rockwell-illustrated heyday. But the bimonthly publication endures. It was first printed by Benjamin Franklin as the Pennsylvania Gazette until it got its current name in 1821. It ceased printing briefly in 1969 but was revived by the The Saturday Evening Post Society, Inc., a nonprofit entity. The Post has about 350,000 subscribers, and it recently redesigned its cover and plans to launch a tablet app.
Image: Boston Public Library
Resurrect: A New 'Life?'
Can't we get a Kickstarter or something to fund the return of Life magazine? The publication, famous for its accessibility and sprawling photos, may have embodied America in a way no other magazine ever could. Although attempts were made to revive it, Life officially ceased publication in 2007. It now lives as a sad little remnant on Time's website, with only photos from different decades displayed.
Image: Joe Kunzler
Still Exists: 'Collier's'
Again, I completely thought this magazine had disappeared by way of the butter churn. But I am wrong. You can still subscribe to both print and digital editions of Collier's magazine, which was founded in 1888 by an Irish immigrant. Granted, it did have a "55-year nap" before 2012, when it was relaunched as a big glossy. (The publisher bought the title at an auction for $2,000.) Writers for the venerable publication have included J.D. Salinger, F. Scott Fitzgerald, Ernest Hemingway, and Upton Sinclair.
Resurrect: 'Gourmet'
We'll take Gourmet's leftovers! There's nothing like flipping through some serious food porn while preparing holiday meals. In 2009, after 70 years of print, Conde Nast killed beloved Gourmet magazine in favor of its other foodie mag, Bon Appetit. Decreasing revenues were blamed on the rise of TV cooking shows and food blogs. The magazine was supposed to live on as an app called Gourmet Live, but it was no longer being updated as of 2012. Here's to hoping Gourmet's website can make it through the glut of food-centric sites.
Still Exists: 'Cat Fancy'
Crazy cat ladies, unite! Even though the Internet at time seems like one collective cat meme, the print version of Cat Fancy apparently has nine lives. And if Stephen Colbert is a fan, so am I. Many cat-lovers were reminded of its existence through an absolutely crazy Twitter account that was unrelated to the magazine, @Cat_Fancy, which was unfortunately suspended in 2012. Now the real Cat Fancy has its own slightly boring — but still adorable — Twitter feed. On a related note, one of my all-time favorite tweets, by @BrianRScully, is "How come Newsweek magazine couldn't make a go of it, but Cat Fancy can?" I guess that point is moot now.
Resurrect: 'Nickelodeon' Magazine!
If there's one thing that marketers need to figure out, it's that 20-somethings love nostalgia. Why not bring back Nickelodeon magazine to brighten everyone's days with Rugrats, CatDog, Spongebob Squarepants, and Hey Arnold? Although Nick has brought back some of its old TV shows and people have attempted to depict what grown-up cartoon characters would look like today, it'd be nice to get that blast from the past. And you don't even have to ask for your parents' permission this time.
Image via Flickr: Loren Javier