Native American Fashion Is Going On The Road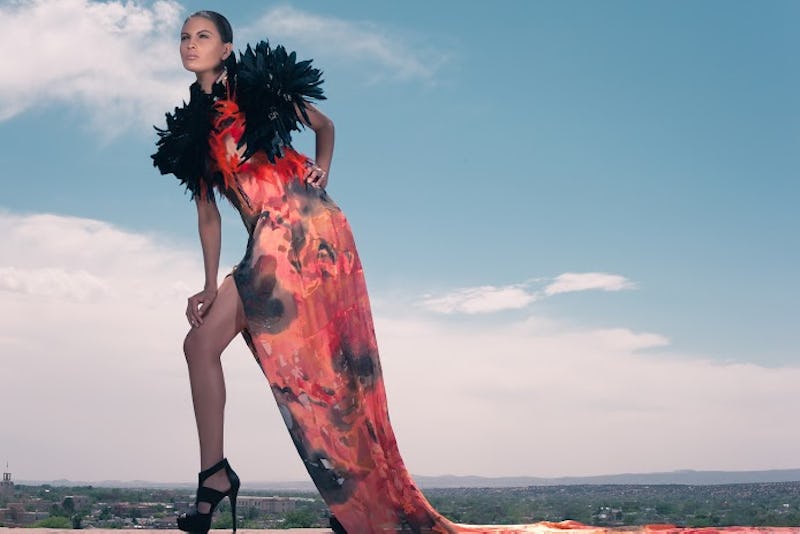 Indigenous people and their art are alive and well despite certain misconceptions that paint a different picture. This is what sparked the Peabody Essex Museum (PEM) in Salem, MA to create a large scale traveling exhibit Native Fashion Now. "Native American art and culture are often perceived as phenomena of the past — or just mere replicas," said Karen Kramer, PEM's Curator of Native American Art and Culture, in the press release for the exhibit. "But that couldn't be further from the truth. Contemporary Native fashion designers are dismantling and upending familiar motifs, adopting new forms of expression and materials, and sharing their vision of Native culture and design with a global audience."
Over 100 items from American and Canadian designers will be a part of the displays, and the museum has said that the show is the first to "emphasize the longstanding, evolving, and increasingly prominent relationship between fashion and creativity in Native culture." The exhibition will feature contemporary designers like Pat Pruitt, Jamie Okuma, Orlando Dugi, and Virgil Ortiz. Ortiz's Made in Native America line is now famous after Donna Karan became enamored with his family's Cochiti Pueblo pottery style at a farmer's market and invited him to partake in an internship. That invitation led to a collaborative collection between the two in 2003 and Ortiz hasn't looked back since, producing leather goods, T-shirts, and silk scarves along the way.
The exhibit will also feature streetwear by Diné (Navajo) artist, Jared Yazzie, who uses his work as a method of self-representation and makes statements like "Native Americans Discovered Columbus" on a T-shirt or the cultural appropriation-eviscerating "Don't Trend On Me" on a hoodie. It will be interesting to see how the exhibit approaches cultural appropriation since it's set to contain pieces from non-Native designers that are "Native-influenced," one of whom is Ralph Lauren, who's been accused of appropriating and fetishizing Native culture in the past.
OXDX Clothing Tee, $26, oxdx.storeenvy.com
Most importantly, though, I'm excited to see talented Indigenous designers finally getting their dues.
Images: Nate Francis/Peabody Essex Museum (1); Courtesy OXDX Clothing