Social Media Is Losing Its Mind Over This Nail Art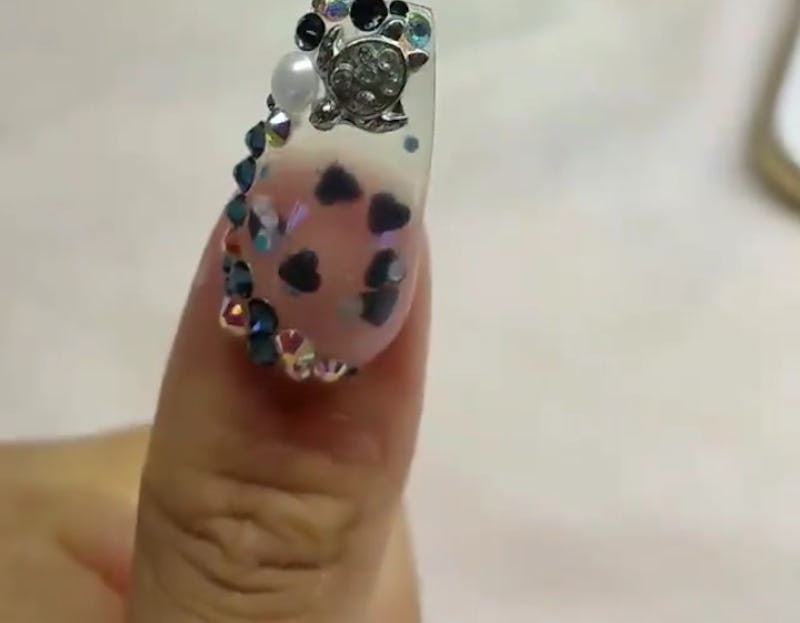 If you thought you'd seen it all when it comes to over the top nail art, the nail art currently going viral on Facebook is going to blow your mind. The look is called "aquarium nails" or aqua tips and it is exactly what it sounds like. Instead of a flat, two-dimensional fake nail, these nails are teeny tiny little capsules that you can fill with liquid. The nails are usually filled with water or baby oil by a syringe, where nail artists then float gems and colorful shapes inside (or sometimes even use sand for a mermaid babe look).
These nails are definitely head turners, even in the completely OTT world of nail art where creations are becoming increasingly intricate. Vietnamese TV Show 2! Idol posted a video of the nails — by Tony's Nails in Wichita Falls, Texas — in action on its Facebook page and in under three days, the aqua nails have amassed over 13 million views.
These designs are totally customizable, but what's more? They're fun and make you wonder how the heck something so kitsch and amazing could exist in this world. Seriously, these nails made me gasp aloud and wonder why I never became the nail art guru of my dreams.
If you want to know how to get aquarium nails at home, here is a pretty straightforward YouTube tutorial. Plus, a pack of 100 aquarium nails only costs $15 on Amazon. Nail artists have been working on derivatives of aquarium nails for years (shout out to Traska French-Artis of Nautic Nails), so it's pretty rad to finally see the brilliant design get the air time it deserves.
Clearly it looks like it takes skill, patience, and practice to master the aquarium nail look, but if you start training now, you'll totally be ahead of the trend when back to school rolls around.
Images: tonysnail/Instagram; redrosebud6/YouTube