Can You Wear Pastels In The Fall?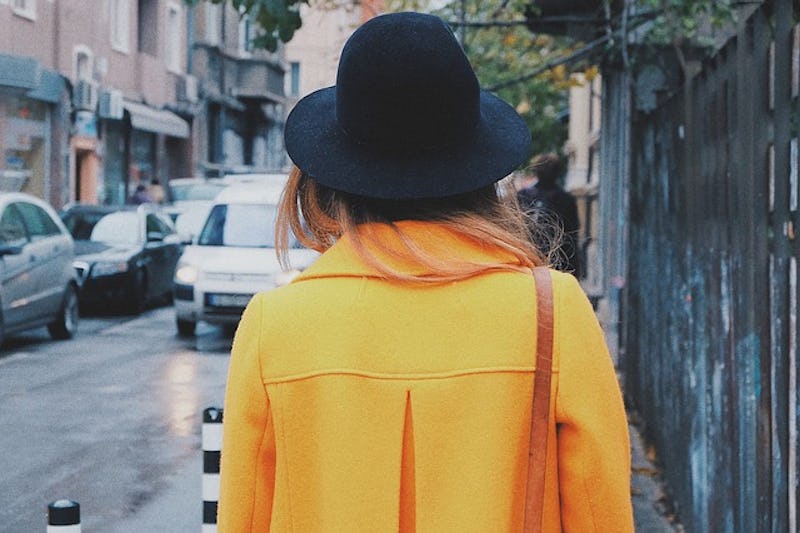 Don't put away your pastels just yet. Just because autumn is right around the corner doesn't mean that wearing pastels in the fall is impossible, or that you need to ditch your lighter-colored pieces. Light, pale colors may not seem to fit in with the dark, pigmented colors of fall, but the truth is that the two are really a match made in clothing-heaven. Forget any fashion rules you think that you may know, and throw them out the window. When it comes to style, it's only your perspective that matters. In my opinion, pastels are perfect for fall as they add a bit of color to an outfit without overwhelming any other pieces. What's not to love?
When it comes to styling pastels, it's all about adding in different textures. Personally, I love pairing pastel pieces with suede or leather in the fall, as it's such a lovely juxtaposition of sweet and edgy staples. However, if you're into bold prints and colors you may want to add bits of pastels as well. Bold cranberry pieces mix great with mint and cool blues. Basically, pastels are for everyone, all the time.
Wondering how you can rock pale hues during the fall? Here are a few outfit ideas to help you carry your pastels into the colder months.
1. Blazer
Pastel blazers are amazing for autumn. They add a light, crisp look to any outfit.
2. Dress
Don't put away your summertime dresses just yet! Adding neutral accessories to a pastel dress is a great way to transition the outfit into the colder months.
3. Shoes
If a full-on pastel dress still feels too summer-y for your taste, try just adding a touch of pale with delicate heels.
4. Handbag
Or, try adding a colorful handbag. Pairing a pale, pastel handbag with a neutral outfit is such a beautiful look. It adds a hint of color without overwhelming the outfit.
5. Skirt
Pastels mix well with so many different patterns and textures. Try adding stripes and a leather jacket to a pastel skirt for an interest mix.
6. Coat
Make pastels the staple of your outfit by adding a light colored coat. Pair with a matching bracelet, and you're good to go!
7. Crop Top
Whoever said that you can't wear crop tops in the fall was seriously disturbed. Pairing a slinky crop top with various textures and patterns is great for giving your fall look a bohemian vibe.
Images: Pixabay (1); emily-mcclure/Polyvore