'In Violet's Wake': One Woman, Five Exes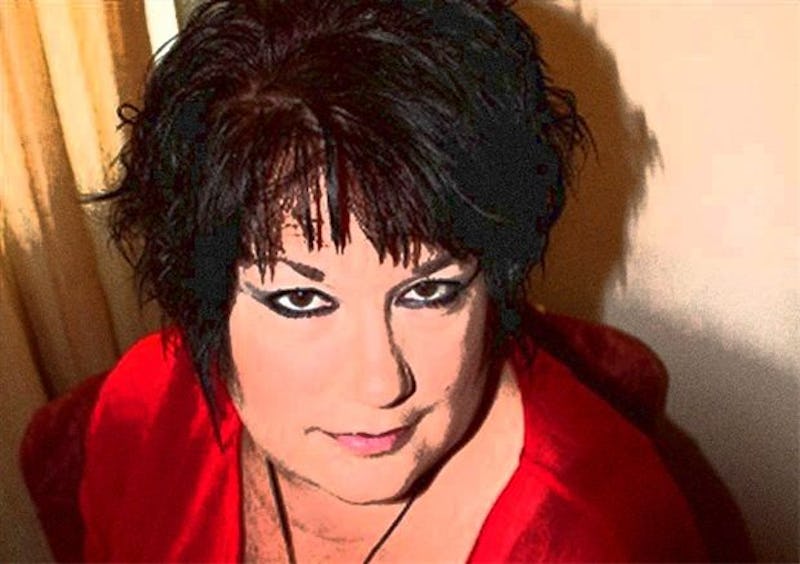 Unfairly or otherwise, there exists an understanding that the post-breakup pow-wow is a social phenomenon largely dominated, or at least perfected, by women. Robin Devereaux-Nelson, winner of the 2012 Fabri Literary Prize, is helping to turn the trope on its head with In Violet's Wake (Soft Skull).
This debut novel follows the story of five men as they form an unlikely bond, brought together by their mutual experience of the post-divorce blues. What makes this bond unique, however, is that they share more than just the unpleasant paperwork — they share the same ex-wife, too. Violet, a raven-haired siren apparently incapable of commitment, has stolen and then stomped on the heart of each of our male protagonists and, since her most recent separation, she is already scouting her next victim. Determined to warn, (or wrestle with) her latest love interest, the exes strike up a plan and head off to intervene, with mixed results.
The novel opens onto the decimated home of Marshall, the sixth and most recent husband whom Violet has left. Distraught and drunk, Marshall decides to confront her ex, Costra (husband number two) who runs a family restaurant nearby and with whom Marshall believes Violet to have been having an affair (which they have not). Despite initial attempts to engage him in drunken fisticuffs, Costra takes pity on Marshall, remembering all too well the emotional turmoil he encountered during his own split from Violet. Thus begins their unusual friendship and their pursuit of Violet's other former husbands.
They first track down Brian, a bipolar recluse who, since his divorce, has avoided any and all social interaction, choosing to hole himself up in his home he has been decorating with used hubcaps. Then Owen, a successful veterinarian who has maintained a "friendship" of sorts with Violet in the hopes that it might turn into something more. Finally we meet Tim, a computer technician whose recent return to his parent's home has already inspired some nostalgic self-reflection. The five of them (the first and much older husband died two years into the marriage), through regularly organized gatherings at Castro's restaurant, reminisce over the wonders and woes they experienced with their elusive ex-wife and, in doing so, come to realize her many, insurmountable flaws.
With such instantly sympathetic characters, it is not difficult to be swept up in their unique story. The circumstances, though admittedly a little tragic, are certainly unusual and amusing, and Devereux-Nelson takes full advantage of this in her scene-setting. In describing the chaos of Marshall's chaotic living room, she notes:
She'd left behind the things she didn't want, or in Violet-speak, "couldn't bear to take." She'd left those sentimental reminders there for Marshall to deal with, which he did by remaining in a six-by-six-foot area of the living room that included the television, coffee table, and sofa, and none of the memorabilia of their short marriage.
Instantly, even in her absence (and largely because of it) Violet takes form, and the reader's image of her as a self-indulgent beauty utterly lacking in self-awareness gains focus as her former lovers elaborate. Further confirmation of their conclusions arrives through the session notes from her therapist that interrupts the chapters on occasion. They are some of the more successful and humouros moments in the book, and it becomes clear this is not Violet's first encounter with a psychiatrist's couch:
At first impression, Violet presents as slightly narcissistic, with a need for admiration and inflated self-involvement. There is a sense of a lack of empathy when discussing past relationships (with her six husbands) and parent, whom, she states, "never understood" her.
As a reader, we are then given permission to judge the character we have yet to meet, haven been afforded this objective opinion from a certified medical professional. Yet, despite their comic value, the sheer number of perspectives offered up in the book can cause problems. That there are five main male characters provides variety and levity, yet each character is left somewhat one-dimensional and exaggeratedly so.
Nevertheless, In Violet's Wake can be hard to put down, as each new chapter offers up some fascinating new nugget of intrigue into this mysterious persona. A new age "First Wives Club" of sorts, the book possesses a delightfully comic hue throughout, despite each man's heartache. It is refreshing to read about a collection of men willing to voluntarily pursue a resolution to their buried feelings and to do so together. Devereaux-Nelson's debut proves that we women might have been onto something all along.