12 Delicious Things To Do With M&Ms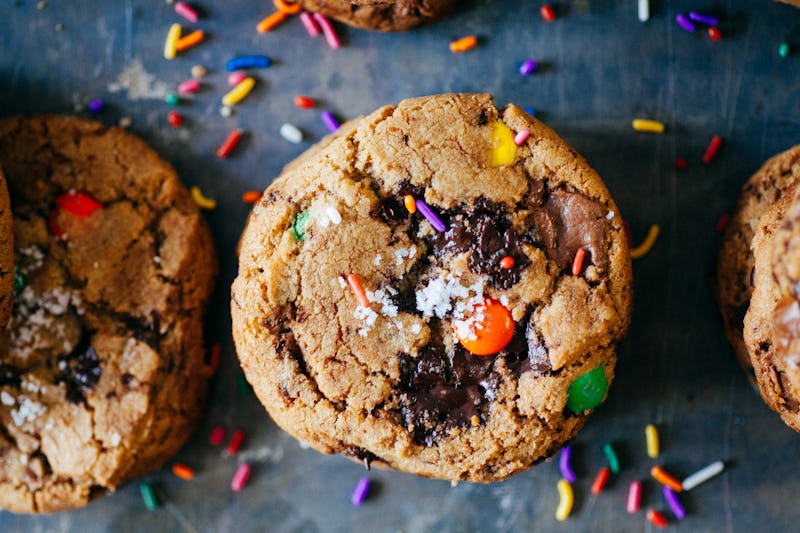 As much as we love shoving M&Ms into our mouths by the handful, these chocolate candies are a lot more than just a simple, sweet snack. In fact, there are so many amazing recipes using M&Ms that you kind of start to think that this multi-colored candy is the best thing to ever happen to dessert. Brownies, cookies, and even popcorn can all do with a healthy dose of chocolate — and we're all about satisfying our sweet tooth in the most delicious way possible.
Think of M&Ms as the more colorful, feisty cousin of the chocolate chip. Not only do they add in a chocolatey twist to any recipe, they also make it look a whole lot prettier. And in my book, that's a major success. After all, any food that looks good instantly gets points for being Instagram-worthy, in addition to being delicious.
The next time you set out to whip up a batch of cookies, a tray of cupcakes, or even some fancy chocolate truffles, don't forget to grab a bag of M&Ms. This classic candy is good for a whole lot more than trail mix, after all. Try out these 12 recipes to fully appreciate M&Ms for all their sugar-coated goodness. It's time to get colorful.
1. "The Munchies" Ice Cream Sandwiches With Peanut Butter Chip Cookies
This may be one of the ultimate ice cream sandwich recipes. Half Baked Harvest has done it again, with this amazing mix of salty and sweet.
2. M&M Chocolate Chip Cookie Bars
Thicker and gooier than chocolate chip cookies, Averie Cooks' cookie bars make a drool-worthy dessert.
3. Double Chocolate M&M Cookies
If you're more of a chocolate person, then Mel's Kitchen Cafe's version of these classic cookie bars is right up your alley.
4. Celebration Cookies
A sprinkle of salt and a smattering of M&Ms make The Crepes of Wrath's cookies a festive yet elegant dessert.
5. No-Bake M&M Granola Bars
We'll admit that we're suckers for no-bake recipes, but Inside BruCrew Life's M&M granola bars are delicious in their own regard.
6. Raspberry Surprise Chocolate Truffles
Taste and Tell's surprise-inside truffles may look like a fancy chocolate dessert recipe, but they're really quite simple. The surprise: an M&M right in the middle.
7. Peanut Butter M&M Brownies
The only thing better than brownies made from scratch? The Kitchn's peanut butter-filled M&M brownies, of course.
8. Soft and Chewy M&M Chocolate Chip Cookies
Averie Cooks' M&M-filled chocolate chip cookies are a classic — and they're even better than store-bought.
9. Butterscotch M&M Cookies
The secret to Inside BruCrew Life's gooey, M&M-filled butterscotch cookies is a no-brainer: butterscotch pudding!
10. Monster Cookie Bars
This oat-filled recipe by Mel's Kitchen Cafe is way better than the average blondie. M&Ms and peanut butter are a match made in heaven.
11. Spicy Gooey Almond Popcorn With Chocolate
Mixing candy with popcorn is an age-old movie theater trick, but The Kitchn gets a little more inventive, adding Sriracha and almond butter into this savory-spicy-sweet treat.
12. M&M Cupcakes With Peanut Butter Frosting
Your Cup of Cake mixes M&Ms into fluffy cupcake batter and whipped peanut butter frosting — because there really is no such thing as too many M&Ms.
Looking for some more fun food ideas? Visit Bustle on YouTube!
Images: Mel's Kitchen Cafe (3); Half Baked Harvest; Averie Cooks (2); The Crepes of Wrath; Inside BruCrew Life (2); The Kitchn (2); Your Cup of Cake