Fashion Is in the Details: Your Weekend Instagram Inspiration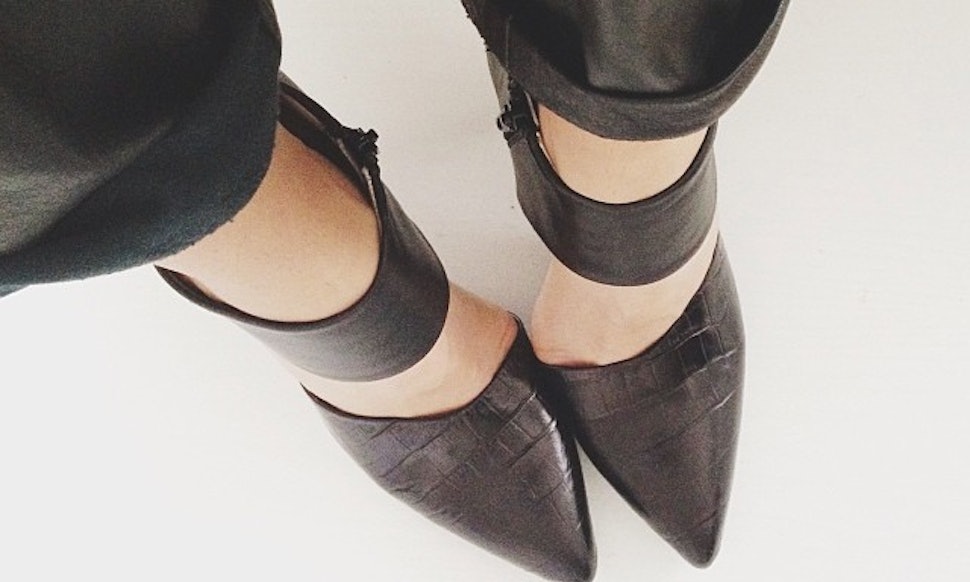 Sometimes a great look is all about a stunning coat or a quirky holiday sweater. But more often than not, a truly fantastic look (or moment, or day) is born out of the details — the subtle nail color, the suave fedora, the pinkie ring, the Polaroid camera, the free coffee, the unexpected phone call, the sideways glance, or the really great ankle boots.
Image: @adenorah/Instagram
Folk singer bangs
It's that time of year when bangs are starting to look and sound really great again, especially when paired with a massive sweater and a mournful gaze.
Image: @raeannerox666/Instagram
Dusty rose lips
There's no better off-beat color for December, especially when matte-fied like this.
Image: @soladylikebalolo/Instagram
The shoe selfie
It's a slick way of documenting what you're wearing without looking overly narcissistic, and an even better way of showing off your fantastic new kicks.
Image: @adenorah/Instagram
A thoughtful list
What better way to spend Saturday morning than curled up with a notebook, musing on all the ways you've grown as a person this past year?
Image: @chelstalkssmack/Instagram
Little-House-on-the-Prairie ankle boots
'Tis the season to lace up all the way.
Image: @karmakamelea/Instagram
Blunt brows
Darkened, filled-in, with dramatically cut-off edges framing the nose. And there's that dusty rose lip color again...
Image: @earlie_bird/Instagram
Documenting the day
Love the tangibility of film, and the dreamy quality it can lend to photos.
Image: @live_life_as_you_please_x/Instagram
All-black everything
There is no chicer way to express the ennui of winter.
Image: @sigvag/Instagram
A crazy new hair color
Selfies obligatory. Sock buns optional.
Image: @_emmaclarke/Instagram
French manicures
Temporary tattoos
Apply post-champagne; wake up regret-free.
Image: @etheldred4/Instagram
Serious eye glitter
Don't let the star on top of the Christmas tree kill your vibe. Sparkle harder. You'll get there.
Image: @draskicmakeup/Instagram