4 Ways To Wear Strapless Dresses If You're +Size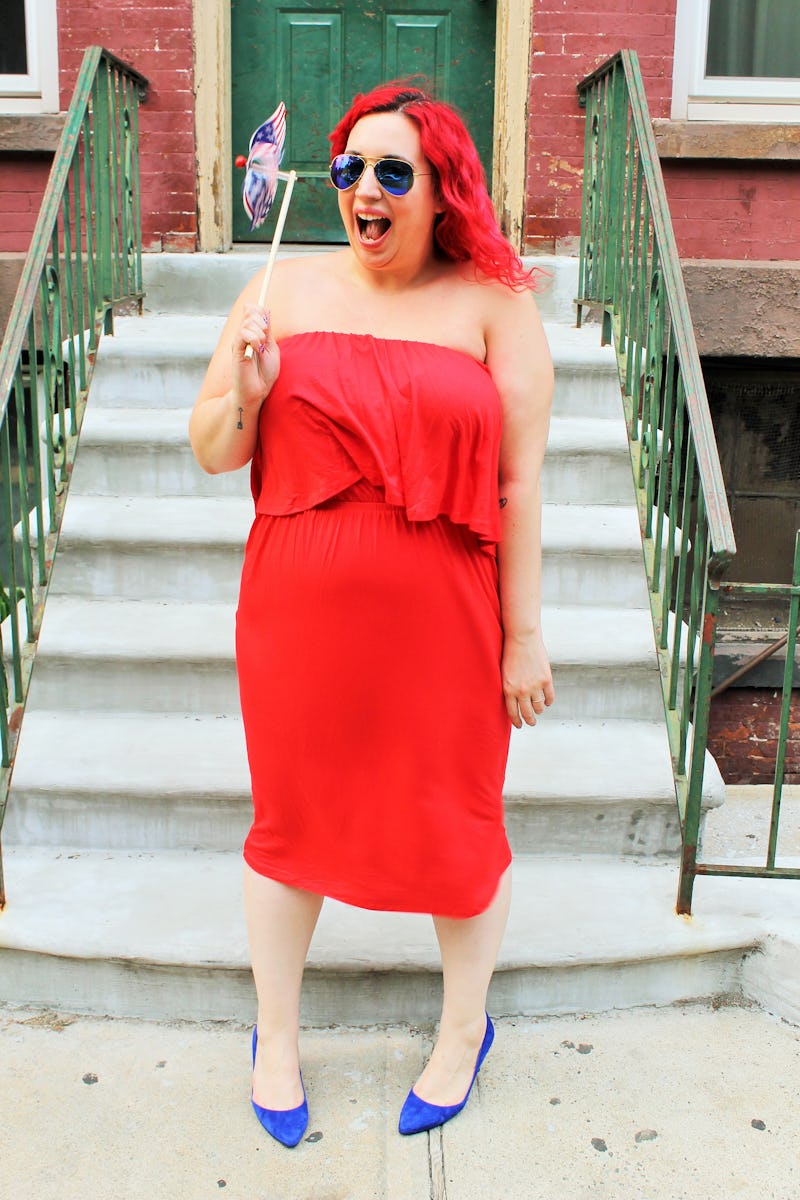 Dress styles may wax and wane — one month everyone is all about a floor-sweeping maxi dress, the next month everyone is rocking leg-baring minis — but one style has a firm hold on their popularity ranking is the strapless dress. Except, of course, when it comes to strapless dresses for plus size women. Usually, strapless dresses are one of the most-searched dress type online: A quick turn to Google shows over 6.5 million results for "strapless dress." But from my experience, there are many out there who claim they can't pull the look off, citing their large chest or fuller figure as reasons why. I'm here to tell you that you're wrong. You can pull off anything you want to, babe.
Before we get into figuring out how to style plus size strapless dresses, I want to share a couple quick strapless tips for the naysayers. First, get professionally bra measured and invest in a well-made strapless bra. I've found both Curvy Couture and Lane Bryant to have very supportive options, even for my size 38H chest. Secondly, pick up some double-sided fashion tape, just in case. Finally, go for a more fitted silhouette. A sack dress, while trendy and absolutely workable for all figures, is not the best choice when it comes to strapless. It can shift around more thanks to its soft fabric and lack of structure. Before you head out, do a few fit tests, break out your patented bend and snap, or do a little boogie around the house. Better safe than yanking at your dress all night long.
Here's how I styled four different strapless dresses — because, guys, the only fashion rule to live by is, "Wear whatever you want, whenever you want."
1. The Going Out Look
Rebdolls All Nighter Dress, $31, Reb Dolls
This first outfit is perfect for a fun night out of dinner, drinks, or perhaps even some dancing (yes, dancing in a strapless dress!). This style has an elastic bandeau (read: straight-across) neckline, a fitted silhouette, and a strong yet stretchy material. I felt like everything was staying put and there wasn't even a hint of slippage.
Even though the body-hugging silhouette already nipped in at my waist, I layered on a spiked belt to help break up the look and define my waist even further (you don't have to do this obviously, but I find it helps for support). Since I was sticking with a monochromatic look, I chose detailed accessories like a bug-themed crystal collar and leather winged pumps to add textural interest to the ensemble
2. The Maxi Dress
Simply Be Lace Maxi Dress, $39, Simply Be
If your budget is limited to just one strapless dress, I recommend purchasing a versatile maxi like this Simply Be style. The beauty behind this long design is that you can easily dress it up or down with just a few accessory swaps. I went with a little more of a casual look, perfect for brunch, a backyard BBQ, or sight-seeing around the city. I accessorized with flat sandals and a large tote (ideal for storing that perfect little nick-knack you scored at the Brooklyn Flea Market).
If I was going somewhere fancier, I would swap out my flats for heeled strappy sandals in a nude or golden hue, slip on a thin gold metallic belt, change the necklace to a shorter metallic option, and replace the tote with a vivid handheld clutch. The gold accents will play off of the butter yellow hue, complimenting but not overpowering the look.
3. The Ruffle Detailing
Dixie Ruffle Jersey Dress, $20, Fashion To Figure
Can you tell this was my Fourth of July outfit? I loved this flouncy strapless and was excited to rock it for Independence Day. I complimented the red dress (and my red hair) with low suede heels and matching mirrored shades for a touch of blue.
While ruffled accents tend to make certain areas of your body look fuller (hence the frequent use of layers of ruffles on some string bikini tops for those with small chests), there's zero need to worry about "extra bulk" as long as you love what you're wearing. Since the dress is made of soft jersey, the ruffle drapes softly from my chest and the hidden elastic waistband pulls the middle of the dress in, showcasing my silhouette in the process.
4. The Formal Spin
Strapless Prom Dress with Ruched Bust and Beading, $110, Davids Bridal
One of the perks of wearing a long, foot-covering dress, is that you can potentially wear flats without anyone realizing. What's the point of wearing five-inch platform heels if you're just going to be barefoot by the time you're dancing? If you absolutely, staunchly refuse to wear flats (who are you, Victoria Beckham?), then try to pick a low heel. Your feet will thank you.
I complimented this gown with a few gorgeous pieces from Nina Shoes. Although I would typically wear a necklace and keep my hair down with most dressy ensembles, I didn't want to distract from the elegant crystal waist detail or the twisted sweetheart neckline, so I wore my hair up and stuck with only earrings and a bracelet instead.
Ta-da! Proof that plus size women — even busty ones — can rock strapless dresses.
Images: Liz Black