Top 10 Drugstore Products For Makeup Newbies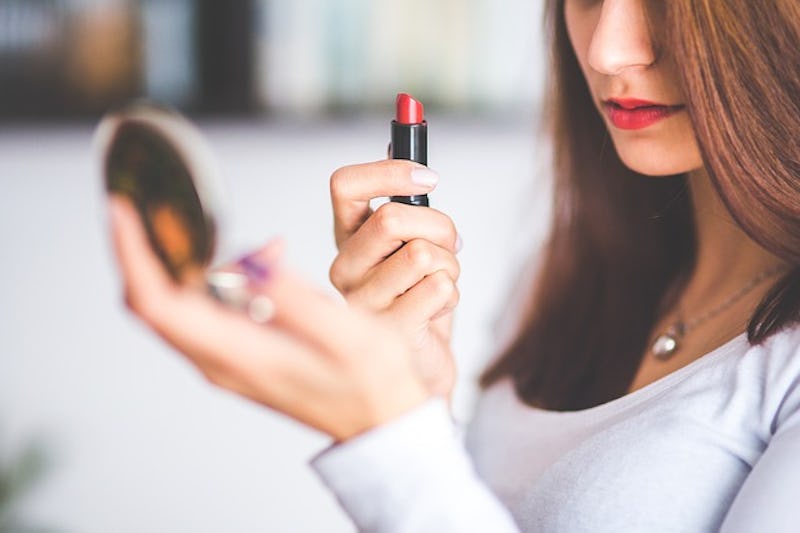 Just starting out with makeup? Even though it might seem overwhelming, there's no need to spend a lot of money on makeup when there are tons of beauty products for beginners at drugstores. And there's also no need to be a makeup artist to shop at drugstores, so it's a lot less intimidating to pick out what you want. You can take as much time as you would like selecting products, and don't need to feel the pressure of buying anything. It's a win/win scenario for anyone, really, but especially those who are new to makeup and intimidated by some of the shopping process.
When it comes to being a makeup newbie, it's all about selecting the right essentials. The important thing to remember is that makeup is all about emphasizing your favorite features. So don't waste your time with products you know you'll never use. Not a fan of dark eye makeup? Skip the smoky eye palette. Want to have luminous skin? Look for base makeup products that promise a dewy look. As a makeup newbie, it can seem impossible to not be overwhelmed by your options. However, selecting makeup for the first time can be really simple. Look for affordable basics that are versatile, and remember that makeup is supposed to be fun.
Don't know where to begin? Here are some amazing drugstore options that are perfect for those just starting out with makeup.
L'Oreal Mascara, $6, Amazon
It can seem impossible to pick a mascara from the drugstore. There are dozens of options to choose from! However, this L'Oreal mascara is hard to beat. Not only is it super pigmented, but there is no flaking or smudging to be found. It's perfect for beginners looking for full lashes.
NYC Smooth Skin Bronzing Powder, $5, Amazon
Don't waste time in the drugstore searching for the perfect bronzer, because this is is it! The NYC bronzer has the perfect mix of orange and red tones to give the most natural looking tan without looking too heavy. Bronzer can intimidate even the most seasoned of makeup lovers, so it's great to start out with a light bronzer that's affordable if you're not quite sure if it's your thing yet.
Maybelline Fit Me Concealer, $5, Amazon
Got dark circles or a pimple to cover up? This is the perfect one-stop-shop! This concealer has great pigmentation, and can cover anything. No fuss involved here. Just easy, basic concealing with an easy-to-use wand, making it perfect for first-timers.
Rimmel Powder, $6, Amazon
Seeing a little bit of shine throughout the day? Powder away any shine with the Rimmel Stay Matte Pressed Powder. There is a variety of shades to fit any skin tones as well as a translucent shade for a one-size-fits-all approach.
L'Oreal La Palette 1, $14, Amazon
Eye shadow palettes are great for those just starting out with makeup. With several shades available, you can play around with different looks and figure out what looks you like best. Looking for something easy to start out with? Neutral colors are the best place to begin.
L'Oreal Magic Lumi Primer, $11, Amazon
Don't underestimate the power of a good primer! This luminous formula is great for those who are looking for a candlelight glow. It can also keep your makeup looking fresh for longer. It's a great drugstore staple to have in your makeup bag. These days there are a million highlighter and primer options — this primer offers both at an affordable price point, making it versatile for an easy makeup routine.
Milani Baked Blush, $10, Amazon
Milani blushes are incredibly pigmented, and super easy to blend. It's perfect for those just starting out with makeup. With a variety of shades, you can pick the perfect blush to fit your skin tone.
8. Circa Beauty Eyeliner Pencil
Circa Beauty Eyeliner, $9, Circa
I'm obsessed with this eyeliner. It's super pigmented, and glides so easily across the eyelid. No hassle involved! It's great for those who are just learning to apply eyeliner.
NYX Butter Lipstick, $6, Amazon
These lipsticks are perfect for those who want to swipe on a lipstick, and head out the door. These NYX lipsticks are long lasting, and come in dozens of shades, and for only $6 a pop, it's easy to experiment with different shades until you find you're favorite, making it great for those who may not know what works best for them.
Real Techniques Starter Brush Set, $14, Amazon
Real Techniques brushes are incredible for any lover of makeup. With soft bristles and a variety of shapes, you can find brushes that suit your every need. This set is a great start for those who need quality basic brushes of all shapes and sizes.
If you're new to makeup (or just want to simplify your everyday routine), these makeup tools and products are ideal for an easy go-to look every single day, and can save you time, energy, and money.
Images: Pixabay (1); Courtesy Brands (10)