10 Awesome Booze-Serving Bookstores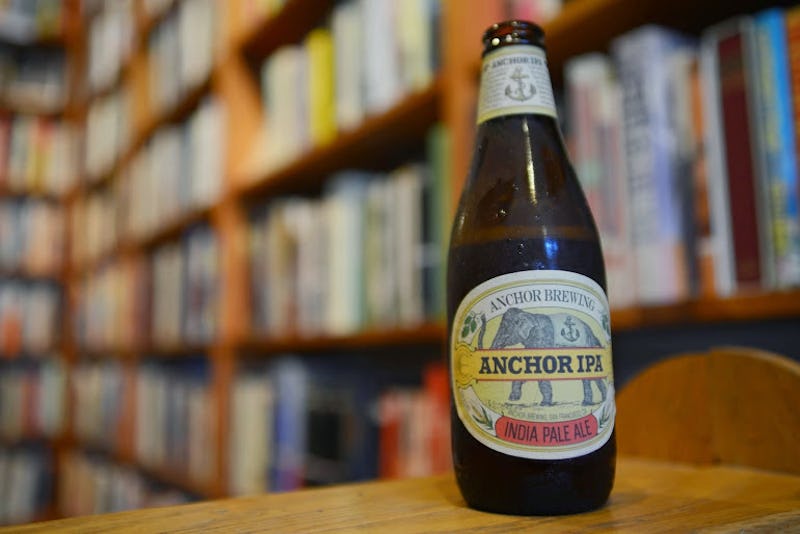 When I first arrived in LA, I was thrilled to discover the existence of a place called Library Bar. A book-themed bar? What more could a girl ask for? Unfortunately, the reality of the establishment was somewhat less charming: the books were purely decorative and the atmosphere was mostly just loud, although the Moscow Mule wasn't bad.
After that minor misfortune, I realized what I really wanted wasn't a book-themed bar but a bookstore that also served booze — a place where I could simultaneously indulge my great loves for books and beer. In my travels, I've encountered a few such magical places (including one or two that appear on this list), but Los Angeles tragically doesn't yet have one yet, as far as I can tell. My favorite local bookstore is currently campaigning for a liquor license, however, so hopefully it won't be long before I'm sipping away at a reading.
In the meantime, for those of you in other corners of the country, I've collected some must-visit bookstores where you can drink a beer while perusing the latest releases.
We're all book lovers here, but maybe you're just a little more excited about the beer side of this combo? Well, then, Books & Brews is the place for you! This establishment brews fantastic-sounding, book-themed beers like "One Fish, Two Fish, Red Fish, Brew Fish" and "A Midsummer Night's Shandy," as well as selling books and hosting weekly game nights.
One of New York's best bookstores, Housing Works boasts not only a great selection of used books, but also an altruistic mission: the store's profits support its parent organization's HIV/AIDS advocacy. The store hosts awesome readings and events, including literary speed dating – where, let's face it, you're going to need that beer.
Thanks in part to its proximity to the country's most prestigious MFA program, Prairie Lights has a long tradition of hosting and nurturing great writers. Even better, the cafe is located in the former home of the city's literary society, so you can have a glass of wine in the same place where authors like Robert Frost and e.e. cummings spoke to the local literati.
This tiny shop in the trendiest part of Brooklyn offers an eclectic selection of used books, a friendly owner, and unusually late hours (it's open until midnight). The bar in the back is just a bonus.
Located in a 19th century firehouse, Spotty Dog has some serious history: the bar even serves the same ale the firemen used to drink. Moreover, the space itself is gorgeous, and a perfect fit for the eclectic musical acts who perform there.
This punnily-named bookstore and wine bar in Chicago's adorable Lincoln Square has an excellent, carefully curated selection of books (including graphic novels and titles by local authors). It also hosts a wide-range of events including author readings and stand-up comedy.
If you're looking for some mimosas with your Murakami, Trident has got you covered. In addition to their wide selection of remaindered (read: super cheap) books, the 32-year-old establishment has a full cafe that serves breakfast, lunch, and dinner.
As the name suggests, Elements specializes in new and used books, pour-over coffee, and local craft beer — so, basically, all of my favorite things.
Book Bar — Denver, Colorado
Owner Nicole Sullivan created Book Bar as "a community gathering space where it is not just accepted, but encouraged, to lounge and read or meet and discuss." Add in a fabulous book-themed menu and a beautifully designed location and you've got a recipe for the perfect Friday night.
The award-winning Books & Books is located in a huge, historic Mediterranean-style building, where it hosts a top-notch reading series. It may, in fact, be the perfect bookstore.
Image: Leander Wattig; Tommy Weir; Stephen Cummings; Garrett Ziegler; pixonomy; TheeErin; CityRover Media; Elements: Books Coffee Beer; Books & Brews, Book Bar/Facebook