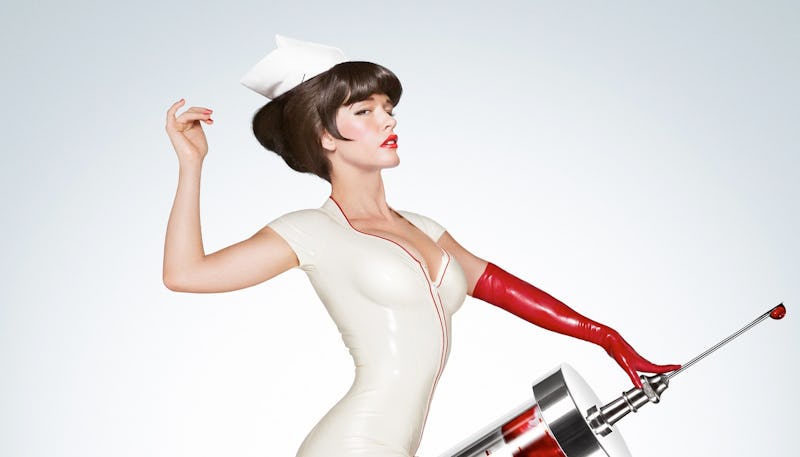 It's been pretty clear from the start that Nurse 3D is gonna be a weird movie. For starters, it stars Paz de la Huerta, whose erratic behavior in recent years has sometimes been reported by tabloids when they have nothing better to write about: Like that one time she got topless at a Lana del Rey concert. Secondly, the poster is of Paz de la Huerta riding a gigantic syringe filled with what looks like blood, while she's wearing gloves and stockings so tight, they're clearly meant to resemble a second skin of blood. So, you know, that's not normal. Third of all, in addition to De la Huerta, it also stars Katrina Bowden, Corbin Bleu, and Judd Nelson — in other worse, the hot chick from 30 Rock, one of the High School Musical guys, and BENDER FROM THE BREAKFAST CLUB. TOGETHER. IN A MOVIE. Put all that info together, and you've got yourself one possibly strange film. And, after watching this, I know I'm right: The first trailer for Nurse 3D has just premiered, and it is just as batshit insane as expected. Even more so, honestly.
I won't reveal too much for fear of spoiling the experience of watching the trailer for the first time — and seeing how terrible it is — but I will say that the film follows De la Huerta as a sexy nurse who does a lot of terrible things in 3D. Also, she's sexy. Who needs plot!
You can check out the trailer below. Nurse 3D will be released on Feb. 7, 2014.
Image: Lionsgate