The 'Job Or Not Job' Host Has Plenty Of Experience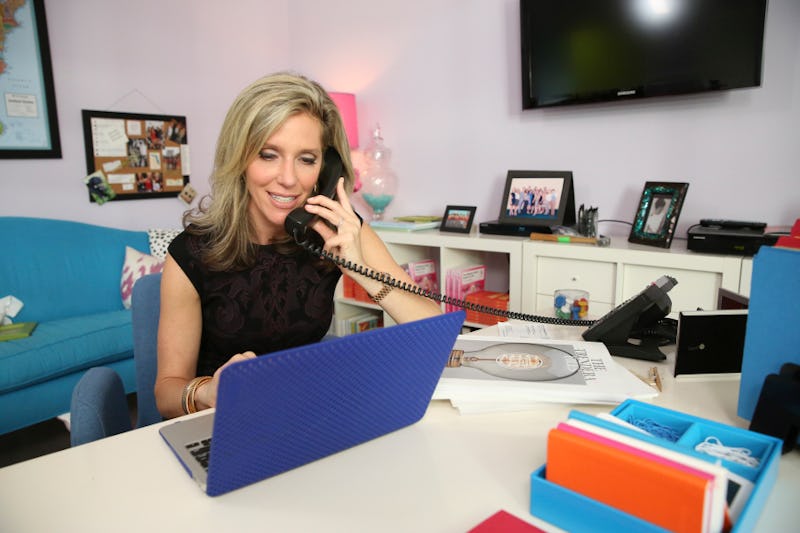 The period after graduating college but before landing that first job is a rough one. At least it was for me. I remember the daily scouring of job boards, the incessant cold-calling of unhelpful leads that so-and-so thought might help, and the the awful self-doubt that crept into me after each interview rejection that told me I was qualified but so were plenty others. Now, ABC Family is turning the finding-a-job struggle into a TV show. On August 5, Job or No Job premieres. It's a show where young hopefuls get go on three interviews — with help from host Jane Buckingham — to see if they can find their dream jobs. Three interviews? That's it? It took me months!
When I finally landed that first full-time gig — after I'd swallowed my pride and returned to interning out of boredom, only to be hired out of my internship two weeks later — I'd felt like I'd been through the ringer. Then again, I didn't have Buckingham on my side. So, who is Job or No Job host Jane Buckingham, and what makes her a good career coach?
It turns out, she has one of those long, successful resumes that first-job-seeking me would've killed for. Here, just a few points from Buckingham's CV.
She's The Founder And CEO Of Trendera
You may not have heard of Trendera, but it's heard of you. It's a forecasting and brand-strategy firm — you know, those people who predict trends — specializing in what they call "Generations X, Y, and V (Viral)." I've never heard of "Generation V" before, but it's a catchy name as any I guess (and being ahead of the curve is what makes them the forecasters, not me). How does that relate to Job or No Job? Now, Trendera is offering a Career Boot Camp — a mini Job or No Job of one's own — that helps Millennials write a killer resume, ace an interview, dress the part, and follow up, all in less time than it'd take to marathon watch the series.
She's An Author
Turns out, you don't have to sign up for the Trendera Career Boot Camp to benefit from Buckingham's wisdom. She wrote it all down for you in her book, The Modern Girl's Guide to Life . Not just confined to career advice, the book does everything from explaining how to hem a pair of pants to talking about the pros and cons of sexting and online dating. One gets the sense that doling out advice to Millennials is Buckingham's second nature.
She's Been All Over
Chances are, you've seen either Buckingham or her byline before. Print? She's been in Glamour and Cosmopolitan. TV? She's made appearances on 60 Minutes, Today, The Oprah Winfrey Show, and Good Morning America. I guess when she submitted her resume to Job or No Job, she had plenty filled out under "prior experience."
She Was Published As A Teenager
A project the 16-year-old Buckingham (then Rinzler) did at the Horace Mann School, where she interviewed her peers, became the core of a book called Teens Speak Out . From the Amazon book synopsis: "Rinzler's collective portrait shows teenagers in the '80s to be open-minded about careers for women, perhaps overly concerned about making money, more sexually free than their parents but less so than the generation immediately preceding them, conservative politically, and disturbingly unknowledgeable about current events." Some of those sound like they'd still apply today, and some are such the opposite. In any case, if I were applying for jobs next to Buckingham as a college grad, I'd be green with envy over her book.
She's a Mom Of Two
Jane, forget those out-of-work Millennials for a second! Some of us are pregnant and freaking out about it and need more advice on how to do the whole work/family thing. Where's our Boot Camp?
Image: ABC Family/Adam Taylor