7 Recipes You Can Make In A Coffee Mug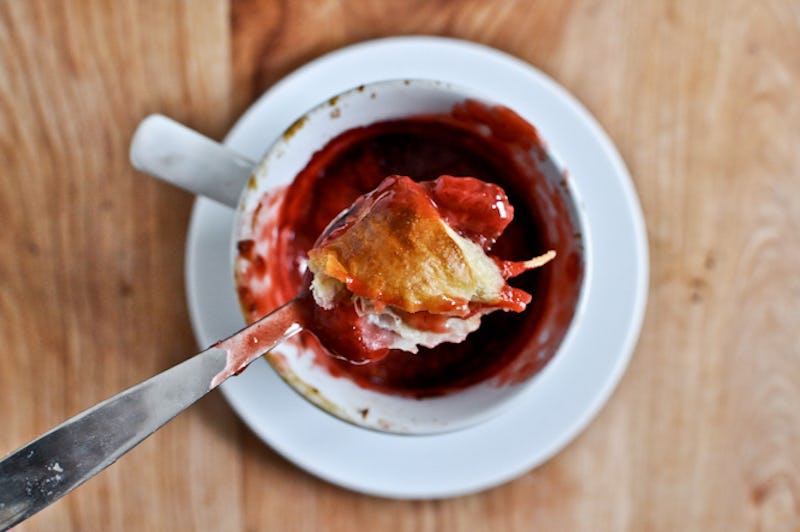 I hear myself say this all the time, but there really is no such thing as owning too many coffee mugs. Not only is the coffee mug the perfect vessel for a hefty dose of caffeine as you roll out of bed, and a potentially fun way to express your mood in the morning, but it is also a versatile tool for creating individually sized servings of a surprising array of dishes. Take a look at these recipes you never knew you could make in a coffee mug, and you will have a real handle on what you can do with a simple ceramic cup.
Aren't kitchen puns the greatest? Contact my people today, and request a line of branded merchandise that includes coffee mugs with foodie puns from yours truly. But I digress — a coffee mug can host perfectly portioned desserts and breakfasts, and can even help you cheat at an otherwise challenging cooking technique. Additionally, cooking in a coffee mug will save you a lot of hassle when it comes time to do the dishes, and that's something I can always get behind.
Put away those pie tins and sauce pans, because the coffee mug is about to become your best culinary friend.
1. "Hug In A Mug" French Toast
This recipe is double-simple as it makes use of coffee mugs and the microwave. Toss bread, toppings, syrup, and a standard French toast batter in the microwave for one minute 15 seconds, and behold as a perfectly sized serving of French toast emerges from your microwave without you ever having to turn on your stove. Head over to Jelly Toast for the complete recipe.
2. Poached Egg In A Coffee Mug, In The Microwave
Have you ever tried to poach an egg on the stove? It is a Hassle with a capital H! Trying to poach eggs for eggs Benedict without screwing up your entire carton of eggs or ending up with a saucepan full of goo is something that requires a lot more patience and practice than I have time for. Harness the circular motion of the microwave to flawlessly wrap your egg whites around a gooey yolk. The Kitchn has the details.
3. Strawberry Mug Pies
This recipe is easy as pie. Skip the dried-bean crust-weights and decorative lattice top, and put your pie in a mug. It'll be done in about a half hour, and you only have to make as much as you want to serve. Pro tip: While you can bake your pies in their respective mugs, if you're the kind of person who can't wait to eat pie once it comes out of the oven, bake the pie ingredients in a foil baking dish, and portion into the mugs after the fact so you don't burn yourself on a hot ceramic mug while you chow down. Find this recipe at How Sweet It Is.
4. One Minute Mug Cookie
Next time you're in the mood for cookies, try out this crazy-fast recipe from The Comfort Of Cooking. You'll satisfy your cookie craving, and you'll avoid the mixing, scooping, preheating, cooling, and best of all, the dishes.
5. Molten Chocolate Lava Cake In A Mug
The first time I attempted to make molten chocolate lava cake, I spent an inordinate amount of time stressing about ramekins when there were perfectly good coffee mugs just across the kitchen. Make sure your mugs are microwave safe, and then go to town. Your chocolate lava cakes will be ready in about five minute. Find this thoroughly tested recipe at Table For Two.
6. Oatmeal Nutella Mug Cake
This recipe from The Kitchn is a lighter, fluffier pudding-style cake with a dash of chocolate from the king of spreads: Nutella. Make this at your next brunch party as the perfect sweet treat to complement a savory meal.
7. Funfetti Magic Mug Cake
Can you believe that this recipe is actually vegan!? This egg- and dairy-free, 90-second, from-scratch funfetti cake is definitely a party trick worth bookmarking. Keep this recipe handy for the next time your vegan friend has a birthday. Just add those number candles, and you'll be good to go!
Looking for some more fun food ideas? Visit Bustle on YouTube!
Images: How Sweet It Is; Jelly Toast; The Kitchn (2); The Comfort Of Cooking; Table For Two; Mel's Kitchen Cafe