Will The 'PLL' Finale Really Give Us Answers?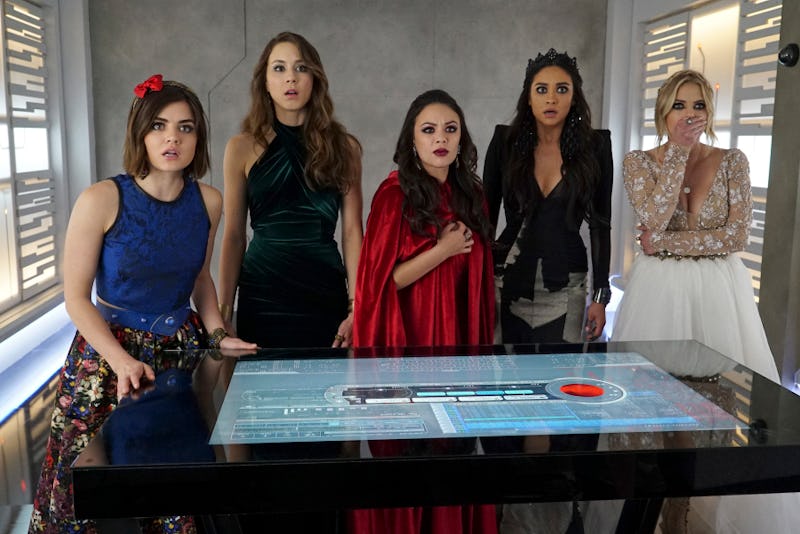 I know what you're probably thinking — Ali's seen Charles, the Liars will see Charles, but we won't see him. And, normally, I'd be right alongside you. But following Tuesday night's "Last Dance," the Pretty Little Liars Season 6A finale promo essentially reassured fans that I. Marlene King and Troian Bellisario weren't kidding when they said that "Game Over, Charles" was going to answer all of our questions — and then some. In the final moments of Tuesday's episode, Ali met Charles on Pretty Little Liars and, of course, he abducted her immediately after she recognized his face. So, where does that leave all of us devoted fans that have waited FIVE seasons for #answers? Well, we're not necessarily in a bad spot.
The promo for next week's finale seems like it's really going to go back — deep into the dark past of PLL — and reveal and explain so many things that've haunted fans forever. If you pay close attention to the scenes that flash, we definitely see a shot of Mona in Radley. So, if nothing else, we're going to get the answer as to who stole the A game from Mona when she was in the sanitarium. Sure, most of us already suspect that Charles is Wren on PLL, but it's entirely possible that it could be someone else. The promo also reveals that Charles has Ali imprisoned in another room that looks like a bedroom and it flashes back to a handful of messages the Liars received from Charles in the past.
This isn't going to be an easy episode to get through, clearly. And, with ABC Family showing select episodes from the past five season leading up to the finale, it's so very obvious that the past really holds the answers we're looking for. I. Marlene King might finally be delivering on the promise she made that the beginning of Season 6 — but, can we really handle the truth?
For more theories, listen to Bustle's Pretty Little Liars podcast Taking This One To The Grave:
Images: Eric McCandless/ABC Family