How To Wear Your New Fall Boots Right Now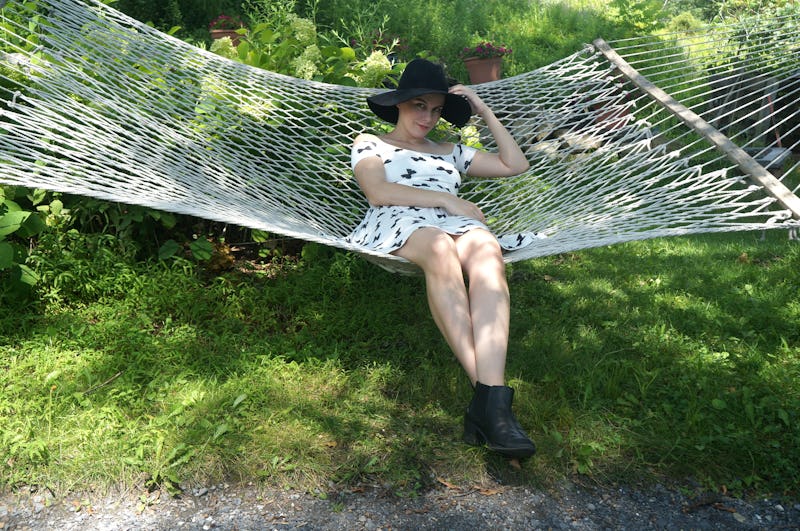 If your boot obsession is anything like mine, then you know it doesn't make sense to have them sitting in the back of the closet collecting dust for several months out of the year. Yes, stank-boot is real and to be avoided at all costs, but that doesn't mean you can't wear your fall boots in the summer. Sometimes it can be a little tricky, but it's all about finding the right pieces with summery lightness to balance out the boots' heaviness. Done wrong, the look is disconcerting and even upsetting (consider Britney Spears' cherished combo of cutoffs and Uggs) but done right, you'll look cute and like you're ready for a music festival.
My first tip is to stick to ankle boots only in the warmer months. Knee-high and above the knee boots can wait for fall, just because it's really hard to keep them from looking way too heavy and clunky with summer clothes. The exceptions to this rule are rain boots and equestrian boots (but only if it's actually raining or you're actually riding). Oh, and cowboy boots of course, although that's never been my style personally.
My second tip is to wear socks. You must wear socks to avoid the dreaded stank-boot effect. If you're complaining that it's too hot to wear socks then perhaps it's too hot to wear boots. I like to wear a small, thin pair of socks like these that are made mostly out of cotton to absorb sweat and odor. You can also sprinkle some baby powder in your boots to help with absorption before putting them on (just make sure your socks are white).
These are my three favorite pairs of ankle boots:
L-R: Asos boots (sold out ages ago), dav Glasgow Oxblood rain boots, and thrifted.
And here are three ways that I wear them in the summer:
1. With white jeans.
If you're worried about making your boots look summery, pair them with the most summery items you own. For me, that's these white skinny jeans and a flowy, barely-there top. I rarely wear white jeans in the winter and I feel like they go really well with these brown ankle boots. If the boots were taller and the jeans were blue or black, this would quickly look like a fall outfit. So balance out your ankle boots with light colors and flowing fabrics to make them work for summer.
2. On rainy, muddy days.
This is pretty close to my usual summer garb on stormy days and nights: a striped T-shirt, DIY cutoffs, and my dav Glasgow Oxblood rain boots. I refuse to get dirty, muddy feet thanks to sandals or flip flops, so these boots are a much better alternative (and also way better than Uggs — sorry Britney). Even on the longest, muddiest walks with my dog these boots keep my feet warm while looking incredibly stylish. I love them for their ability to pull together even the most casual outfit. I also own these dav Liverpool boots which are ideal for cooler days.
3. Dressed up.
Ever put on a cute dress and then hesitated before walking out the door in high heels? Consider balancing out a feminine dress with shoes that have more of a cool-girl vibe. Obviously for a wedding or something you want to look as nice as possible, but we've all felt uncomfortably over-dressed on a casual date or outing. If I ever want to dress up a pair of boots I add a dress, and if I want to dress down a dress I add boots. (Did you follow that?) It's all about balance.
In this case I'm wearing my bow-print Forever 21 dress with a ladylike hat and decidedly un-ladylike boots. I would happily wear this for a casual date in the park, comfortable in the knowledge that I can romp and run and step in puddles (not that I would do any of those things on a date — just in case my grandmother is reading this). Strappy stilettos would just be too much for day but when worn with ankle boots, this girly dress has just the right fun and casual vibe.
The best part? Throw on a pair of tights and a jacket, and these outfits will get you straight through 'til winter. Score.
Images: Kelly Dougher