'Parks and Rec' and 9 Other Shows with Female Friendships That Do Us Proud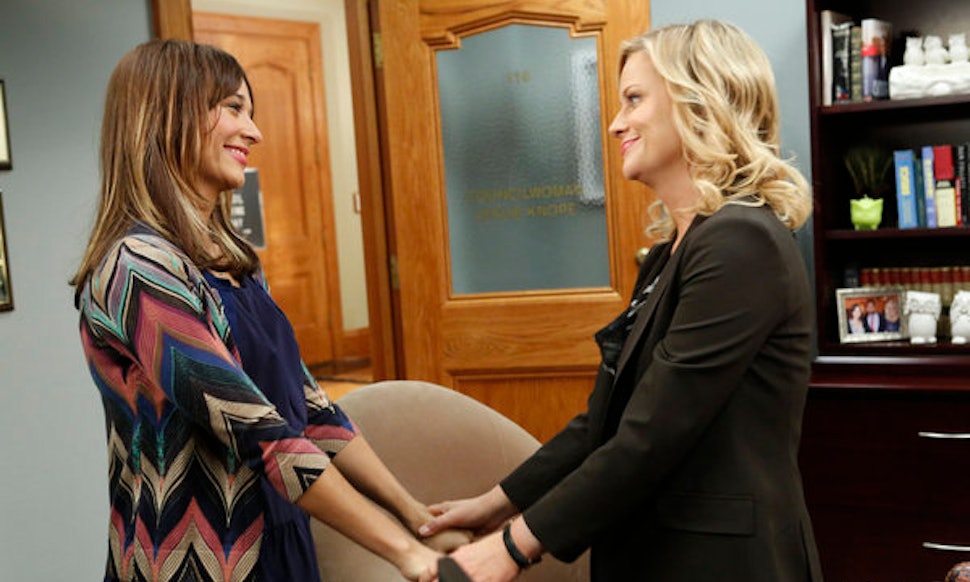 TV may still be a boys club when it comes to action stars and anti-heroes, but when friendship is involved, it's the women who dominate. Whether they're fighting on Grey's Anatomy, embracing on Parks and Rec, or surviving jail together on Orange Is the New Black, TV's female best friends have never been better. Let's take a look at some of the best female friendships currently gracing the small screen, as well as some of our all-time favorites (Lucy and Ethel, we're looking at you.)
Image: NBC
Leslie and Ann on 'Parks and Recreation'
Meredith and Cristina on 'Grey's Anatomy'
Throughout all of Grey's Anatomy's twists and turns over the course of its ten seasons, one aspect of the show has remained constant – the relationship between Meredith and Cristina. The women's friendship ("you're my person") is one of the most realistic TV's ever seen, thanks to the writers' non-cringey, honest dialogue and the believable chemistry between Ellen Pompeo and Sandra Oh. Despite being tested at times (and never more so than this season, in which the women are fighting over their differing career paths), Mer and Cristina's friendship has stayed Grey's most stable and enviable relationship.
Image: ABC
Lindsay and Kim on 'Freaks and Geeks'
It took awhile for Kim Kelly to warm up to Lindsay Weir, but by the end of Freaks and Geeks' first (and only) season, the two were inseparable. Lindsay's nuclear family and good grades were a huge contrast to Kim's dysfunctional home and bad attitude, but the girls balanced each other perfectly.
Image: NBC
Rory and Paris on 'Gilmore Girls'
They may not have had the most functional friendship (no, Paris, it's not okay to move all your roommate's stuff out into the hallway), but Gilmore Girls' Rory and Paris certainly had their share of good times together. The duo drove each other crazy competing for grades, jobs, and boys, but at the heart of it, they both knew that they truly cared for one another. To Paris, Rory was a stable, kind influence, and to Rory – well, Paris provided a lot of entertainment.
Image: The CW
Taystee and Poussey on 'Orange Is the New Black'
There are plenty of great friendships on Orange Is the New Black, but by far, our favorite is the one shared between Taystee and Poussey. The inmates have the best relationship on the show, bonding over everything from "things white people say" to their fear of leaving prison. The fact that the actors behind the characters are best friends in real life just makes their on-screen chemistry that much better.
Image: Netflix
Lucy and Ethel on 'I Love Lucy'
All the proof you need that Lucy and Ethel's friendship was one for the ages is this song from Season 3 of I Love Lucy, aptly titled 'The Friendship Song.' Sure, they may have been fighting half the time, but Lucy and Ethel were one perfect pair.
Image: CBS
Hannah and Marnie on 'Girls'
All four girls on Girls know the meaning of friendship, but it's the relationship between Hannah and Marnie that gives the show its emotional center. It's been awhile since the two of them were dancing it out in their apartment, but there's no doubt that they'll reconcile before the series' end; in the meantime, let's hope Girls keeps handling the in-between stages of friendship as beautifully as it is now.
Image: HBO
Jules, Ellie, and Laurie on 'Cougar Town'
Sure, they get on each other's nerves, but the women of Cougar Town really do love each other – or maybe it's just all the wine. Either way, the friendship between Jules, Ellie and Laurie is heartfelt, hilarious, and just one more reason Cougar Town is one of the most underrated shows on TV.
Image: TBS
Karen and Rosario on 'Will & Grace'
You thought the title characters had the best friendship on Will & Grace? That honor goes to Karen and Rosario, whose dysfunctional, totally unhealthy relationship made for some of the funniest moments on the show. Karen and her maid often treated each other horribly ("Listen lady, in my county I was a schoolteacher." "Oh yeah? Well in this country, you wash my bras"), but deep down, they had nothing but love for one another. And in the series finale, when Karen and Jack settled down in their mansion, it was nice to know that Rosie, elderly and wheelchair-bound, was only a few rooms away.
Image: NBC
Carrie, Samantha, Miranda and Charlotte on 'Sex and the City'
And of course, no gallery on female friendship would be complete without the most famous female friendship of them all, the girls on Sex and the City. Through thick and thin, children and divorces, good shoes and bad, the ladies of HBO's beloved show showed us what real friendship is all about.
Image: HBO