11 Books To Read Before You Graduate College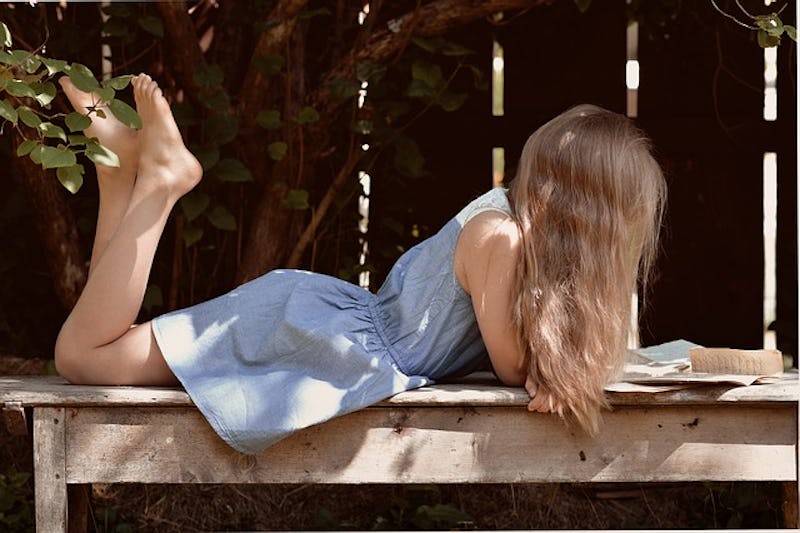 College is hard. It can feel like you're drowning in sea of homework, social events, and the never-ending pressure of growing up. However, you aren't alone. There are tons of books to read before you graduate college that will help you deal with all the ups and downs of those crazy four years. During my time in college, coming-of-age novels were my favorite type of stories. I felt like I could just relate to the struggle of figuring out who I was all the while being asked to become an "adult."
Reading a book is like going through a relationship. You laugh, you cry, your heart breaks, and you ultimately grow from it. When you're in college, you can forget about the beauty of that experience — but you really shouldn't. Let yourself get lost in a book again. Coming-of-age novels just show you that there is hope, and a light at the end of the tunnel. After a long day of classes, isn't that something you just want to come home too? Snuggling up with a good book is the perfect way to relax and lose yourself for a few hours. Here are a few reads to remind you that growing up isn't as scary as it seems, and that will inspire you to overcome any obstacle.
1. Bossypants by Tina Fey
Not everyone starts off at the top. Tina Fey's novel about how she became one of the most hilarious women in comedy is sensational. From fights with her mother to long nights at theater practice, this novel will show you just how funny growing up can be.
2. Looking for Alaska by John Green
I have read this book eight times. Eight. Times. It's absolutely amazing. John Green has a knack for writing about smart, insightful teenagers who are actually relatable.
3. The House on Mango Street by Sandra Cisneros
This is a story follows a young woman's tale about growing up in crowded Latino neighborhood in Chicago. Over the course of the novel, you'll follow Esperanza Cordero's journey to find both sexual and emotional maturity. This book is absolutely beautiful, and a must-read for those looking to find themselves.
4. Is Everyone Hanging Out Without Me? (And Other Concerns) by Mindy Kaling
Mindy Kaling says what we've all been thinking. In this hilarious book, Kaling covers her journey to becoming a comedy writer all while discussing the topics that really matter — like what makes for a perfect best friend/boyfriend/bagel.
5. The Curious Incident Of The Dog In The Nighttime by Mark Haddon
Mark Haddon's novel follows Christopher John Francis Boone, an autistic teenager who is trying to solve the murder of his neighbor's poodle, Wellington. The book is hilarious, tragic, and beautifully written. You'll fall in love.
6. Speak by Laurie Halse Anderson
This novel will break you down, and then build you back up again. Written about a young high school student who faces sexual trauma, this book will have you hooked until the very end. This story beautifully illustrates the difficult journey of regaining your emotional strength after a traumatic incident.
7. The Brothers K by David James Duncan
This novel follows a very diverse, very large family from the Eisenhower administration to the war in Vietnam. The Brothers K showcases the family's plight to understand baseball, Eastern religions, and a country at war. This book will give you a new appreciation for your own crazy family.
8. The Opposite Of Loneliness by Marina Keegan
Marina Keegan was a star on the rise that was taken too soon from the world. This book is an accumulation of her essays and stories that shed a light on Keegan's struggle to understand herself and her generation.
9. Perks Of Being A Wallflower by Stephen Chbosky
No matter what age you are, you can find yourself in The Perks of Being A Wallflower. This novel focuses on a young high school student's journey through his freshman year. Filled with all the awkwardness that adolescence brings, this novel truly does highlight the struggle of growing up.
10. The Alchemist by Paulo Coelho
This novel follows a young shepherd's journey to discovering the most opulent treasure that the world has ever known. Along the way, the boy meets a host of people who teach him to listen to his heart, and to follow his dreams. This book is filled with such a sense of wonder that it'll make you want to hit the road yourself.
11. The Catcher In The Rye by J.D. Salinger
Have no idea what you're doing with your life, and don't know where to start with things? Neither does Holden Caulfield, the novel's protagonist. Holden is expelled from his fancy private school in Pennsylvania, and sets off on a wild journey through New York City. Even if you read this book in high school, it's worth another go in your college years. You'll find yourself laughing out loud, and perhaps shedding a tear or two.
Images: Pixabay (1)