7 Rad Shoes For An Outdoor Wedding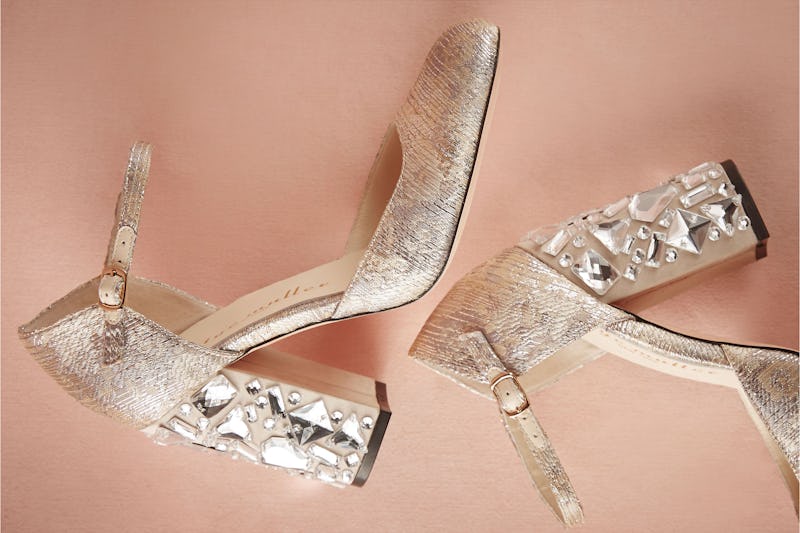 It's safe to say that anytime the weather is nice enough, couples in love take the opportunity to have an outdoor wedding. If you ask me, attending weddings in a field or on a beach is great, but finding shoes for an outdoor wedding is not. As someone who's ruined one too many stilettos while trying to traipse my way through grass that's just been soaked by a spontaneous shower, I can attest to the fact that things can get pretty rough.
Footwear can literally make or break your outdoor wedding experience. On that fated day when I wore pumps to a ceremony that was in an actual field, I ended up with muddy heels and tired feet because of how hard it was to walk in heels on grass. It's really not ideal, guys. Weddings are supposed to be a happy occasion — not a time to curse the gods for your poor choice in shoes.
There are great shoe options besides stiletto heels when it comes to choosing shoes for an outdoor wedding, though. From adorable wedges to gladiator sandals, you can wear cute shoes without risking damage to them or yourself. Here are seven shoes you can wear to beat all of those wedding footwear woes you may have.
Women's Greer Rhinestone Sandal, $23, Target
Late summer is a lovely time for relaxed flat sandals. These silver rhinestone ones will be great for outdoor weddings because they allow for easy movement and comfort. Plus, the rhinestones make them a little more dressed up than a normal sandal would be.
Platinum Grosgrain Lace Strappy Edges, $129, Toms
Lace wedges are arguably one of the most traditionally feminine and adorable shoe options for attending an outdoor wedding. If you are feeling bold, pair them with an all-coral outfit for a cool, pretty-in-pink kind of look.
Cage Gladiator Wedges, $42, Torrid
If lace wedges are too girly for you, these are probably a better option. The gladiator wedges come in a gorgeous tan hue that will make them easy to mix and match with the wedding looks in your closet. Paired with short or long dresses, the look will be simply adorable.
TOMS Classic Crochet Slip-Ons, $59, Nordstrom
Crochet slip-on flats are another great flat shoe option for outdoor weddings. The crochet material lets your feet breathe, which means no sweaty toes at this affair. Plus, these shoes are very lightweight and come in black if cream is not your color.
Crystal Mosaic Pumps, $120, Bhldn
Guys, these pumps will have you shining like a shooting star at any wedding. They are a great alternative to stilettos because the heel is so chunky, ensuring that you will not sink into the dirt, grass, or sand. The jewels on these shoes are the only ones you'll ever need.
Bonelli Wedges, $130, Steve Madden
The wooden wedge detailing makes these shoes way cooler than your standard wedge heel. They're also the perfect shoe for seamless day to night transition.
Cerus Gladiator Sandal, $100, Steve Madden
You can look like a Bohemian goddess at the next outdoor wedding you attend by wearing gladiator sandals. These ones have a short chunky heel that gives them a more elegant vibe. The dark brown shade will also look great with earth tones or even a coral dress. Style these gladiator sandals with a simple wrap or shirt dress for the ultimate relaxed wedding look.
So take that, lawn receptions.
Images: Courtesy Brands