5 Ways To Get A Freelance Writing Job In College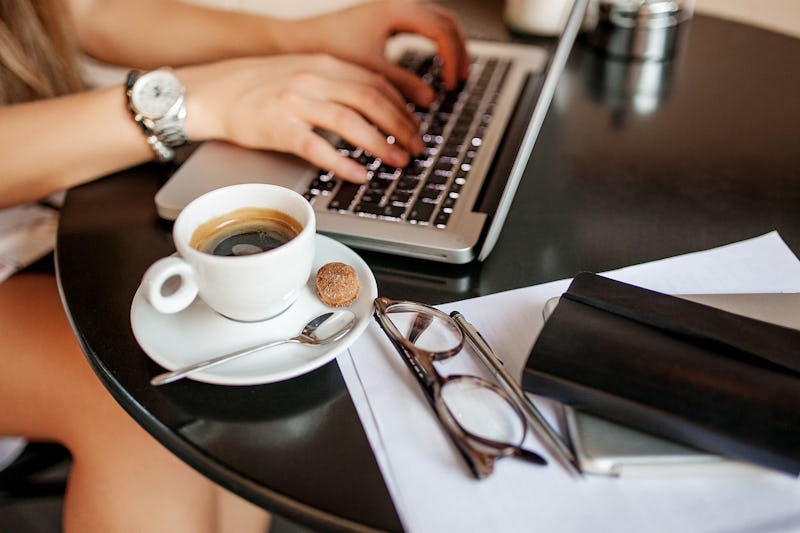 Journalism has changed a lot in the last decade, and one of the biggest changes is the growing prominence of freelance writers. I started doing freelance work when I was just 19 years old and still at community college, and you definitely don't have to wait to earn your degree to start a career as a writer. You're probably wondering how you can land a freelance writing job while in college — and I'm here to tell you.
Freelancing is both an art and a science, and it can be a bit hard to get started. But since freelancing is a perfect way to get your foot in the door and it can count as a part-time job, college is an ideal time to start building your portfolio. By the time I started freelancing, I had been on my high school's newspaper for three years, and my college's paper for a year — so if you've never written an article before, I advise you utilize the education afforded to you. Take a journalism class or two, and learn the ropes. Journalistic writing is one part talent, and two parts adherence to a specific style, so hone those skills before you try your hand at freelancing. Here's what you need to know.
1. Get Some Clips
Writing essays is not the same thing as writing articles — so you're going to need to get some clips before trying to freelance. Potential gigs are going to want to see some examples of your work, after all. Probably the best way to do this is to join your college's newspaper staff. Depending on the college, you can typically enroll in a class that produces the paper and/or website, and start building your clips that way. And if your college doesn't have a newspaper (print is going the way of the dodo, after all), you could always start your own blog.
2. Start Local
Along with writing for the school newspaper, you should reach out to any local outlets about freelance work. Sometimes media outlets, such as your local paper, need people to do hyper-local coverage for sporting or community events that their more seasoned reporters don't want to take on. You might have to cover things like city council meetings, but you'll get a byline and maybe even some cash for your work
3. Write About What You Know And Love
Being on a college paper means you'll probably be writing about a lot of different things for a lot of different sections, but when it comes to freelancing, focus on the things you already know and love. If you spent most of your life playing soccer, you should look for gigs writing about the latest footie news. If you're an expert in Batman, you should reach out to comic book blogs for pieces. See where I'm going with this? All of my best writing has been about things I truly care about and am interested in, and they'll make for great clips down the road.
4. Work The College Angle
If you don't have any specific areas of expertise, make college and education your beat. Many outlets will take on student contributors who can talk about the issues facing college students, and who can report on the typical everyday life of an actual student. College and university-focused outlets will see your experiences as an asset, and it's a great way to get noticed for your writing.
5. Do Your Research
Not every outlet has freelancers, and not every outlet accepts pitches from freelancers, so make sure to do your research before you start to send out pitch emails. Additionally, make sure you do some research into how to pitch people. Bustle, for example, has a very handy post about some do's and don'ts for pitching, and other websites probably will too. A good website I've used to get freelance jobs in the past is freelancewriting.com. It has a bunch of resources for freelancers, as well as an extensive job board.
Images: Fotolia; Giphy (6)