How To Apply Perfume Correctly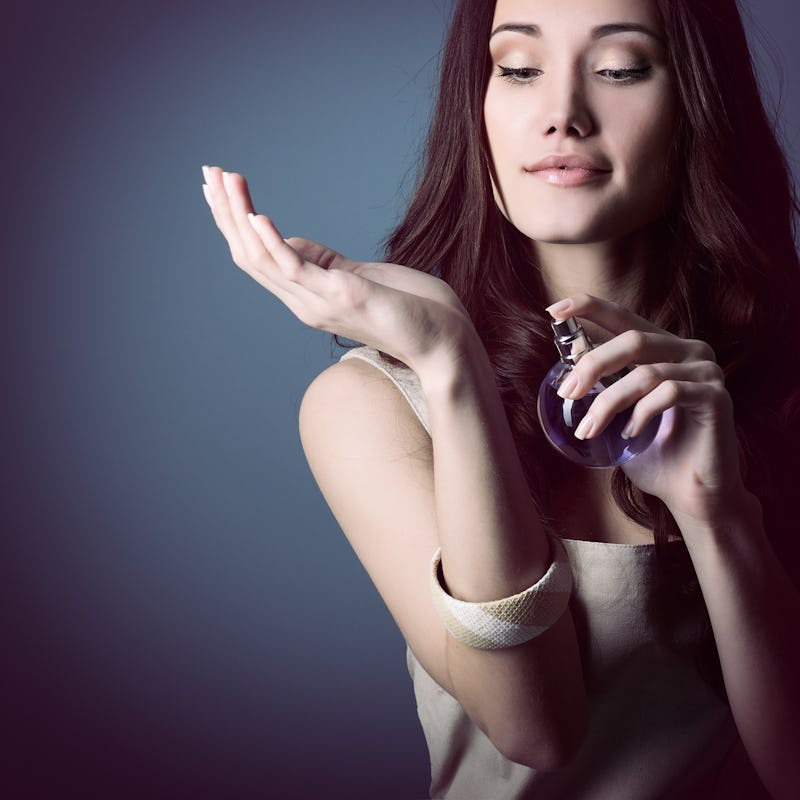 Most of us have a go-to bottle of perfume we spritz on before a big date or important outing, but most of us don't really know how to apply perfume correctly, often left wondering why our signature scent doesn't last from morning until night.
Picking out a signature scent, that smells great on your skin, is hard enough. Finding out how to get your money's worth from that expensive bottle by making the scent last all night is even harder. I usually just spritz perfume around my neck and walk out the door, and it kind of shows: the scent is barely noticeable, and not in the come-hither-super-sexy sort of way. I mean in the totally-boring-and-forgettable way. Bummer.
However, there are some super easy tips and tricks to prepping your skin for perfume. First, you should avoid all other scent-based beauty products, even shampoo and the predictable lotion. It's also important to make sure you aren't holding onto an expired bottle. The average shelf life of a bottle is three to five years. Anything older than that, toss it.
Here are some other tips for making your perfume last longer.
1. Take a shower
Warmer skin absorbs and hold the scent of your perfume for longer. The best time to spritz is right after you get out of the shower, dry off, and before you put on your clothes.
Marc Jacobs Daisy for Women Eau de Toilette, $78.00, ulta.com
2. Hydrate your skin
Dry skin is a disaster for all beauty products, and perfume is no different. Apply unscented moisturizer right before spraying.
3. Hit the pulse points
In the movies, the Old Hollywood glam queens spray their perfume on their wrists. There's something to it—your pulse points emit more heat, so they naturally absorb and hold the scent for longer. Spray your wrists and neck, but don't overdo it. Stick to one or two spritz.
CHLOE Love Story Eau de Parfum Spray, $105.00, ulta.com
4. Spritz your hair
Yep, it's true—your hair holds scent better than anything else! Spray once on your hair and you'll be smelling sweet all night long.
5. Don't rub
While the pulse points are a good idea, rubbing your wrists together isn't. The friction and heat that happens when you rub them together creates an intense interaction between the perfume and skin's natural oils, which can change the scent (and not in a good way).
Viktor & Rolf Flowerbomb, $80.00, sephora.com
Image: Fotolia; Courtesy of Brands