How to Rock Colorful Eyeshadow — VIDEO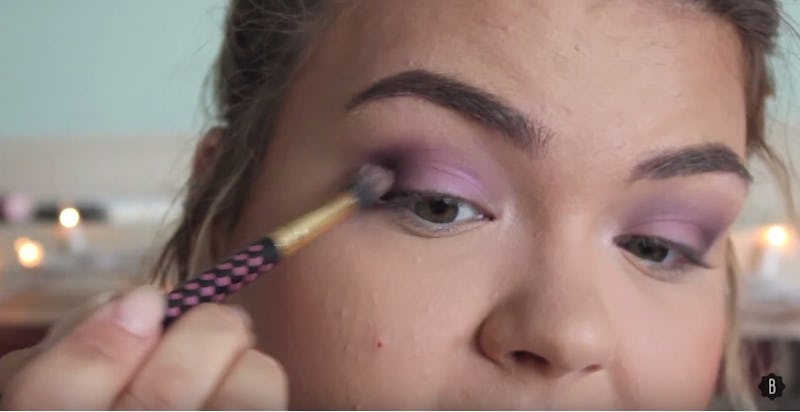 When it comes to fashion, it's not uncommon to go retro when looking to try different trends, but let's face it — sometimes you end up looking dated. Figuring out how to apply bright eyeshadow without, well, looking like you stepped out of the '80s.
YouTuber, makeup artist and all-around fashionista Alexandra Thomas of LearningToBeFearless, gave Bustle some exclusive style tips on rocking a pop of color on your eyes. But your first question may be "which color should I choose?" Certain colors, like certain mascaras, are best to make your eye color pop — purple for hazel eyes, for instance, which is what Thomas chose for herself. For this look, you'll need about three to four shades of the color you choose, depending on whether you want to go '80s for the day or the night.
Before rocking your shade of choice, it's important to prime your eyes. Using an eyelid primer ensures the shadow stays on all day, and also helps make the color pop even more. After applying a primer, Thomas took a lighter shadow to highlight her tear ducts and brow bone to give her look some modern depth. After priming and highlighting, it's finally time to add that color, by putting a medium shadow all over the lid. This may seem pretty intense, but after adding a darker shadow to the crease it all comes together. Take this look from day to night by smoking out the shadows, and adding a touch of liner and mascara. Voila — you're rocking a colorful shadow without channeling your inner Cyndi Lauper (unless you really want to).
Check out the video below:
I don't know about you, but Thomas definitely made me want to add a little more color to my eyeshadow routine. And hey, while you're at it, why not try another decade out with some '90s beauty trends?
Images: Bustle/YouTube