Ranking Every 'The Office' Christmas Party From Benihana to Sinterklaas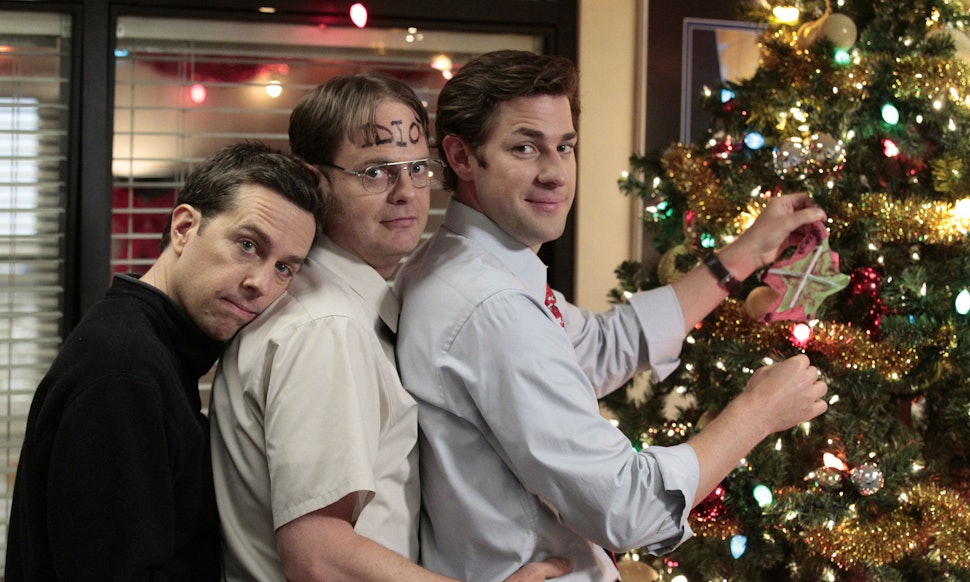 There was once a time when each December yielded one very important tradition: snuggling up on the couch for the annual The Office Christmas party. Now that the series is gone, we're forced to face each December without the prospect of the Party Planning Committee's red and green grade school snack spread or wondering which non-Michael Scott character will dress up as Santa. The only reasonable answer is to watch all the old The Office Christmas parties all over again.
But, since we all know the story and the latter seasons simply aren't as magical, we've curated each of the seven episodes (one is a two-parter) so you end your mini-marathon on a high note.
Image: NBC
"Christmas Wishes"
To quote Michael Scott, "No. No. NOOOOOOO." This Christmas party was Andy's first as the new boss of the office in the wake of Michael's departure. It's filled with adorable asides and hilarious pranks between Jim and Dwight, but it's also an episode in which Andy is trying desperately to be Michael, which is the worst. This ass-hat picture says it all.
Image: NBC
"Secret Santa"
When Jim lets Phyllis be the office Santa — a tradition Michael generally has the honor of upholding v Michael loses it. The result is a set of dueling Santas and Michael's eventual announcement that the entire company is going under. Side plots include Andy wooing Erin by getting her the various (violent) birds from "The 12 Days of Christmas" and Pam trying to set Oscar up with Cute Warehouse Guy. It's not perfect, but it gets bonus points for Michael sitting on Phyllis' lap as he apologizes to her.
Image: NBC
"Dwight Christmas"
The last ever The Office Christmas party can't top the earlier ones, but it's probably the best Michael-less sendoff we could have hoped for. When Jim is about to head off to Philadelphia for his sports business, Pam decides to make it the perfect last Christmas by convincing the Party Planning Committee to let Dwight host an "authentic Pennsylvania Dutch Christmas." That entails Dwight smacking people with an old broom and narrowly avoiding celebrating a racist tradition. Ah, the holidays.
Image: NBC
"Classy Christmas"
It's hard not to love this episode in which Michael tries to make everything perfect for his ex-girlfriend Holly's return to the office. He spends the whole episode trying to keep the office from celebrating Christmas in any way he sees as juvenile, only to wind up defacing a Toy Story doll Holly's boyfriend gave to her. Oh, Michael. You feel too much! (Bonus point since this little ditty was written by Mindy Kaling.)
Image: NBC
"Moroccan Christmas"
This mess of a Christmas starts when Phyllis plans her first Christmas party as head of the Party Planning Committee, which entails her bossing Angela around (totally satisfying) and providing dishes that make her blood boil like hummus and asking her to remove the Christmas tree since it's not Moroccan. It gets even better when Dwight starts selling the hottest toy of the year, Princess Unicorn, out of the office, starting a bidding war between Toby and Daryl for the last one. Oh, and Michael tries to take Meredith to rehab after she lights her hair on fire. You know, typical holiday insanity.
Image: NBC
"Benihana Christmas"
Sure, it's not packed with the emotional goodness of the first Office Christmas, but it's still pretty incredible. Michael is dumped by his girlfriend after Photoshopping himself into an old family photo, so Andy takes him to Benihana to meet some waitresses. At the same time, Pam finally starts to bond with Jim's girlfriend Karen to host an epic war with the Party Planning Committee. Margarita-Karaoke-Christmas forever.
Image: NBC
"Christmas Party"
Of course this is the best The Office Christmas party — it's the one that made the annual party such a tradition. Of course, this is the episode in which Michael changes Secret Santa to Yankee Swap at the last minute, sending Jim into a panic because his present to Pam is full of personal memories and inside jokes. Naturally, this ends in a little holiday cheer courtesy of everyone's favorite office romance.
Image: NBC