7 Books To Make You Feel Like You're In Edinburgh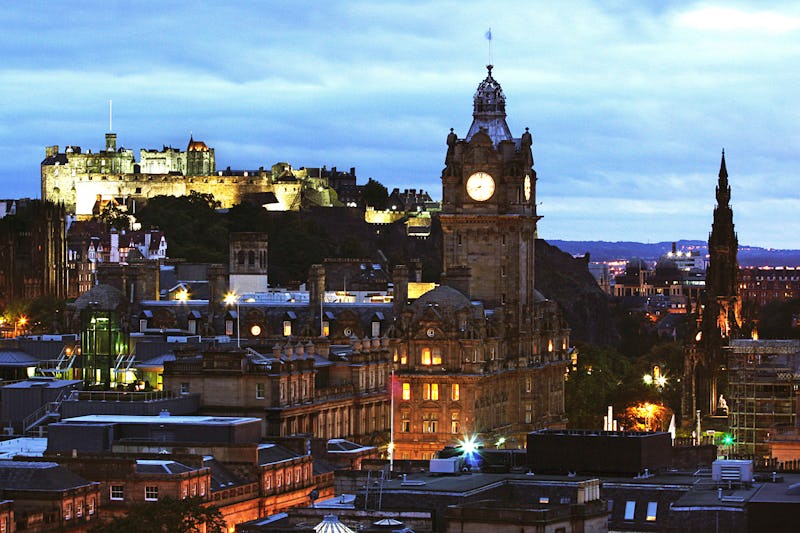 August 15 marks the start of the Edinburgh International Book Festival — the biggest event of its kind in the world. (In the world!) During the two week long, reading-centric extravaganza, more than 800 authors, including comics creators, Booker prize winners, philosophers, and environmentalists will take part in 700-plus events, debates and discussions. (Did I lose you to a travel site, trying to book your ASAP ticket to Scotland? Hello? Are you still there?)
I don't think there's a better way to celebrate Scotland's capital, and mark the beginning of its annual shindig for readers and writers, than to get sucked into books that'll give you the chance to vicariously experience this hilly, history-packed literary city. There's a lot to offer, after all: Edinburgh has the tallest monument in the world that's dedicated to a writer, it was the first UNESCO city of literature, and its main train station, Waverley, is the only one on the planet that's named after a series of books.
And there's more to its bookish credentials than hosting the bibliophile's version of Glastonbury. Muriel Spark, Arthur Conan Doyle, and Robert Louis Stevenson were all born there. And it's home to the publishing powerhouse that's J.K. Rowling... so, I'll stop there, because J.K. Rowling, end of sentence.
Now that you're excited about Edinburgh and its deep ties to great lit, here are seven books that will give you a taste of the fantastic Scottish city, inside and out:
One Good Turn by Kate Atkinson
Kate Atkinson's probably best known for the epic, and award-winning Life After Life, her inventive exploration of fate, possibilities and choices. But before that came One Good Turn, the second of Atkinson's four books featuring Jackson Brodie, a private investigator who's as tough as kevlar on the outside, but gooey in the center. A cleverly plotted cross between a detective novel and work of literary fiction, it opens with a road rage attack that sets off a peculiar chain of incidents, and introduces a cast of well-crafted characters. Dark, funny and laced with sly wit, One Good Turn transports you into the midst of Edinburgh during its manic festival season.
The Prime of Miss Jean Brodie by Muriel Spark
A modern classic from the Grande Dame of Scottish Literature, The Prime of Miss Jean Brodie has been adapted for the stage and the big and small screen. It tells the tale of a group of schoolgirls, "The Brodie Set," who are taken under the wing of their egotistical school mistress. The indomitable Jean Brodie chooses to do away with traditional subjects and teach her young charges about love, art, and politics instead. She takes great pleasure in the control that she exerts over them, but her influence inevitably wanes. Spark's vivid writing will take you straight into the heart of middle class Edinburgh in the 1930s.
Trainspotting by Irvine Welsh
A bleaker prospect than its Danny Boyle-directed film adaptation, Welsh's seminal collection of loosely linked vignettes charts the highs and lows of a gaggle of drug users living in 1980s Edinburgh. It's a detailed, profanity-laden portrait of an underclass that deals with theft, cot death, and underage sex. It's a million miles away from the tartan and shortbread version of the Scottish capital that the tourist board shows to potential visitors. Trainspotting is harrowing, shocking and, occasionally hilarious. It takes a while to tune into the phonetic Edinburgh dialect that it's written in, but it's worth the effort.
One Day by David Nicholls
Dexter (a moneyed player) and Emma (a studious, working class type) enjoy a one night stand on the night that they graduate from University of Edinburgh. Their tryst is the start of a will-they-won't-they scenario that lasts for much longer than either of them expect. And so on July 15 every year for the next 20 years we're given a snapshot of both their friendship, and the state of their personal and professional lives. This smart, dialogue-driven contemporary love story, which was turned into a movie with Anne Hathaway, manages to be romantic without being corny. And in it Nicholls paints a fond portrait of Edinburgh, the city in which he spent a summer as a 21-year-old actor experiencing his first season at its Festival Fringe.
Saints of the Shadow Bible by Ian Rankin
Police procedurals are littered with old school cops who refuse to play by the rules, and Detective Inspector John Rebus, Ian Rankin's most famous creation, is one of them. But, thankfully, there's nothing hackneyed about his self-sabotaging loner. Saints of the Shadow Bible, the 19th book in the Rebus series, is set in Scotland's capital in the run up to the country's independence referendum. As well as comparing and contrasting differing policing cultures, it focuses on loyalty, allegiance, and ethics, and also puts the insalubrious sides of contemporary Scottish society under the spotlight.
The Vanishing Act of Esme Lennox by Maggie O'Farrell
Why has Esme Lennox spent 60 years in a psychiatric unit? That's the question posed by this moving and compelling mystery. There's no spoon feeding here — O'Farrell leaves you to fill in the gaps in her restrained, poetic prose. The story follows Iris, Esme's great-niece, as she slowly pieces together the events which led to her great aunt being deleted from their family's history. It deftly switches between colonial India, present day Edinburgh, and the city in the 1930s, a time when fulfilling familial expectations, and adhering to the strict social mores that governed polite society, was essential.
Bertie's Guide to Life and Mothers by Alexander McCall Smith
The author of the phenomenally popular No. 1 Ladies Detective Agency routinely takes time out from his Botswana-based novels, and turns his attention to the inhabitants of Scotland Street, in the desirable New Town area of Edinburgh. Bertie's Guide to Life and Mothers focuses on Bertie Pollock, the book's titular protagonist. He's a gifted, soon-to-be 7-year-old who, despite his youth, is wise to life's contradictions and tiny injustices. The book reads like a urbane and contemplative soap opera in which McCall Smith gently pokes fun at, but is never unpleasant to, his characters. It's an engaging and subtly humorous peek into the lives, and homes, of the city's bourgeoisie.
Image: Dimitry B/Flicker