Paul Rudd's Third Time on 'SNL' Is a Charm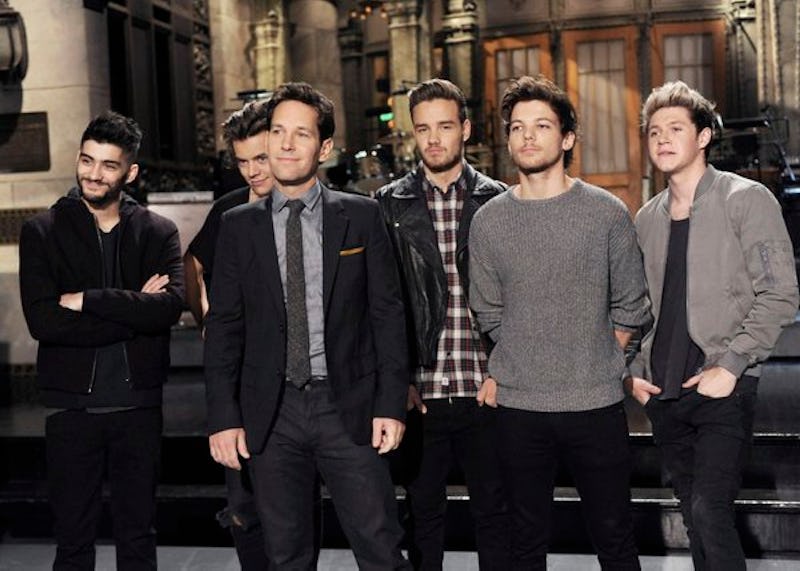 On Saturday, Paul Rudd's third time hosting Saturday Night Live marked the first of the show's three-week lineup of veteran hosts. (We're already squealing in anticipation over Dec. 21's Jimmy Fallon-Justin Timberlake Christmas episode.) And Rudd, appearing on the sketch comedy series to promote Anchorman 2: The Legend Continues , knocked the pacing of this show out of the park. With his puppy dog face and awkward reactions, Rudd showcased his particular brand of humor that's dominated some of the funniest comedies of the last decade (hello I Love You, Man!), balancing smart and silly at the same time. Armed with his good guy shtick, Paul Rudd proved he understands the pulse of Saturday Night Live. But, now, let's get to the sketches — which should you watch, and which should you skip?
WATCH: Sound of Music Live Cold Open
The return of Kristen Wiig's Dooneese! Funny to watch the baby-handed character as a member of the von Trapp family, botching the sugary musical with ridiculous lines like, "So I sewed a chicken to a wall." It ends somewhat unceremoniously (with the return of Fred Armisen's Lawrence Welk), but the sketch was a welcome departure from the standard press conference.
WATCH: MONOLOGUE
Rudd complains about having to cede the spotlight to big name musical guests in the past (Beyoncé and Paul McCartney), and ends up getting upstaged by One Direction. That is, until Will Ferrell, Steve Carell, David Koechner, and Rudd join forces for an Anchorman crowd favorite, "Afternoon Delight." Worth it for the star power.
SKIP: Politics Nation
After Al Sharpton's awkward cameo on the series a few weeks back, Saturday Night Live does a low-level takedown of how out of touch he is. The laughs were strained throughout the sketch, so skip this underwritten segment.
WATCH: One Direction Concert Line
It's Paul Rudd's jacked-up energy that makes this sketch work as the actor claws his way through a crowd of screaming little girls to get to One Direction. Dude fields a call from his wife that they just had a baby (and still remains in line) and stares a little girl down longer than necessary. Kids + Paul Rudd? Could it get any cuter?
WATCH: Divorce Meeting
A divorcing couple is seething with bitterness, but their song, which plays at random, leads them to break into happy dancing. The joke is mediocre, but worth it for Rudd's sheer enthusiasm while dancing.
WATCH: ONE DIRECTION
The audience claps along as the BFFs sell this power ballad. With hair gelled sky-high and a solo for each member, One Direction certainly delivers for those who enjoy 20-year-old boys giving heavy eye contact to the camera.
WATCH: WEEKEND UPDATE
The segment boasted the return of one old recurring character (Bar Mitzvah boy Jacob, played by Vanessa Bayer) and one new recurring character (Taran Killam's Jebediah Atkinson). Jacob's jokes were too slow, but Killam delivers again roasting Christmas movies with biting insults ("You know what else the Grinch stole? Thirty minutes of my life!) and pointed barbs. ("Oh hey, Tiny Tim, good news, you're getting a Christmas goose for Christmas, but the cure for Polio's still 100 years away. You're going to die.") This went over well, but points for Killam's boldness in calling out the audience's single lukewarm reaction.
WATCH: Michelangelo Unveils David
Paul Rudd is adorable playing the male model for Michelangelo's David, protesting the small clay penis the artist carved. The Goliath statue worsens the blow, and Paul's mopey face gets me every time he gets shamed.
WATCH: White Christmas
The show took a risk making white actors appropriate the Tyler Perry-inspired films. Flashing a wry smile, Pharoah asks, "Are we gonna get a trouble for this?" Well, let's wait and see...
WATCH: Santa Meeting
After battling years of "day apnea," a svelte Santa downsizes his belly on a liquid diet. A must-watch, if only for the varied looks of disgust on Santa's elves as Santa introduces his airhead girlfriend and a candy ban.
WATCH: Memories
A satin-robed glamour girl remembers her debonair old flames. Paul Rudd kills it as Victor from the airport Papa John's who won't let her forget their tryst in the bathroom stall. (Hey, would you? It's Paul Rudd!)
WATCH: Bill Brasky
Reviving a 17-year-old Saturday Night Live sketch, The Anchorman 2 cast takes turns in a bar screaming Chuck Norris style-superlatives about Bill Brasky (he once punched a bald Eagle because he wasn't American enough) and making a hilarious game out of dark confessions. A reminder that SNL's good ol' days were actually really good.
So Rudd's third time on Saturday Night Live certainly was a charm — for Christmas this year, all we want is for him to come back for a fourth.
Image: Dana Edelson/NBC