dELia*s 2.0 Is Already Major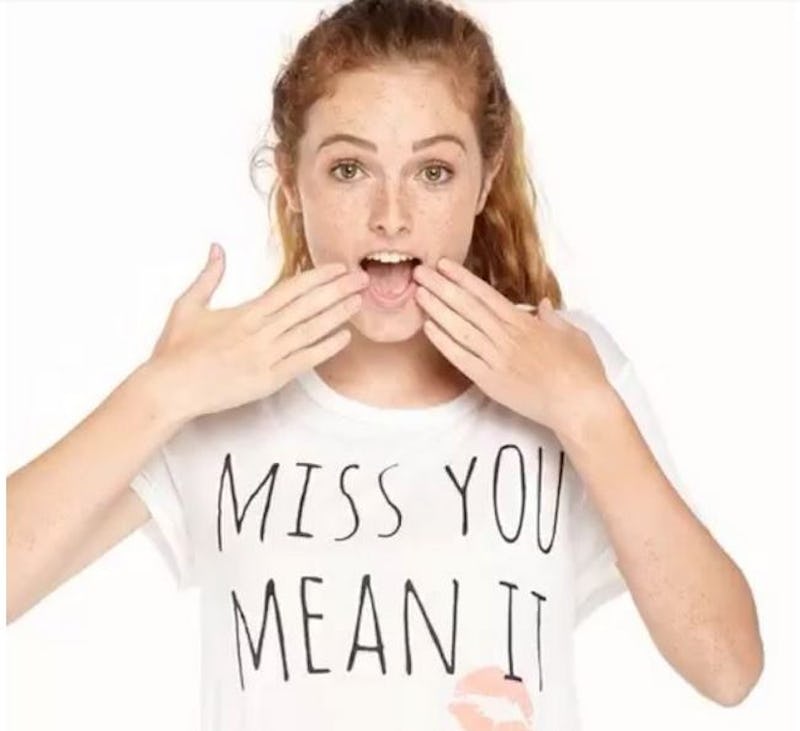 Just last spring, young girls nationwide poured out some glitter when the last dELiA*s catalog hit the recycling bin and the brick and mortar shops closed their doors forever. Luckily, like everything else in teen-world, "forever" doesn't always last more than a semester or two, and dELiA*s is back, baby!
It's just like the saying goes: You don't know what you have 'til it's gone. Or perhaps the trusty "If you love something let it go; if it comes back to you, it's yours" would be more appropriate in this case. Both can definitely be said of dELiA*s triumphant return, which has tween hearts soaring and BFF's tagging each other on the brand's instagram account. Even older twentysomethings, who remember Delia's as one of the few places where you could score a first-date (as in, first date ever) cardigan look and some sleek inflatable furniture, are breathing a little easier now knowing that once again, all is right with the universe.
The new site has a slightly different address (it's now store.delias.com; but the old digs, delias.com, will redirect you there automatically), a new, cleaner (dare I say "curated") look, and the same fun-loving fashion that won over a few generations of loyal fangirls.
So aside from general awesomeness, what's in store for dELiA*s 2.0? Racked chatted with Patricia Johnson, the new executive vice president and chief merchandising officer at dELiA*s, for some insight, and here's what we learned:
1.) Teens are seriously excited about this.
It was no secret that dELiA*s bankruptcy was one of the great tragedies of the year, for teens as well as for teens-at-heart who remember coming of era in the age of catalog shopping. But no one could have predicted just how over-the-top happy the brand's return would make fans who are eager to shop from the new site and monthly print catalog.
Racked rolled up their sleeves and dug deep into the super-cute comments on the brand's Instagram posts announcing the returns. The results will give you contact-giddiness.
"Can't wait to get my 8th grade graduation dress!!!!!!!! So excited!!!!!!" one comment reads. A user who lists out her girl squad in her bio says she hasn't been shopping for clothes since Delia's shut down. Middle schoolers with bios marked by the date they met Taylor Swift are frantically tagging their friends. At one point, the catalog cover model chimes in.
2.) This time around, the brand's social media is getting a lot more social.
According to Johnson, the team is focused on creating an interactive experience for young teenage girls instead of just trying to sell them clothes. Now, get ready for shoppable Instagram, social media contests, a "haul-o-fame" with user-submitted finds, an email newsletter and a monthly catalog that promises to function more like a magazine (similar to ASOS's in-house mag).
3.) Break out the popcorn, because Delia's has a YouTube channel and a Snapchat account.
dELiA*s spirit decade is the '90s, so it was no surprise that the brand had a bit of trouble keeping up with the times, which was one of the reasons for its closure last winter. But with new management comes a new, more social media–friendly course of action, including videos on its YouTube and Snapchat accounts.
4.) If you really think about it, where else do tweens have to turn?
Full-disclosure: Before I discovered Delia's as a tween, I mostly dressed like my American Girl doll. (For the record, Molly was the chicest.) These days, girls can choose from a variety of mall brands like Justice and Gymboree, but when they're ready to graduate, they need something besides Victoria's Secret and Forever 21, which can definitely skew a bit older. That's top of mind for Johnson and the rest of the Delia's team, so we can expect to see tween-friendly pieces that do a good job of channeling that transition period without being too childish or too grown-up.
"Girls today are going from a Justice or a Gymboree or a Children's Place straight to Forever 21," Johnson tells Racked. "And that sometimes is a little scary, so [she's] trying to find a place where she can go to that feels safe, that feels on trend."
I may have already graduated college, but I can still go back-to-school shopping, right guys? Right?!
Images: delias/Instagram, Giphy