13 Clothing Items For A Late Summer Hike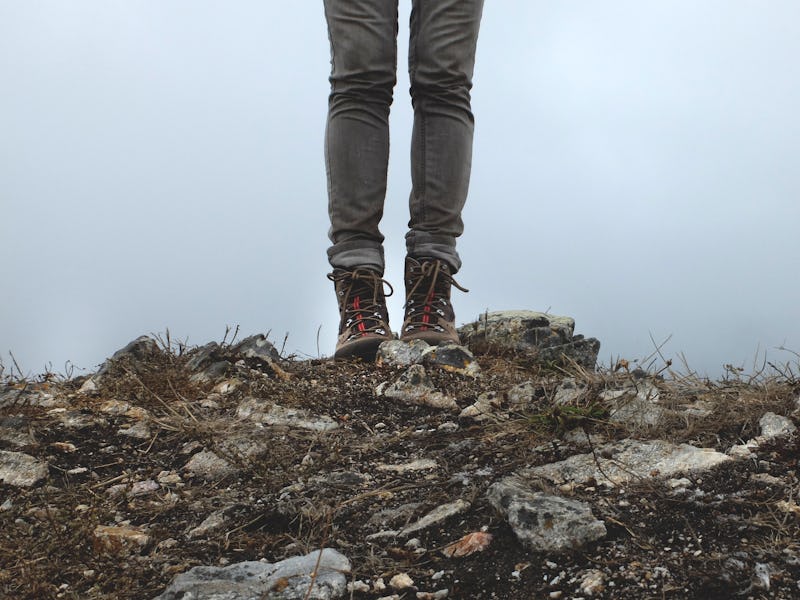 As summer threatens to transition to early fall, you may be scrambling to get in some final outdoor trips, which means figuring out what to wear on a hiking trip (or a backpacking one!) is still important. After all, the weather is beautiful and the timing is perfect for visiting some of America's national parks. Packing for a major backpacking or hiking trip as fall nears can be an adventure in and of itself, though. Seasonal changes can be unpredictable, so you need to stock up on proper gear and clothing so you're not out wandering mountain trails full of regret.
Unlike backpacking through wordly cities with nightlife in mind, hiking and camping in the wilderness comes with less focus on fashion and more focus on survival. However, you can still travel with some personal style while ensuring your comfort and safety on the trail. Your appearance probably won't be your main concern after the first day or two, as you'll be stepping away from social media, the pressures of your daily life, and even mirrors altogether. But since you'll be living in many of the same layers throughout the trip, you might as well take advantage of some of the style savvy and entirely practical wilderness apparel options out there.
1. The Best Undergarments
Patagonia Women's Barely Bikini, $12, Patagonia
Made of a recycled plastic polyester and a spandex blend, these low rise bikini undies dry quickly and wick away moisture. They are tag free and breathable, so your lady parts are more likely to stay fresh even after a full day's hike. When you're living out of a backpack, that's a very reassuring thought. Plus, all of that quick drying will come in handy on wash day.
Icebreaker Sprite Hot Pant, $40, Back Country
Not sure if recycled plastic polyester and spandex is the way you want to travel? Fair enough. Icebreaker Hot Pants offer a merino wool (96 percent) and Lycra (4 percent) blend. Now, I know what you're thinking: Wool sounds like a terrible fabric to hike around in all day. But this wool is ultralight and naturally tackles odor. As you can see, these cool little hot pants are also adorable.
SmartWool PhD Seamless Racerback Bra, $45, Back Country
Warming to this wool undergarment concept? Try out the SmartWool PhD Seamless Racerback Bra. Again, odor resistance and breathability are your friends when it comes to trail worthy undergarments, not to mention comfort, and the SmartWool Racerback comes equipped with them all. Oh, and it looks great to boot.
Darn Tough 1/4 Crew Cushion Merino Wool Hiking Sock, $14, Back Country
When it comes to hiking, never underestimate the importance of dry feet. To ensure you're achieving tip top toes, lean on wool once again to wick away moisture and keep your feet less stinky.
2. Beautiful Bottoms
prAna Sage Convertible Pants, $58, Rei
Variegated ripstop nylon with spandex make these convertible pants both lightweight and stretchy. They come equipped with a water repellent finish, helping them not only stay dry longer but also dry more quickly when washed on the go. These pants also feature a nice set of cargo pockets, in addition to back flap patch pockets and standard front pockets. If all that wasn't enough, you can roll them to capri length or zip the bottoms for when the weather is warm.
SmartWool Midweight Long Underwear Bottoms, $95, Rei
Facing some colder-than-expected sleeping conditions? It's time to don your long underwear. And in desert purple, these midweight merino wool long underwear bottoms are actually pretty stylish.
Chaka Skirt, $59, Toad And Co
If you're on a fairly low grade trail, hiking in a skirt can be a nice way to get sun on your legs and enjoy a refreshing breeze or two. Made from tencel, organic cotton, and spandex, the Chaka skirt is both lovely and versatile, and a great way to bring a soft feminine vibe to your casual hike.
3. Perfect Tops
New Balance Achieve Reversible Tank Top, $39, New Balance Outlet
Having a reversible tank top in your magic bag of tricks will be handy on the trail, since saving space counts. Two shirts in one is definitely a win if you'd like to keep up the illusion that you're not wearing the same outfits a few times during your trip. This tank is both cute and practical, boasting moisture-wicking fabric and a mesh racerback cut to help keep you keep cool (even with that big pack on your back).
The North Face Suprema Full-Zip Hoodie, $52, Rei
Finding the right fleece to keep you warm while hiking can be an in-depth affair. But don't stress, North Face has you covered. If hoodies with thumb holes are your jam, you'll definitely want to check out this fitted, colorful zip-up fleece. It's specifically built to withstand outdoor activities and even includes an interior pocket for your phone. Handy, eh?
SmartWool NTS Mid 250 Drape-Neck Hoodie, $91, Rei
Looking for something cozy to pair with those long underwear bottoms? Try out a SmartWool Drape-Neck Hoodie. Again, it's made of merino wool, so it helps you naturally regulate temperature through breathability, moisture control, and a little bonus odor control. What's more, it'll help you look like a super sneaky, ultra cool ninja. What else could you want after a long day hiking around natural wonders?
Patagonia Adze Softshell Jacket, $149, Back Country
On days when the mountain climate feels more like autumn than summer, you may wan to have a softshell jacket on hand. The wind and water resistant Adze Softshell by Patagonia comes in a variety of fun colors and will keep you toasty even as you trek through dreary elements.
4. Practical Accessories
Keen Targhee II Mid Hiking Boots, $135, Rei
When it comes to hiking apparel, little is as important as what you put on your feet. If you want to stay dry on the trail, count on KEEN.DRY technology to provide you with waterproof, breathable membranes that allow your perspiration to escape from inside your boot. Plus, these boots really are made for walking and are built to support your arches even over long treks on uneven terrain.
Icebreaker Skyline Hat, $26, Back Country
Stay toasty around the campfire with the Icebreaker Skyline Hat. As beanies go, this fawn heather merino wool one is odor resistant (great for when you have to stuff it back in your sack) and naturally assists your head in thermal regulation.
There you have it: Cozy, stylish, and practical options, all the way across the board. Enjoying nature doesn't have to mean saying sayonara to your personal style. It just means saying hello to majestic beauty and all of the fresh air your heart desires.
Images: amandasandlin/Unsplash; Courtesy Brands