9 Sunglasses For Asian Faces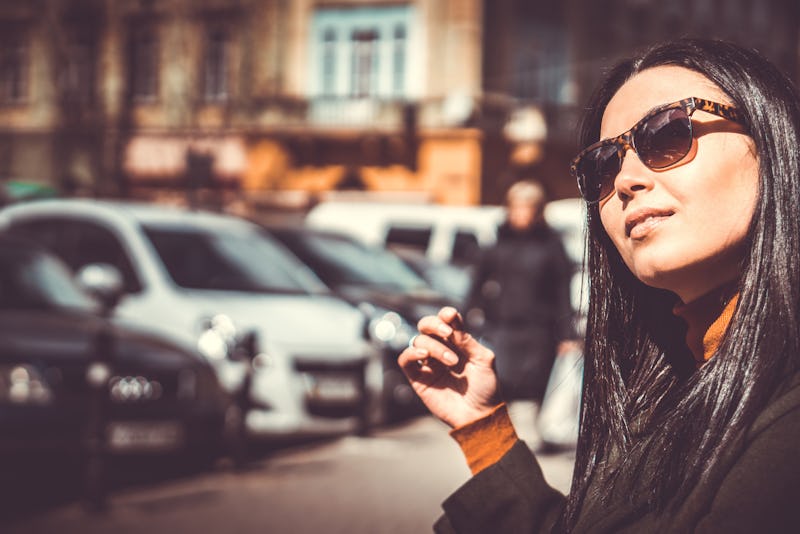 When I first heard about Asian fit sunglasses, I cringed at the name, almost out of instinct. It sounded, well, kind of racist. No other race or ethnicity has its own category of sunglasses, so why should Asians be singled out? And what makes a pair of sunglasses fit Asian faces?
After doing some Internet research and talking with my mother, a Korean woman who is very particular about her sunglasses, I learned that Asians have a surprisingly hard time finding sunglasses that fit properly. Perhaps there needs to be some kind of rebranding, but really, Asian fit sunglasses aren't racist. There is a real, practical need for them.
For many people of Asian descent — who have wide faces, high cheekbones, and low nose bridges — most sunglasses made by Western brands and designed for Caucasian features aren't wide enough, which causes uncomfortable pressure at the temples. If lenses are too big or round, the top of the cheeks will touch the bottom of the frame. Perhaps the most common problem, though, is that the sunglasses slip down a lower nose bridge because there isn't a nosepiece that's thick enough.
These features aren't exclusively Asian, of course, so if you find that your sunglasses have a tendency to slip down your nose or hit the tops of your cheeks, you might do will with Asian fit sunglasses. Not all Asians need Asian fit sunglasses either, so you don't need to limit yourself to what's sold in the Asian fit section if you know what problems you usually have with sunglasses and what features you need to remedy those issues.
Here are nine sunglasses that will fit Asian faces, as well as anyone with a low nose bridge.
1. Classic Aviators
Ray-Ban Aviator Classic in Grey Gradient, $165, Ray-Ban
If your main problem is that your sunglasses slip down your nose, classic aviators are a good bet because the nose pads will keep your shades in place. But if you struggle with hitting the bottom of the frames with your cheeks, you might want a smaller lens or a totally different shape.
2. Mirrored Metal Shades
Spitfire Lo Fi Sunglasses in Silver, $39, Forever 21
These metal frames have nose pads, like the aviators, that will do a great job of keeping shades in place, and the hexagonal shape of the lenses should prevent high cheekbones from bumping into the bottom of the frames. Another good tip is to look for frames that go straight up and down with no curve to the lens, so there's more space between the lens and the cheek. These Spitfire sunglasses fit that bill.
3. Round Metal Sunglasses
SUPER Panama Costiera Round Sunglasses, $200, Urban Outfitters
These sunglasses from SUPER are another solid option with nose pads, and I love the blend of a gold metal frame with a plastic tortoiseshell decoration. The slight curvature of the frames might be a problem for those who have high cheekbones, but that might be offset by the smaller size of the lenses.
4. Plastic Marbled Frames
KayTran Olivia in Black Glass, $236, Kaytran
Not all Asian fit sunglasses are made of metal and have nosepads, though. KayTran is a brand that specializes in Asian fit sunglasses, and these round plastic frames have wider plastic nosepieces to help keep the shades up higher on the wearer's nose bridge.
5. Sporty Shades
Oakley Surf Collection Frogskins in Sapphire Iridium/Blue, $130, Oakley
Oakley came out with Asian fit sunglasses in 2013 and definitely struggled with the branding a little bit, but the glasses themselves have gotten pretty solid reviews. These are the classic Oakley Frogskins that everyone knows, loves, and recognizes from the 1980s, but adjusted to fit Asian faces better.
6. Round Plastic Frames
ASOS Ridge V Nose Chunky Round Sunglasses, $27, Asos
If you know what you're looking for, and what makes a good pair of Asian fit sunglasses, you don't need to limit yourself to brands that make eyewear specifically for Asian faces. These plastic sunglasses from ASOS have a thick nosepiece and are sweetly retro.
7. Square Tortoiseshell Shades
Warby Parker Banks in Sea Smoke Tortoise, $95, Warby Parker
These oversized sunglasses from Warby Parker are relatively wide and the thick plastic, especially around the nose piece, means that there's less of a chance the shades will slip down. Since Warby Parker allows the wearer to try up to five different frames at home, you'll have a chance to test-drive them and make sure they really fit before taking the plunge.
8. Oversized Cat Eyes
Quay Modern Love Cat-Eye Shades, $45, Nastygal
These exaggerated cat-eye sunglasses from Quay also have wider nose pieces, and the dusty rose color, combined with the shape, makes for a perfectly feminine pair.
9. Covry Sunwear
Clear Frames, $95, Covry
Covry Sunwear is a relatively new company, founded by two women who were so frustrated by the process of finding Asian fit sunglasses that they decided to design and make their own. The company just reached its goal on Kickstarter, and judging from what's already posted on its Instagram and website, it's got some chic, well-designed, and thought out shades ready to go.
Though the marketing of Asian fit sunglasses is less than subtle, brands should be applauded for thinking about how people's faces are different and trying to make sure all designs don't just cater to one arbitrary standard. It's exciting to see companies like Covry Sunwear that are dedicated to making sure every face can find shades that fit. Just remember that each face is different, so the best way to find Asian fit sunglasses is to try them on and see what works best for you.
Images: Fotolia; Courtesy Brands