22 Shirts Brunch Lovers Need In Their Lives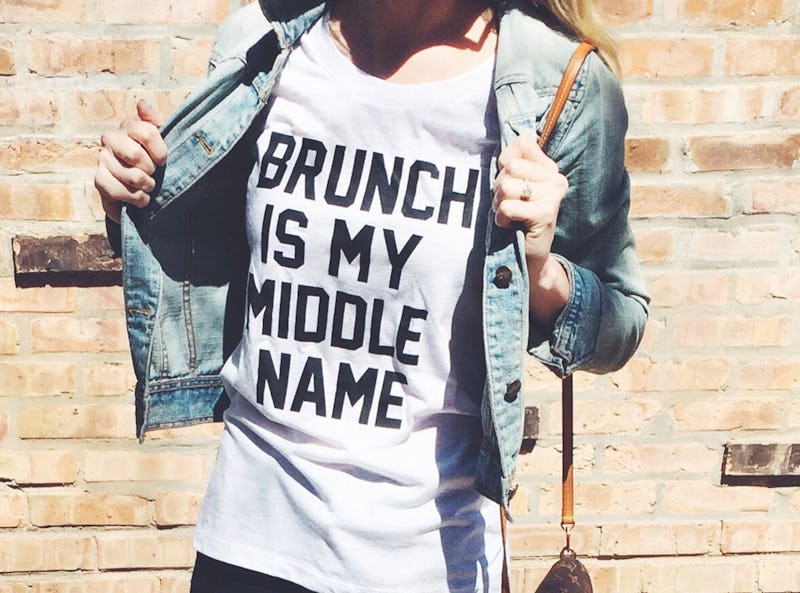 Brunch is arguably the best meal of week... wait, no, the best meal of the day (if you're having brunch every day, you are doing life right, my friend). It's so great that it deserves its own brunch shirt spot in your closet that lets the world know how you feel. It's not even just about the fact that you don't have to get up at the crack of dawn to enjoy it (unlike breakfast, which typically stops being served by 10 a.m.). It's also not even about the quality time spent with friends, significant others, and/or family members, when you can either relax with a coffee or get a little crazy with bottomless drinks (although this is a very important part of brunch).
It's mainly about the food. It's almost a fact that breakfast food is the best kind of food, but with brunch, you get to combine pancakes and eggs with lunch staples like burgers and fries. In terms of meals, it's hard to get better than that. Brunch is the time when it's totally acceptable to eat a plate of French toast as an appetizer before moving on to lobster guacamole or something equally delicious. It's also one of the only times people probably won't judge you for getting wasted before noon.
I am clearly a huge fan of brunch. And if you are too, then you need to seriously consider purchasing at least one of these clothing items. Show off your passion to everyone who walks by, and get a lot of compliments, you little fashionista, you. Did I mention these would make perfect Instagram #ootd pictures? Here are 22 brunch shirts you need in your life.
I Attend Brunch Every Sunday Dolmain Tee, $32, Amazon
Hey, spiritually is different for everyone.
Skull Tank, $28, Consider: Buy Me Brunch T-Shirt, $32, Amazon
It's brunch or die, guys.
Viva La Bunch! Boyfriend Tee, $25, Amazon
Long live the best meal ever! How comfy does this look?
But First, Brunch Tee, $15, Amazon
Brunch takes priority.
Bloody Mary Shirt , $17, Amazon
Clearly the most important part of brunch is this question.
Brunch So Hard Tee, $28, Etsy
These lyrics seem much better, no?
Southward Apparel Brunch Over Boys Tank, $59, The Rage
Who needs dating when you could have brunch?
Because why not?
Turn Down For Brunch, $20, Look Human
Bitches Love Brunch Tee, $29, Skreened
So #basic, but who even cares?
Reason Oversized Boyfriend T-Shirt, $12, ASOS
How do you say brunch in French?
Brunch Money Pouch, $16, Gypsy Warrior
It's not a T-shirt, but it's clearly very important.
Brunch and Mimosas Tee, $30, Tees In The Trap
Yeah, the food is good, but have you heard about the endless mimosas?
Free Your Heart Tee, $44, The Rage
Simple and straight-forward.
ASOS Boozy Brunches Pajama Oversized Tee, $16, ASOS
This is too cute to only be pajamas. Pair it with leggings this fall.
Brunch Muscle Tee, $16, Gypsy Warrior
The 2015 version of the perfect movie quote.
Topshop Brunch Club Long Tee, $38, Nordstrom
Tell me this isn't the cutest thing.
Brunch Sock, $3, Urban Outfitters
Make a smaller statement with socks instead of a tee. Or wear both at the same time.
Brunch Is My Middle Name Shirt, $24, Etsy
Accurate statement.
Brunch Tank, $23, Etsy
Sometimes one word just says it all.
Team Brunch Top, $12, Modcloth
Will do basically anything for brunch.
Brunch Is My Spirit Animal, $10, Etsy
It just speaks to some of us.
Coffee Brunch Nap, $15, Etsy
What your weekend mornings should look like.