Netflix Renews 'Sense8' & The Timing Is Perfect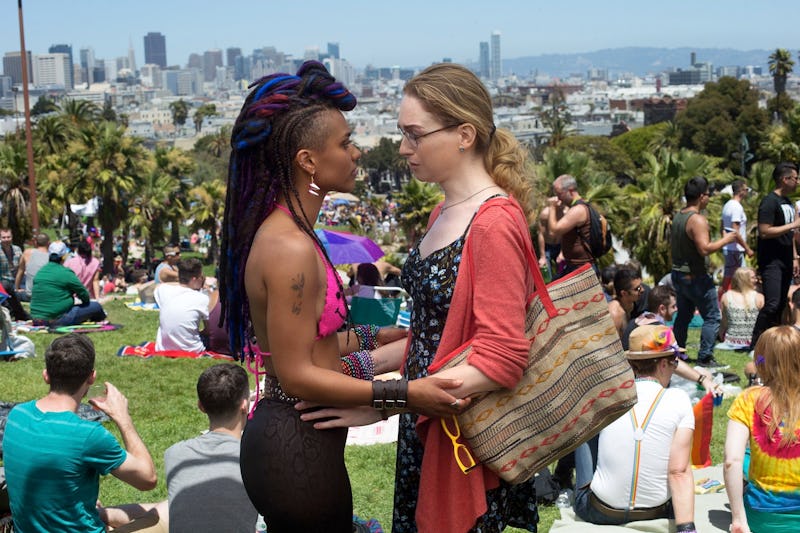 After what's likely felt like years, decades, and centuries for fans of the sci-fi series, Netflix has officially renewed Sense8 for a second season. The good news was confirmed by Netflix itself on its Twitter account, with an adorable tweet stating, "Birthdays are just the beginning. #sense8 is reborn." The message was accompanied by a video featuring much of the show's cast — including Brian J. Smith, Tina Desai, Freema Agyeman, Jamie Clayton, Doona Bae, Max Riemelt, and Miguel Ángel Silvestre — celebrating the exciting news.
The series, which was created by J. Michael Straczynski, Andy Wachowski, Lana Wachowski, and J. Michael Straczynski, is about eight strangers throughout the world who discover their ability to share visions and thoughts with one another. Its smart and emotional brand of science fiction — not to mention the fact that it's one of the most inclusive shows to ever exist, with LGBTQ and minority characters receiving fully fleshed-out storylines — have drawn a strong base of fans, if not universal popularity. According to The Hollywood Reporter, it is in part due to the strong social following the show has gathered that it has been renewed.
Fans, and even the show's creators, weren't always so sure they'd see another season. The Verge notes that, while most Netflix shows are very quickly renewed or cancelled immediately after they first air since response can be gauged as quickly as people are able to marathon, Sense8 debuted two months ago with very little word from Netflix about whether the show would continue. While some saw the delay as a bad sign, it also could have just been a promotional stunt; the birthday the announcement's referring to, August 8, is the birthday that the show's main characters each share.
Additionally, Smith, who plays cop Will Gorski on Sense8, had previously tweeted about the upcoming birthday, leaving many in high hopes — after all, it would be pretty cruel to wait for a show's important date to cancel it.
The cast and crew had previously been hopeful about the renewal of the series and spoke about it at the Television Critics' Association summer press tour. While many fans had been expecting an announcement on the future of the show, it also seemed clear that a show that was about to be cancelled would not be presented at the TCA tour. Straczynski continued to fan the flames at the event by discussing possibilities for future seasons with attendees, mentioning that the sensates of the show will begin taking on each others' abilities.
And Netflix, as MoviePilot thoroughly explored, also continued aggressively promoting the show, which would have been a strange amount of attention to pay for a failure.
With all these fans devoted to proving that the show was going to continue, how could Sense8 have not renewed it for future seasons? The announcement has already received thousands of retweets; it looks like that social media base does count.
Image: Netflix