Will 'Hollywood Cycle' Return For Season 2?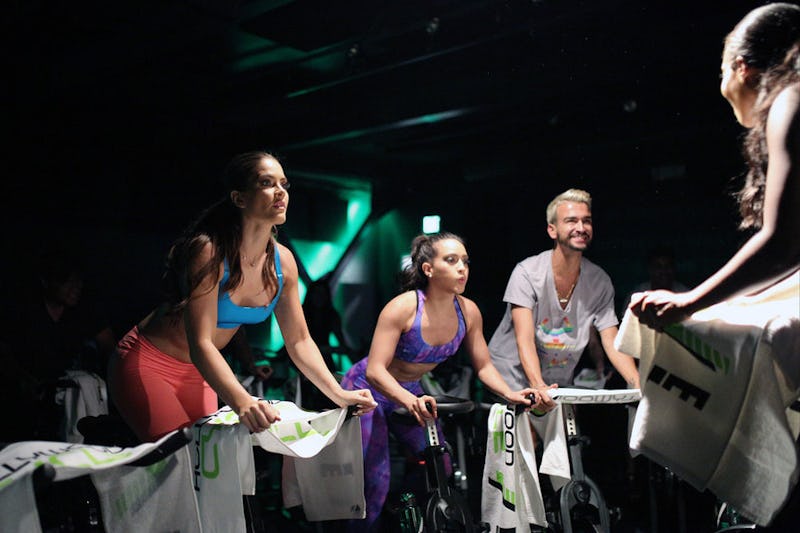 There are so many benefits to going for a tough, competitive workout like cycling—but it can be soooo hard. The next best thing is just watching it on television, right? Especially when there are some glistening bodies to ogle, and juicy personalities clashing with each other. E! granted your wish with Hollywood Cycle, a six-episode series set behind the scenes at LA's Cycle House. But, after the finale on Aug. 11, will Hollywood Cycle return for Season 2, or will E! going to hit the brakes on the show?
The network has yet to make an official announcement about whether or not Hollywood Cycle will be renewed. But, there is one big, bad sign that the show isn't going to make it to Season 2. According to ShowBuzzDaily, Hollywood Cycle's ratings are low—and dropping. Around 321,000 people tuned in to its premiere (which is pretty dismal to start), and only 299,000 stuck around for the penultimate episode (and that wasn't even the all-time low). I'd say, even if the ratings were to jump up for the finale, this show is still pretty much doomed.
But, if indoor cycling doesn't set the television world on fire, E! can try these exercise trends instead.
1. Zumba
I envision this as a cross between Hollywood Cycle and So You Think You Can Dance. Competitive, egotistical fitness instructors who have beef with each other can challenge each to go head-to-head, pitting their original Latin-inspired exercise choreography against each other. The winner is declared the true Zumba star.
2. Pound
Pound always seemed like Stomp to me anyway. This could be a limited reality series that challenges two Pound studios to come up with a full-length, Stomp-style show that uses nothing but its percussive elements. Or, they could actually get Stomp castmembers to try out Pound and see what they could do with it. Expect a lot of banging.
3. CrossFit
This is a total generalization, but doesn't it seem like dudes who are super into CrossFit are kind of like the male equivalent of Real Housewives? I bet if you follow around a bunch of CrossFit bros with cameras, you'll get the same amount of egos and infighting, all between discussions about who is cheating on their paleo diet.
4. Piloxing
True Piloxing is a combo of Pilates and boxing. In my imaginary show, however, it'd be Pilates vs. boxing. Pilates devotees and boxers would have to compete in a series of American Ninja Warrior-style obstacle courses for survival of the fittest. Who would you put your money on?
5. America's Next Hot Workout
Every year, a new kind of workout hits the scene; one year it's barre classes, the next it's aquacycling. So, what's on tap for next year? A network can figure it out a la America's Got Talent or Best New Restaurant. A panel of fitness celebs can act as judges, and newbies with out-there workout ideas can have their moment in the spotlight; winners will receive a slot in a big, chain gym like Crunch (which seems pretty open to wacky workouts anyway).
6. UFC Women's MMA
If there's a pill I could take that would turn me into Ronda Rousey, I'd take it. In lieu of that, I'd like to see her mentor a group of wannabe MMA fighters, especially if someone from Furious 7 could come and make a cameo. (Michelle Rodriguez, doing anything?)
So, don't fret if Hollywood Cycle gets cancelled. There are so many exercise options out there left to explore.
Image: Mike Windle/E! Entertainment