Do I Have To Wear A Sports Bra When I Exercise?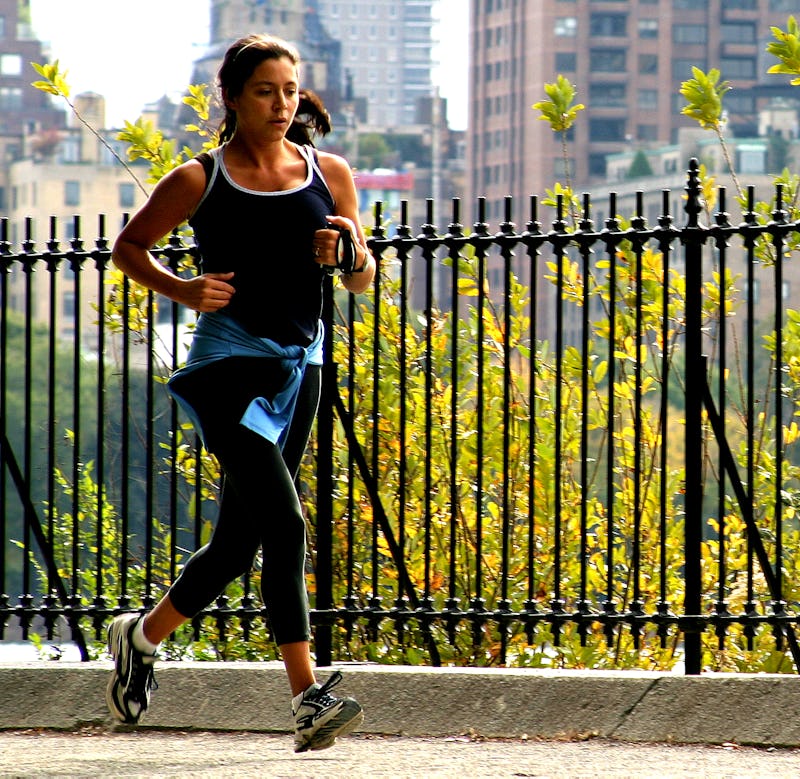 You're working out a lot and feeling great, but you're realizing the effects of gravity are very real and beginning to wonder: do you have to wear a sports bra when working out? Maybe you're on a budget and the last thing you want to do is invest in some quality sports bras, because let's face it — good sports bras aren't cheap. Sure, you already have some yoga-type bra tops, but are they offering the support you should be getting?
Serious science goes into researching the biomechanics of your breasts. Basically, scientists study how your girls move during different activities and they have found that while wearing your regular bra during the day will not change the rate at which gravity pulls you south, working out is an entirely different story.
Health Magazine reports that wearing a supportive sports bra during high-impact exercise combats tears in connective tissue (called Coopers ligaments) which leads to permanent stretching and drooping. Oh, and according to Discover Magazine, the inspiration for the first sports bra came from the wide-banded elastic support of jockstraps—it was invented by two female joggers who were sick of having sore boobs. Still need convincing?
So here's the moral of the story: Wear a supportive sports bra before jogging, kick-boxing, or dance class if you want to prevent sagging. The key is wearing the right kind of sports bra. That old compression bra that smushes you down into a flat tube is doing you no favors.
The key elements any woman needs for a supportive sports bra are:
Encapsulation
Encapsulation + compression if you're big busted
Wide shoulder straps that provide adjustable support
A back closure (if you can pull it over your head, it's not supportive enough)
Moisture wicking fabric
Reinforcement in side panels and back, especially for larger ladies
Here are four sports bras that promise all of these elements and are perfect for every fitness type.
The Go-To Sports Bra That Suits Every Gal
High Impact Multi-Way Sports Bra, $72, Chantelle
Even women with small to average breasts need ligament support when doing high impact activities. Look for sports bras that individually contain each breast (this is called encapsulation) and have wide shoulder and rib bands.
If Your Large Breasts Make High Impact Seem Impossible
Incredible by Victoria's Secret Sports Bra, $36.50, Victoria's Secret
If your boobs bang you in the chin when you do jumping jacks, look for full coverage over your chest. This will help contain the painful up and down momentum that jumping and running can cause. Look for bras that offer both breast encapsulation and compression for maximum control. Target sports bras made specifically to suit women with larger breasts, so you are sure to get a product that meets your needs.
If You Want Extra Padding In The Front
Shockingly Unshocking Bra, $50, Nordstrom
It's common for nipples to get hard during exercise, so don't sweat it. No need to double up on sports bras anymore. No need to worry about the weirdos at the gym being creepers anymore either. Look for bras that claim "modesty panels." This means the cups carry special double layering to keep your private parts private while you bounce.
If You Want Cute & Scientifically Proven To Control Stretching
Panache Women's Underwire Sports Bra, $65, Panache Lingerie
All these sports bras are proof that solid sports bras don't have to be boring. Now, you have all the information you need to stop sagging in its tracks. Even if you don't care about sagging boobs (and kudos if you don't), wearing a good sports bra will help prevent pain and discomfort that come when breast ligaments stretch.
Want to put your new new sports bra to the test? Try this workout generator by PopSugar. There's a five question quiz about what exercise you like to do then they open a free fitness video for you. Pretty rad.
Images: Thomas Hawk/Flickr; Courtesy of Brands