Jemaine Clement Might Not Be An Actor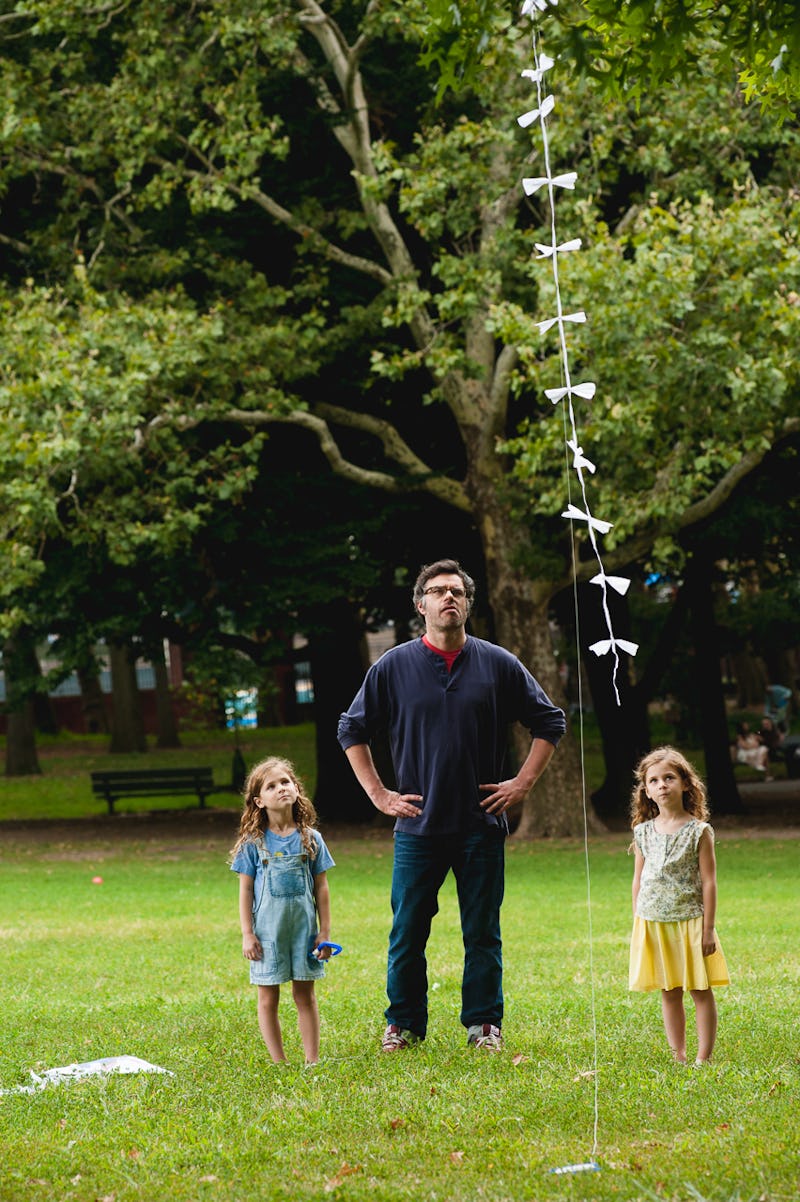 People Places Things isn't necessarily a rom-com, according to Jemaine Clement. Nor is the performer, who has written, directed, and appeared in theater, film, and television, necessarily an actor. After all, Clement's career so far has defied traditional categorization; the one-time star of Flight of the Conchords has tested the waters of music, comedy, stage, and, thanks to a recent appearance as "Fart" on Rick and Morty and a radio show soon to premiere, even voice work. People Places Things , though, marks Clement's first foray into leading-man territory.
The movie, out Aug. 14, features Clement as Will Henry, a graphic novelist and comic art professor at the School of Visual Arts, whose wife (Stephanie Allynne) suddenly leaves him for a new man (Michael Chernus), taking the couple's twins Clio and Collette with her. One of his illustration students, Kat (Jessica Williams), invites him over for dinner with her mother, "hot mom" Diane (Regina Hall). But even a year on, the fallout from his marriage continues to overshadow Will's every relationship. It's a straighter role than Clement played in Flight of the Conchords or What We Do In The Shadows, a vampirical satire he starred in (and co-wrote and co-directed) earlier this year. It's understandable that, then, he was a bit hesitant when it came to taking on the part.
Talking to Bustle, Clement recalls that his initial response to being offered People was something akin to, "I think — dot dot dot — I think I'm interested." He credits his trepidation to not having previously played a lead role.
"I wasn't sure I wanted to dedicate myself to acting," Clement says. "I didn't want to be an 'actor.' It was fun to do small parts in things, write my own things, with people I knew. But this would be 'being an actor.'"
He enunciates phrases like "being an actor" with a deliberateness that makes the words sound as though they should be capitalized. Being An Actor. But if not as an actor, how would Clement describe his career?
"As a series of short term goals," he says stoically, before letting out a little chuckle. It's a good thing he took the part; this kind of restrained humor is what People Places Things does best. It bridges the gap between comedy and drama, finding the levity in a failed marriage and a single dad's life approaching shambles. Running late to take his kids to school, Will feeds them pizza for breakfast — typical cool-dad move — but calls it "some cheese, and tomatoes" on the phone with his (understandably livid) ex-wife.
It's clear throughout that Will lives in the shadow of his breakup, but Clement says he has only recently begun considering People Places Things a rom-com.
"It wasn't mean," Clement recalls of his first read of the script. "People reacted in realistic ways, which is kind of unusual for a comedy script."
Leading-man role aside, People Places Things is also a rare foray by Clement into something less laugh-out-loud funny than his usual fare.
"I started out just concentrating on the funny parts," he says. As his character developed, and he became more comfortable in the role, he realized, "It's okay if it's not funny. It could just be sad, or true, after a while."
The characters of People Places Things are astonishingly self-aware. If one approaches a genre cliché — a "how did we end up here?" lament, or a face-off between romantic rivals — the screenplay intersperses a reexamination of that formula. It has the feel of a trauma revisited, which provides some humor in hindsight. "Sometimes the comedy is not apparent when you're going through it, but you might laugh," Clement says. "It's a way to defeat it in your mind."
People Places Things could herald Clement's emergence into romantic lead territory, but it could also be another experiment in a career marked by diversity and flexibility. Some lines and key moments in the film were improvised on set, a common theme for Clement, who created much of his previous work, including What We Do In the Shadows and Flight of the Conchords, along with frequent collaborators like Bret McKenzie.
"It's such a relief," he says, of having such freedom on set. "There isn't the pressure of having your thing that's sort of got to work." It also led to experimentation with comedic duos and trios; he describes establishing a comic rapport with cast members, because many of the scenes in People Places Things rely on the chemistry between individuals. Few moments feature more than two to three cast members, each with different energies. It marks a strong contrast to Clement's consistent and long-term work with McKenzie and Waititi.
Yet stout resistance to categorization unites Jemaine Clement and People Places Things. "Rom-com" perhaps won't be the first thing that comes to a viewer's mind upon watching the film — yes, it has romance and comedy, but it has little in common with its blockbuster forefathers. As for Clement — singer, writer, illustrator, radio personality, comedian, and, yes, actor — he's proven himself open to new experiences. He reports that he has a television show for HBO, a radio show, and a Sarah Jessica Parker pilot in the works, so it's hard to say what exactly he has up next. A few more short-term goals, perhaps.
People Places Things, directed by James C. Strouse, will be released in theaters and On Demand on Aug. 14. Check out the trailer below:
Images: The Film Arcade (4)