'Bye Felicia': A Phrase 'Straight Outta Compton'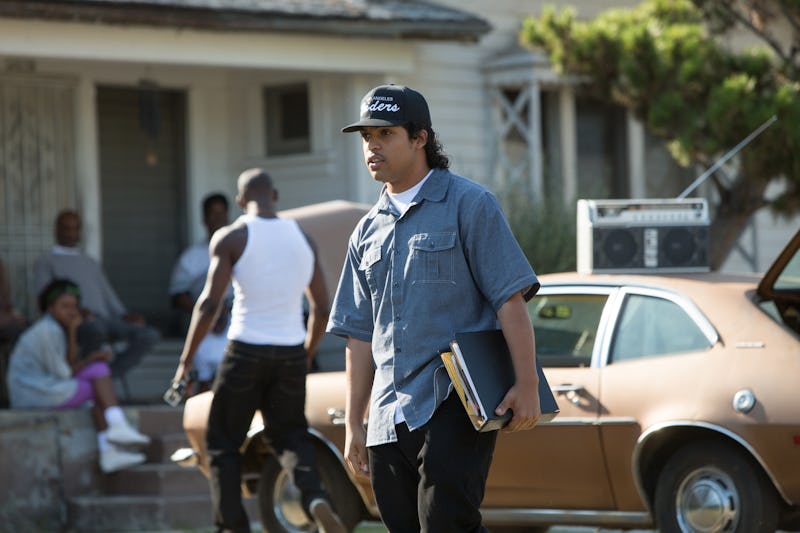 The term "Bye Felicia!" is essentially the "Talk to the hand!" of the 21st century, but unlike the tired '90s insult, "Bye Felicia" is a cultural phenomenon. Not only is it an insult that dismisses any chickenhead that is irritating the hell out of you, but there's something very gratifying about it. There's something about it that says, "You're not that important to me, so I'm just going to call you Felicia and have you go on your merry way." It has withstood the test of time, and just when you thought it reached its peak, "Bye Felicia" pops up in Straight Outta Compton .
As we all know, the origin of "Bye Felicia" goes back to Ice Cube's cult stoner classic Friday in a scene where Craig (Ice Cube) and Smokey (Chris Tucker) are bothered by the neighborhood's freeloading druggie Felisha. After she asks to borrow Smokey's car and then for some weed, Craig becomes fed up and dismisses her by saying, "Bye Felicia" (or if you prefer, Felisha — I'm sure the spelling doesn't matter). Thus, a catchphrase was born.
Twenty years later, the phrase is the most popular it's ever been. For some unknown reason, it has reached maximum saturation in pop culture and the new N.W.A. biopic, Straight Outta Compton, decided take full advantage and give the masses another nod to the phrase.
In one scene, the group is enjoying a post-concert hotel party with a group of naked and half-naked groupies. They hear a knock on a door, and Dr. Dre (Corey Hawkins) answers. A big, angry man with a gun asks, "Where's my girlfriend, Felisha? I know she's in here!" Dre slams the door and looks for Felicia. He finds her "having fun" with another guy. Dre, along with Eazy-E (Jason Mitchell), Ice Cube (O'Shea Jackson, Jr.) and the rest of the N.W.A. members, scare the man off. Afterwards, Felisha appears, and Cube kicks her out of the hotel for disrupting the fun, saying, with perfect timing, "Bye Felisha!"
The groupie orgy may have been factual and enhanced for cinematic reasons, but the use of "Bye Felisha!" was a fictional, and very clever, addition. Ice Cube told Time.com that the saying of the catchphrase was his son's idea. Good thinking by him — it was the perfect ending to the scene.
Here are some other pop-culture moments when "Bye Felicia" was used flawlessly.
Matt McGorry Promotes How To Get Away With Murder DVD With 'Bye Felicia' Rap
McGorry is in character as Asher Millstone rapping about his college co-ed life. And if you want the full version of the song, you can watch it on the How to Get Away With Murder DVD box set.
Shonda Rhimes Shuts Down A Twitter Troll
Speaking of How to Get Away With Murder, show creator Shonda Rhimes dismissed a tweeter who did not like the gay scenes in her show in the best way possible.
Jordin Sparks' #ByeFelicia
The American Idol winner's mixtape was said to be a source of closure for her relationship with Jason Derulo — and the title couldn't be any more perfect.
Cookie v. Boo Boo Kitty On Empire
Let's face it, we were sitting at the edge of our seats waiting for Cookie to say "Bye Felicia" throughout the entire first season. She was born to say it.
Friday
How could I not talk about this without posting the video from where it originated?
People could say "Bye Felicia" all day, every day, but it really doesn't matter. It doesn't look like the popular quote is going anywhere anytime soon. Get used to it.
Image: Jaimie Trueblood/Universal Studios; Giphy