11 Banned Books You Must Read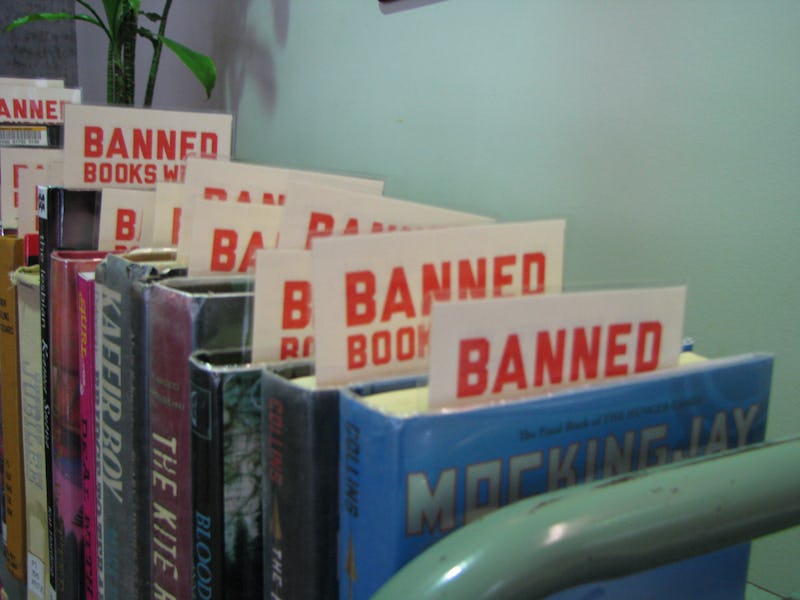 There's one upside to book-banning: it's that kind of like anything-banning, the more you take something away, the more people want it. Is it the danger? The mystery? (The ridiculousness of a book being banned in the first place?) Whatever it is, reading banned books is a fantastic idea. Not only are you telling those who are pro-censorship that you're not going to take any of their BS, but you also just might get a little thrill from getting your paws on the prohibited.
But the question remains: Which author to choose? Unfortunately, so many books have been banned, called "vulgar,""inappropriate," and "offensive," that picking a title from the banned-book pile isn't an easy feat. It even turns out that Maya Angelou, a writer who is beloved by so many, holds the dubious distinction of the most banned author in America. In 1983, Angelou was accused of harboring "a bitterness and hatred toward whites" by members of the Alabama committee that approves schools texts. (Apparently the Pulitzer Prize board missed that when nominating her work. ¯\_(ツ)_/¯)
I've done the hard work for you and picked 11 fantastic frequently banned books that you'd be nuts not to add to your list. See? Easy.
What My Mother Doesn't Know by Sonya Sones
This young adult novel, written entirely in verse, serves as a great introduction to poetry for young readers. An insightful look into the mind of 14-year-old Sophie, What My Mother Doesn't Know is a text that women can relate to (even if you outgrew handwritten love notes slipped into your locker years ago). Written in the first person, Sones' book allows readers to follow Sophie as she deals with heartbreak and confusion, both in school and at home.
Despite the book receiving numerous awards, one of which was being chosen as an American Library Association's (ALA) Best Book for Young Adults, it was challenged in Deer Park, Texas for "foul language" and "references to masturbation," and was removed from library shelves in Bakersfield California due to "a teenage girl's description of how her breasts react to cold." (Note to Bakersfield parents: Your daughters probably already understand this.) The book ban didn't discourage Sones, who stated how "proud" she is of the challenges to her work, as it gives her the opportunity to explain why books shouldn't be censored.
The Earth, My Butt, and Other Big Round Things by Carolyn Mackler
Virginia "Ginny" Shreves is an overweight and self-conscious sophomore at a private high school in Manhattan. Throughout this YA novel, Ginny struggles with her dysfunctional family: her mother is an adolescent psychologist obsessed with Ginny's weight, her distant father makes her feel bad about the way she looks, her older sister joined the Peace Corps to flee their mother, and her older brother, whom she idolized, was kicked out of Columbia University for date raping a fellow student. (Got all that?) Ginny dyes her hair purple and pierces her eyebrow out of rebellion, but it isn't until she finds kickboxing that she realizes changes in your appearance should come from a happiness within.
The book won several awards, including a Printz Honor Award, but was banned by the Carrol County Superintendent in Westminster, Maryland for its use of "profanity" and "sexual references." The novel's themes of self-esteem and positive body image were apparently lost on the superintendent, but not the 350 students who fought to bring the book back to their reading list. They were ultimately successful, and Ginny's story of resilience and self-discovery continues to light a spark.
The Upstairs Room by Johanna Reiss
Not even Holocaust survivors are safe from censorship. The Upstairs Room is a 1972 autobiography by Johanna Reiss, a survivor who documented her childhood in Nazi-occupied Holland. In the book, Reiss recounts how she and her older sister were forced to hide in a small room for years, missing life-changing events such as the death of their mother.
Elie Wiesel regards the book as being just "as important in every aspect" as Anne Frank's The Diary of a Young Girl , but that didn't stop school officials in Texas from removing The New York Times Outstanding Book from reading lists in 2003. "Strong language" and "story content" were cited as justification for banning this lost classic.
The Glass Castle by Jeanette Walls
Walls recounts the strange upbringing she and her siblings endured thanks to their neglectful and eccentric parents. The book begins with Walls as a 3-year-old in the hospital, suffering from severe burns she received while trying to make herself dinner. The nurses are shocked to learn that the child routinely prepares hotdogs for herself and her siblings with her parents' permission. What's so surprising about this book isn't the slew of odd circumstances Walls and her siblings are constantly put in (although they do make for an interesting read), but rather the even and unaffected tone of the narration. She allows events to speak for themselves, and shows a remarkable capacity for love and forgiveness through unfathomable circumstances that include her parents choosing to be homeless.
After several complaints from parents, The Glass Castle was banned from a high school in Dallas, Texas just weeks before Walls was set to deliver the keynote speech at the school's literary festival. Parents in Michigan also demanded the book be banned because of "explicit language and references to child molestation, adolescent sexual exploits, and violence."
Revolutionary Voices by Amy Sonnie
This anthology was created by and for radical queer youth, specifically those of color, young women, transgender and bisexual youth, as well as disabled young and working class people. The collection includes essays, poetry, letters, and diary entries that illustrate the daily issues and struggles this community faces. The teen writers speak candidly of their fears, but their confidence bursts through the pages — there's tons of hope here.
After a complaint from a parent, the anthology was banned in a Mount Holly, New Jersey high school and removed from shelves at the public library because it was "too graphic" and "obscene." One librarian called it "child pornography."
Persepolis by Marjane Satrapi
If you have no experience with graphic novels, this should be your first read. The author's childhood during and after the Islamic Revolution in Iran is explored in an autobiographical book that ranges from entertaining to historically fascinating. Satrapi is a young girl when the Shah is overthrown and fundamentalism takes over her country. She witnesses the horrors of war, but still goes through angst-filled teen years like any American adolescent, smoking cigarettes and listening to banned music tapes she buys on the black market. Although she struggles with her family's decision to conform to the new rules and stay safe rather than actively fight the new oppressive regime, this autobiography stresses the importance of family as well as the need for independence.
In 2013, the book was removed from 7th grade classrooms in Chicago after one decision-maker determined the book "contains graphic language and images that are not appropriate for general use." Three more instances arose in which parents tried to get the book banned in Oregon, Illinois, and Texas with one parent asking "Why a book about Muslims was assigned on September 11."
July's People by Nadine Gordimer
South African writer and political activist Nadine Gordimer wrote this 1981 novel during the height of apartheid. An active member of the anti-apartheid movement, Gordimer fashions the book to predict how apartheid ends. The Smales family is liberal, well-off, and white, and find themselves at the flashpoint of when racial oppression explodes violently in South African cities. Their black servant July rescues the family members and houses them in his village. July becomes the Smales' protector, but the novel is careful to take an honest look at how the characters struggle with the new power dynamics.
The novel was immediately banned in South Africa, but was later re-instated in school curriculums after the fall of apartheid. However, in 2001 a rural school in South Africa banned the book, terming it "racist." Gordimer, who won the Nobel Prize in literature in 1991 for her politically motivated works, was outraged by the ban and the then 78-year-old author fired back, stating that the decision was ignorant and made by a "nobody."
My Brother Has AIDS by Deborah Davis
Thirteen-year-old Lacy deals with many changes when her gay older brother returns home dying of AIDS. Her family life, friendships, and commitment to her swim team are all affected by her brother's illness. Communication becomes a major theme of the novel with Lacy refusing to ignore what is happening to her brother, against her parents' advice, and chooses to spend increasing amounts of time with her brother on his deathbed. The novel is emotional, but not heavy handed, and an important read for anyone, regardless of age.
My Brother Has AIDS was taken off shelves in both Texas and Virginia for having "gay positive themes."
Cracking India by Bapsi Sidhwa
The debut novel by Pakistani novelist Bapsi Sidhwa follows Lenny, a young girl growing up in India during the violent 1947 Partition. Lenny's polio prevents her from attending school, so her days are spent with Ayah, her beautiful nanny, and Ayah's many admirers. From this eclectic company Lenny receives an education on religious difference, intolerance, and the genocidal strife on the eve of Partition. As Lenny grows up, she begins to take part in the political discussions, but it isn't until Ayah is kidnapped that Lenny's world is rocked and she feels the violence around her. Cracking India emphasizes the importance of female strength and friendship through violent circumstances, and provides important insight into Indian culture.
The book was challenged at a high school in Daytona Beach, Florida after a parent "objected to a two-page scene in which the narrator brushes off an older cousin's attempt to trick her into performing oral sex."
It Stops With Me: Memoir of a Canuck Girl by Charleen Touchette
This autobiography details Charleen Touchette's abusive childhood and her spiritual path to healing. The book is a cathartic release for the author and reader alike, demonstrating what it's like to put the past where it belongs in order to lead a happy life. Touchette leaves home at the age of 17 to pursue a degree in art after discovering her talent. College is where Touchette finds a new community that shows her the support and love that she never received, and allows her the opportunity to deal with her tortured past.
Her journey is inspirational, yet, in 2005, the book was removed from a Rhode Island public library in Touchette's hometown after her own father wrote a letter demanding it be banned. Leon Botstein, the President of Bard College, supported the book's removal stating, "If members of a family wish to harm one another, those actions should be kept private and should not draw in others by involving matters of public policy." The ALA and PEN American Center launched an intensive letter-writing campaign in support of the book, and It Stops With Me found its way back to library shelves.
Fun Home: A Family Tragicomic by Alison Bechdel
This unique graphic memoir by Alison Bechdel will make you laugh, tear up, and scratch your head. Bechdel's relationship with her father is the epicenter of the book as the reader steadily learns that he was a distant and, at times, abusive parent, a third-generation funeral home director, high school English teacher, and closeted homosexual who was involved with his male students and a family babysitter. Fun Home is written in a unique non-linear and recursive style that makes it difficult to put down. Bechdel describes it as "going over the same material, but starting from the outside and spiraling in to the center of the story." Bechdel's sexuality comes into play throughout the book as she struggles to accept who she is especially in light of who her father was (we learn at the beginning that he committed suicide when Bechdel was in college). It's an important work of familial love, understanding and facing truth.
The book was removed from a library in Missouri after critics claimed it was "pornography" and concerns were raised that the book could result in "seedy people coming into the library and moving into [their] community."
Image: Robert E. Kennedy Library at Cal Poly/Flickr