12 Weird Foods To Add Peanut Butter To, STAT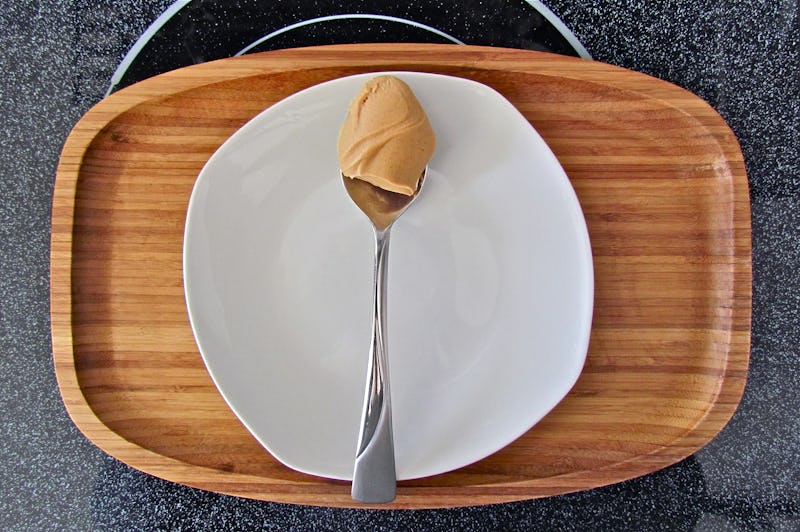 When it comes to peanut butter, my love is of the serious and chunky variety. Which is weird, considering I never even liked the classic spread that much as a kid. Somewhere around age 22 though, my tastebuds changed — and I seemed to crave peanut butter with all kinds of foods.
My love hit a roadblock when, in a cruel twist of fate, I dated someone for two years who was allergic to peanut butter. I couldn't eat my favorite food within four hours of seeing him, otherwise I risked contaminating him with my delicious, delicious saliva. Peanut butter became the other woman in our relationship; I'd sneak spoonfuls of her on nights when I knew I wouldn't see my boyfriend. Because my love runs so deep (only ice cream comes close) I've managed to pair peanut butter with some pretty weird foods in my day. So when my coworkers saw me eating a fudgesicle dipped in peanut butter the other day and insisted I write this post about my other pb hacks, I couldn't say no.
So here, without further sticky ado, are some weird new ways to add more peanut butter to your meals. Even better? Most of these are pretty healthy, and will help you get more protein in your life. (Shout out to my fellow vegetarians!)
Peanut Butter & Frozen Mango
I promised you this would get weird. But just trust me on this one. This is such a tasty snack, and I find it really satisfies a craving for ice cream when I find myself without any in the house.
Peanut Butter Spread On Banana Oatmeal Breakfast 'Cookies'
If you're looking to eat three cookies for breakfast without feeling like crap afterwards, this recipe from Clean Foods is for you. (I also love adding cranberries to the cookies, and keeping them in the fridge so they're nice and cold when you spread the peanut butter on them. Weird, I know.)
Peanut Butter & Fennel
It's just like celery and peanut butter — only more delicious.
Peanut Butter, Tahini, Salt, & Apricot Jam On Toast
Something about mixing these three spreads is truly unique and delicious. Just trust me.
Peanut Butter With Greek Yogurt, Bananas, & Carob Powder
Or chocolate powder. Another breakfast of champions.
Peanut Butter, Flax, & Oatmeal
Yummmm. This will certainly hold you all morning, and goes great with bananas, flax, hemp seed, and really, whatever you like in your oatmeal.
Peanut Butter & Pear
Again, this sounds weird, but I like a slightly unripe pear with peanut butter even better than the classic peanut butter with apples.
Peanut Butter Veggie Stir Fry
If you're ever looking for an easy way to make a stir fry sauce, just mix a few spoonfuls of peanut butter, whatever cooking oil you have (ideally peanut or sesame), and some optional curry paste and/or hot flakes. Easiest sauce ever, and it also works great for noodles.
Peanut Butter & Banana Date Bread
Banana bread doesn't need added sugar, if your bananas are ripe enough and you add some dates. Here's a recipe.
Peanut Butter Quesadillas
Genius.
Peanut Butter/Espresso/Chia/Cranberry/Banana Smoothie
I want to go to there.
Peanut Butter & Frozen Yogurt (Or Ice Cream)
OK, so maybe not the healthiest, but I find adding peanut butter to my fro yo or ice cream helps me feel more satisfied by my dessert. This is hands down my favorite peanut butter pairing. If you haven't tried it yet, get ready to change your froyo/ice cream game forever. Even better, if you add some fruit, you'll likely feel more satisfied by your complete ice cream meal. (Yes, I've had it for dinner, more than once.)
Images: robinmcnicoll/Flickr; kristen.murrminnich, thewilsondevise, rachellydia1, jaderosanna, ilovebuttermilk, missnewfoodie, healthylovenfit, annaalexaandra, fitnesstoni, nick.nicola, sweet___dreams___, gabbajabbathesaw1/Instagram