Why Young Thug's Dress In 'Dazed' Matters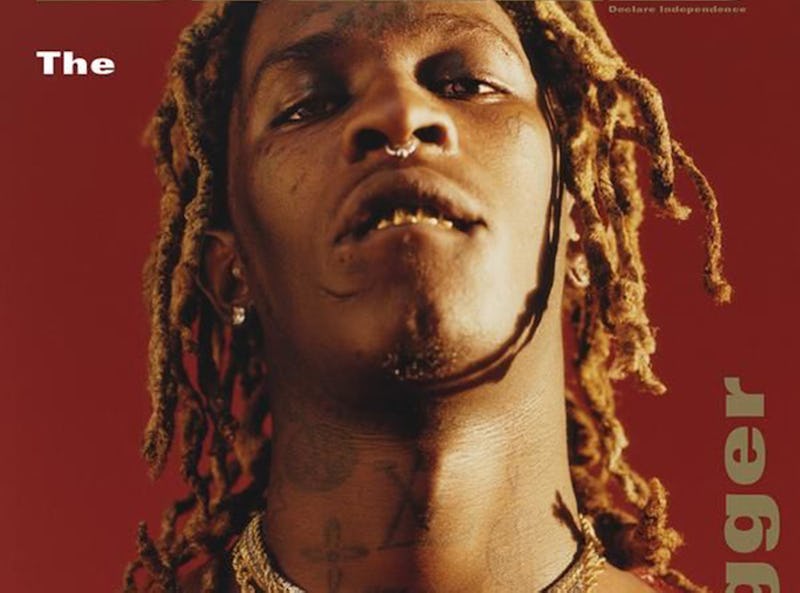 Kanye is partial to his leather Givenchy skirt, and P. Diddy once rocked a kilt on stage in Glasgow. (Hey, props for cultural awareness!) But the bar, and hemline, were majorly raised when rapper Young Thug wore a dress inside Dazed's Autumn 2015 issue.
Fashion and hip-hop have been courting each other for years. From high-end to High Street, designers reference rap culture, and in turn, rappers reflect what's in style as well as inspire new trends. And for the past couple seasons, androgyny has been everywhere. Male models saunter down runways in dresses, and Men's Fashion Week featured a parade of female supers. The lines are blurred, and that gender fluidity is definitely starting to make it's way into hip-hop in a way that's bigger than the occasional skirt-over-jeans silhouette to which Yeezy is partial.
Since Dazed released the images online, there's been a lot of love for Young Thug's daring style, but plenty of hate as well. "I really aint one to judge but how do you call yourself #youngthug put a tutu on for a photo shoot #smdh shit really #notcool for sure not #hiphop" one Instagram user said.
(He really wasn't joking around when he rapped "Every time I dress myself it goes motherf*cking viral" in his "Halftime" video.)
Seems like Young Thug already has a high-end friend in Gucci, which has totally already mastered the whole gender-fluid thing. On the cover, Young Thug rocked a sheer lace top from the brand's FW15 menswear collection:
Part of what makes the cover story, and Young Thug in general, so interesting is the swirl of contradictions that the 23-year-old represents. For one, he clearly pushes the boundaries of genders sexuality. He wears women's clothing and frequently jokes about marrying his (male) friends; he called one friend his "hubbie" on instagram, and in another instagram post he joked about proposing to artist Delano Brown. (For the record, his IRL fiance is a woman named Jerrika Karlae.) On the other hand, his songs are full of hyper-masculine lyrics boasting about his sexual conquests, something not uncommon in hip-hop, a culture that is, for the most part, notoriously homophobic and at times, misogynistic.
But it's precisely this mixed-messaging that makes him so polarizing. He certainly dresses the part, and I'd love to see him taking an even more active stance to normalize gender fluidity and diffuse homophobia in the rap culture.
Because these outfits are just too good.
Here's what I love about Young Thug's killer style sense.
1. He doesn't pack light for tour.
"We played 29 shows, and I brought, like, 32 Balmains," he told Dazed in the interview.
2. He understands the importance of nails on fleek.
He wore red nail polish in his "Danny Glover" video.
3. His accessories game is on point...
...and he matches his hair to his outfit.
4. And at the end of the day, no one rocks a dress, jeans, and fur vest better.
Check out the video below and head over to Dazed to read the interview and see more outfits from the shoot.
Images: @dazedmagazine/Instagram; Giphy