You've Never Seen Ice Cream Cones Like These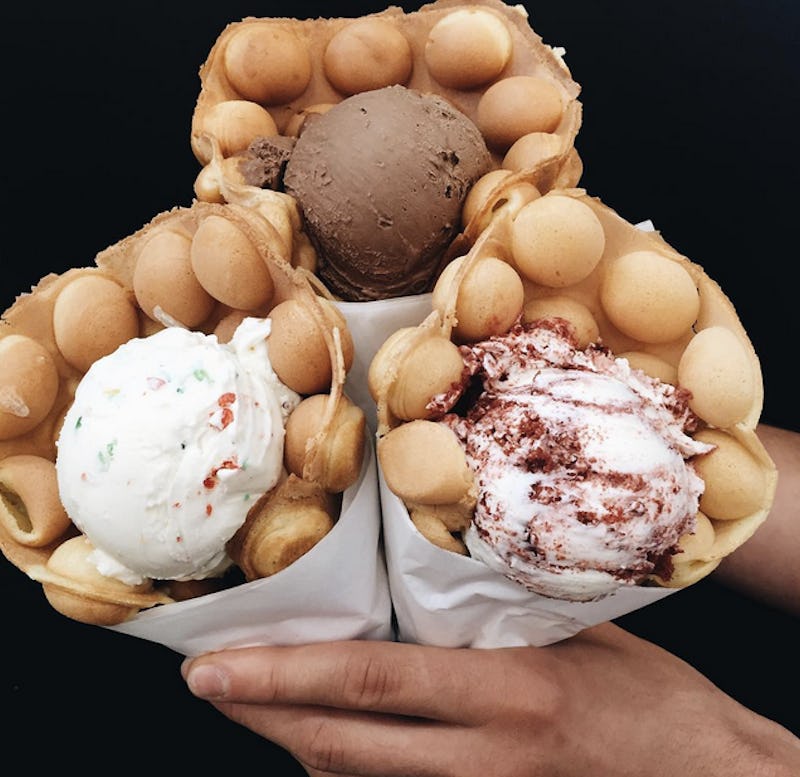 This may just be the future of ice cream. Cauldron Ice Cream puffle cones have taken over the West Coast, and they are the most beautifully odd-looking things I have ever seen. Adopted from a popular Hong Kong street snack called an egg waffle, the puffle cone is made from a sweet, egg-based batter that puffs up into bubbly globules that tenderly cradle your ice cream of choice. The ice creamery, based in Santa Ana, California, is currently the only place to offer this confection outside of southeast Asia, and it had no idea just how much attention the creation would get when it was introduced to the menu just a few weeks ago.
The beige, bulbous cone looks like a cross between honeycomb and bubble wrap, meaning it's pretty much Instagram gold. Cauldron Ice Cream has always outdone itself, creating eccentric ice cream flavors from liquid nitrogen in front of customers' very eyes. When it comes to new foodie discoveries, the puffle cone has quickly overshadowed SanFran sushi burritos, and has given non-Californians another reason to get to SoCal, like, yesterday. It's not hard to understand why.
First of all, the word "puffle" is just plain fun to say. And then, I mean, c'mon, look at this thing.
I mean really, really look at it.
It's a thing of beauty.
If you're already dreaming about your next trip to Cali to try the puffle cone out for yourself, here are four other wacky ice cream cone alternatives and ideas to hold you over in the meantime.
1. Ice Cream Cone Cupcakes
Ice cream and cake go together like... well, ice cream and cake. But don't let these little treats from the Brown Eyed Baker fool you. They may look like ice cream on the outside, but confined within their sugar cone walls, a fluffy baked good awaits.
2. Ice Cream Cone Cannolis
Sometimes, it's the inside that counts. Cookies and Cups shares instructions on how to make an unconventional cannoli with chocolate-dipped waffle cones and a rich, creamy filling.
3. Popcorn Ball "Ice Cream" Cones
Here's another twist you can add to any old cone. This recipe is essentially popcorn held together with marshmallow fluff, and topped over candy-filled cones. Cookies and Cups might be onto something with these pseudo-ice cream concoctions.
4. Toasted Bread Cone
Think your sweet tooth can handle this unusual ice cream cone? The Kitchn features a bizarre kind of toasted bread cone that's lined with peanut butter, and then filled with fruity flavored ice cream. It's peanut butter jelly — er, ice cream — time.
Images: Cauldron Ice Cream/Instagram; Brown Eyed Baker; The Kitchn (2); Cookies and Cups (2)