More Info On Post-'Serenity' 'Firefly'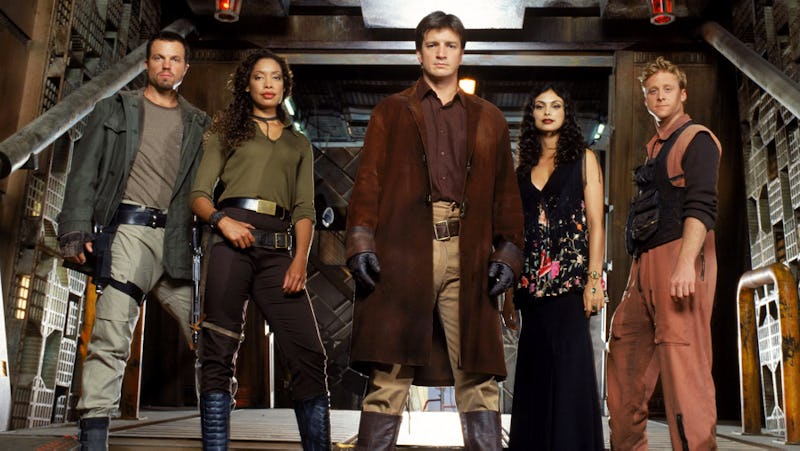 It's been over a decade since Firefly went off the air, and quite a few years since its film, Serenity, hit the theaters as well. People are still just as invested in the crew of Serenity and their fictional lives, however, especially after certain deaths made them all cry. Well now there's a sequel comic coming out, so there's scopp floating around about what happened to the characters of Firefly after Serenity went to the credits.
As anyone who's watched Serenity knows, (spoiler alert) fan-favorite character Wash died pretty damn tragically in Serenity's third act, leaving behind his warrior wife Zoe. It's been rumored and discussed for years that Zoe may have been pregnant at the time of Wash's passing, and now it's been confirmed. Baby Wash and Zoe! Ah! Feelings.
The sequel comic, which is being published through Dark Horse comics and written by Whedon brother Zack Whedon, is coming out this January, so if you know any Browncoats you best prepare yourself.
Here's what Whedon said about the story in a great interview with Comic Book Resources:
It has been around nine months since the conclusion of Serenity. A lot has changed and a lot has stayed the same. The discovery that Mal and his crew shared with the 'verse — that the inhabitants of the planet Miranda were killed or driven mad by an Alliance experiment — has opened some eyes and created some new allies, but it hasn't deterred any of their pursuers. If anything, it has made them more relentless. Serenity is hiding out in lesser-known corners of the 'verse, trying to keep a low profile. As you will see early on, that's easier said than done. Mal and his crew will be forced to face their enemies head on — some familiar, some new.
Other tidbits:
Jayne is missing, which gives us sadface.
On Zoe: "Zoe is grieving; she is definitely feeling his absence. Nothing about life on board Serenity is easy at the moment and it is made even harder for Zoe by the fact that she doesn't have Wash by her side. Also, she has gotten fatter -- in the belly area -- big, big belly with a baby inside. The prospect of being a parent is not something she was prepared for, especially the idea of doing it without Wash."
Mal is more worn down than ever in the aftermath of the two major deaths of crewmembers that took place in the film.
River's still a weirdo, but she's doing better.
The comic itself is called "Leaves On the Wind," which is a reference that makes us sad.
Agh, there we go being mad at Fox again for taking this show away from the world. Will it never end?
(You can read the entire interview here, and you should, because it's great)
Image: Universal