6 Ways To Protect Colored Hair If You're Blonde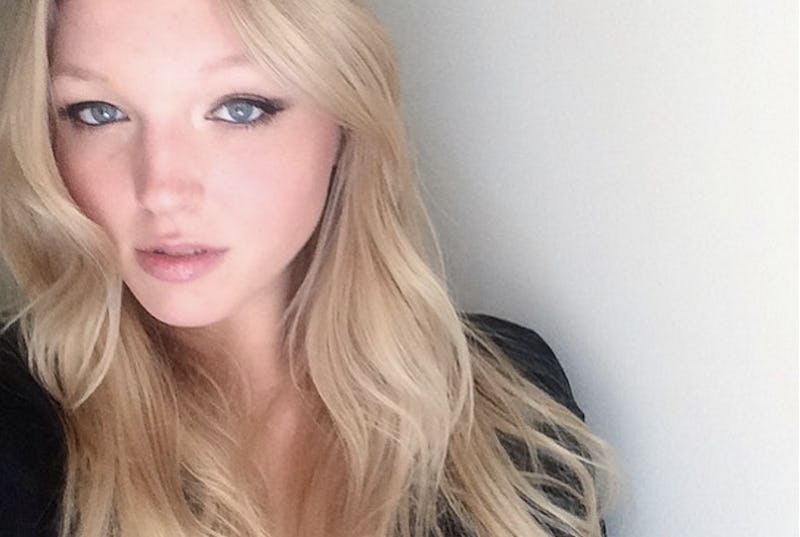 Even as a natural blonde, coloring your hair to be more blonde seems somewhat inevitable at a certain point in your life. One day your hair is 10 shades darker than it was in high school and boom: You can't fight the desire to go lighter. But finding the best ways to protect blonde hair isn't always the easiest thing — especially in seasons when the elements (and your hobbies) seem to be working against you. The sun can bleach your color. The pool can turn your hair green. You get the idea. Recently, I talked to expert colorist Laura Estroff of Brooklyn's Kennaland about the dos and don'ts of maintaining blonde hair. As someone who didn't dye her hair until she was 21, color is still a constant mystery to me, so I was excited to learn from an expert. Estroff also worked her magic on my own in-need-of-attention strands and let me tell you, guys: This woman is a color superstar.
Truthfully, I didn't want to leave after my appointment, and the more I talked with Laura (both during the appointment and after, via email), the more I wanted to know all of her color secrets. Here's what she had to tell me about maintaining and protecting colored blonde hair in the summer and beyond.
Oh, and the finished product:
Clariol Shimmer Lights Shampoo, $12, Amazon
Estroff recommend a color-depositing shampoo and conditioner to counteract the effect of the sun's rays on blonde hair, which can often turn blonde hair into the not-so-fun brassy shade.
"Mix it half and half with whatever you are using now, and comb through to ensure even saturation, in order to avoid over depositing any ash tones," Estroff says. The mixing is key, since these shampoos tend not to be moisturizing on their own. "Blondes ... want to use a violet based product. My go-to has always been shimmer lights [by Clariol]."
Monoi Repairing Hair Mask, $22, Amazon
Even though it may seem like common sense to keep your hair hydrated and healthy in the summer, Estroff has some tips and tricks to make sure your hair is moisturized enough.
"I suggest using an at home treatment, such as Carol's Daughter's Monoi hair repair mask for 20 minutes once a week," Estroff says.
Briogeo Rosarco Milk(TM) Reparative Leave-In Conditioning Spray, $20, Amazon
We all know that sunscreen is super key to having a healthy trip to the beach or long afternoon in the park. Whenever your hair is exposed to the sun for a long period of time, it needs protection, says Estroff.
"Use leave-in conditioner with UV protector to defend your locks against the damaging rays of the sun," Estroff suggests. "If you find yourself at the beach without a UV protector, try combing a small amount of regular sunscreen through your hair."
4. Wet Your Hair Before Getting In The Pool
I've always known that chlorine isn't particularly good for hair, but I was surprised (and happy) to know that there are steps to take that will protect blonde hair if you do happen to find yourself in a pool. Because why deprive yourself of the chance of lounging in a donut-shaped float for an Instagram photo, you know?
"Pools have a tendency to turn blondes green. Not to mention, generally leave everyone's hair in a less than desirable state," Estroff says. "In order to avoid discoloration, try to make sure your hair is wet before getting in the water. This way your hair is less likely to absorb the chlorinated water. If a sink or shower is unavailable before going in the water, and you do not have any type of conditioner with you, make sure to rinse and condition your hair as soon as possible — and the same goes for ocean water."
5. Watch Out For Sea Salt Sprays
Like the look of beachy waves? Me too. Something I was surprised to learn from Estroff is that these type of products aren't always the best for you hair. But don't worry, there are options to make the product more healthy for your blonde.
"While they do a great job at giving you that just at the beach look, they can over-dry your hair. If you are going to use them, I suggest mixing with a leave-in conditioner," Estroff says. "The best way to do so it to spray both products into your hands, mix together and scrunch into the hair."
6. Know That Hair Changes More Frequently In The Summer
Estroff says that even if you don't know exactly what's up with your hair, you may get the feeling that something is off about the color or texture. That this is usually normal and easily fixed with a quick appointment.
"Perhaps your highlights are slightly too bright or yellow, or your base color is becoming too red, or your ombre is now brassy," Estroff says. "In times like these I suggest making an appointment for a gloss in order to refresh your color, and counteract the effects of the sun."
Bottom line here, blondies: Any tip that helps our blonde stay blonder for longer is something that will save us time, money, and energy in the long-run. And that is a never a bad thing.
Images: Courtesy Brands (4)