The Moisturizing Lippies You Need For Fall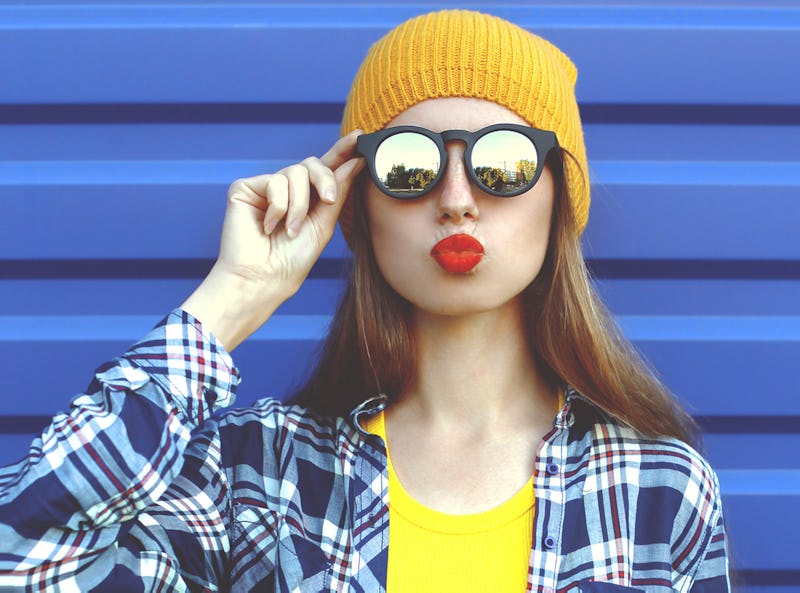 Of course extra moisture is needed during the winter, when the air is just too dry. But that sneaky transition weather that rolls around in the fall is just as much (if not more) responsible for wreaking havoc on the skin. This is why a good moisturizing lipstick during this time is a necessity. Regular lipsticks (especially matte formulas) already do their best to suck the moisture out of lips. But when paired with colder, drier air than what skin has been accustomed to during the summer months, lips don't stand a chance.
But with moisturizing lippies, lips can actually make it through the day without shriveling or cracking. And while some lipsticks might advertise their hydration factor, the best way to know if a lippie will offer the level of moisture you need is to check the ingredients. One aspect hydrating lipsticks will have over regular ones is a higher level of natural butters, waxes, and/or oils. That means mango, shea, or coconut butter, and any sort of seed oil, to name a few. And ingredients like Vitamin E and hyaluronic acid are always beneficial, too. So whether you prefer a satin, matte, or sheer finish, here are the lipsticks, lip creams, and lip tints that will keep your pout both colored and hydrated when the air turns dry.
Clarins Joli Rouge Lipstick, $28, Clarins
With a creamy texture and a satin finish, this pigmented lipstick moisturizes for six hours.
NYX Butter Lipstick, $6, NYX Cosmetics
From pale pinks to deep berries, this hydrating lippie comes in all the colors (22 to be exact).
MAC Mineralize Rich Lipstick, $25, M ac Cosmetics
Formulated with a 77-Mineral Moist Complex, this moisturizing yet lightweight lipstick provides long-lasting, buildable color.
Rimmel London Moisture Renew Lipstick, $7, U lta
Lips will feel pampered with the extra shot of moisture from this creamy lipstick.
Bobbi Brown Creamy Lip Color, $28, B obbi Brown Cosmetics
Improve lips' moisture instantly and over time with this soft and smooth, long-wearing lipstick.
Lip Cream
Bite Beauty Cashmere Lip Cream, $28, S ephora
This highly pigmented lip cream has a weightless feel and a cream-to-powder, matte finish.
Sephora Collection Luster Matte Long-Wear Lip Color, $16, Sephora
Rose hip seed oil hydrates while the highly pigmented cream provides a modern-matte finish.
NYX Soft Matte Lip Cream, $6, NYX Cosmetics
You'll be surprised at how well this matte formula moisturizes and how long it lasts.
Lip Tint
Sephora Collection Kiss Me Balm, $3, Sephora
This adorable egg provides subtle color along with four hours of hydration.
Revlon Colorburst Lip Butter, $6, T arget
Saturate lips with color and mango, shea, and coconut butters for a totally comfortable pout.
Fresh Sugar Lip Treatment Sunscreen SPF 15, $24, Sephora
A tinted balm that moisturizes while it protects against free radicals and the sun? Yes, please.
Sonia Kashuk Moisture Luxe Tinted Lip Balm, $9, T arget
Nourish and restore lips' moisture with this anti-aging, tinted balm.
With these moisturizing lippies, you're bound to have your best pout yet.
Watch the video below to learn the best way to apply your new lipsticks, then subscribe to Bustle's YouTube channel for even more beauty tips!
Images: rohappy/Fotolia; Courtesy of Brands