7 Super Easy Braided Hairstyles For Fall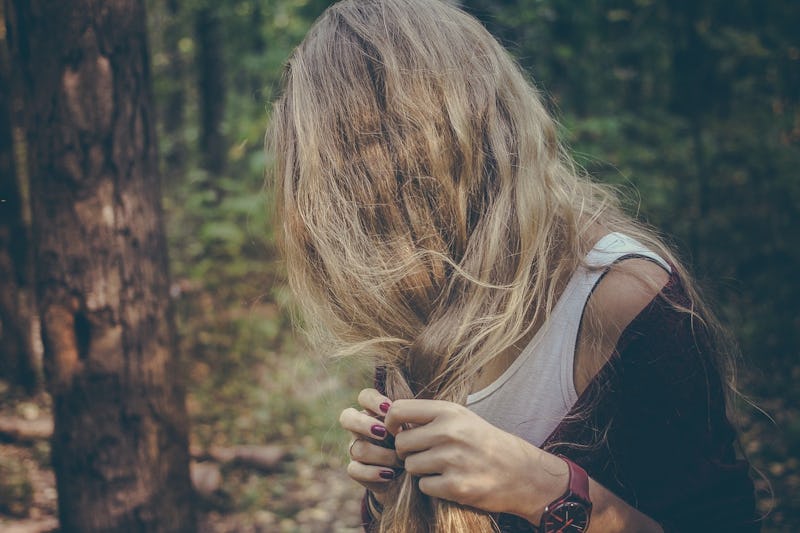 When the colder weather starts creeping in, it's easy to get lazy with styling your hair. Often times, you'll feel too cold or lazy to bother with hot tools, but that doesn't necessarily mean you have to forego a cute and stylish hairstyle. These easy braided hairstyles for fall will take no time at all to whip up, and the best part is that when I say easy, I mean it.
I am, admittedly, a total braiding newbie. I've tried to learn how to do fabulous braids from YouTube tutorials and get lost by the second step. In my opinion, there needs to be a disclaimer reading, "Easy for braiding pros," or something. Luckily, however, I've found actual simple braids that not only are quick and easy to do, but will also look super cute in the fall with all your infinity and circle scarves.
Hopefully, this post will inspire you to venture out into the world of braided hair so you have enough confidence to experiment with different styles that best suit you and your outfits. You don't even need to be a braid maven in order to nail these super cute styles with ease.
Without further ado, here are 7 hair styles that'll have you doing braids like a pro.
1. Milkmaid Braid
A braided updo is great for fall because it leaves all that neck space just for your scarf. Plus, you won't need to worry too much about your hair getting tangled in your scarf if you're rocking your hair up in a milkmaid braid.
2. Crown Braid
This one is for all my longhaired girls whose tresses just get in the way of those turtlenecks and scarves. If you don't like your hair all up in your face all the time, a crown braid is a super easy way to keep your hair neat and chic.
3. Braided Headband
When it starts getting windy and you find your bangs just flying everywhere, this braided headband can keep it in place. Feel free to put the rest of your hair in a low bun or high ponytail to ensure you've got your hair on lock. Zoella talks a little bit in the beginning of her video tutorial, but you can skip to 2:07 if you want to get straight to the tutorial.
4. Twisted Side Braid
I feel like this braid is the messy bun of braids. The final look is that "messy chic" — perfect for those comfy fall looks. Also, doing this braid is even easier than doing a traditional braid. Skip to 0:47 for the twisted side braid tutorial.
5. Braided Ponytail
This is a hairdo that modern day Elsa would wear in the fall. The braid has a nice chunky look to it, which will go perfectly with your chunky knits. Skip to 2:20 for that braid look!
6. Dutch Braid Pigtails
This style is also great for workouts when you want to look cute and have all your hair out of your face. I particularly like to wear edgier fall outfits with this hair style like a moto jacket, thin turtleneck, and some distressed jeans.
7. Braided Bun
As cute as messy buns are, it can take a pretty long time to achieve that put-together-messy look. An easy alternative is the braided bun, which makes it perfect to drape a scarf around this hair look.
Videos: KathleenLights, Kayley Melissa (2), Zoella, Bebexo, Roxxsaurus, thealohabeauties/YouTube